Reliability and durability you can count on
Highly reliable and durable trucks are essential for ensuring the high levels of uptime and distribution that shippers demand. Quon achieves its unrivaled quality throughout the entire vehicle, easily passing tests in even the strictest environments. We support our customers' businesses with reliability and durability that they can count on.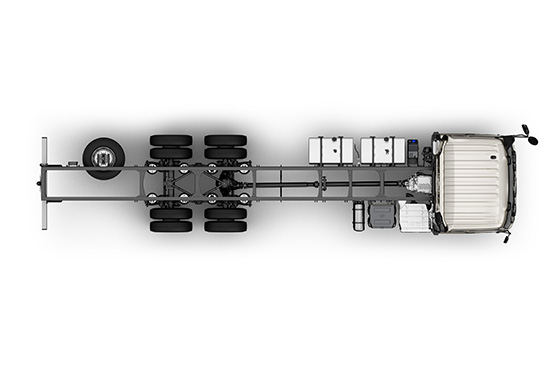 Superb chassis enhances reliability and durability
The Quon uses steel plates treated with cationic coating for rust prevention, as well as a salt water-resistant coating. Resin parts in the cab and parts of the chassis, such as a resin AdBlue®  tank, provide an extended service life.
Quality testing in extreme conditions
We consistently conduct a variety of tests under extreme conditions in cold regions. For example, to verify the new Quon's stability on frozen roads, we repeatedly tested the disc brakes and UDSC (stability control), as well as "one-shot starting." We also tested Quon's "escapability" on snow-packed roads and muddy areas.

* The starting assistance function for snowy roads and muddy areas is equipped as standard only for "ESCOT-Ⅵ".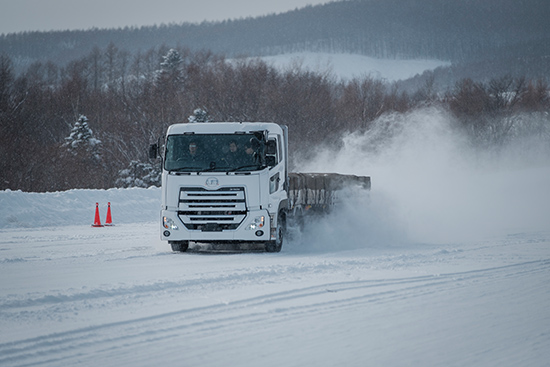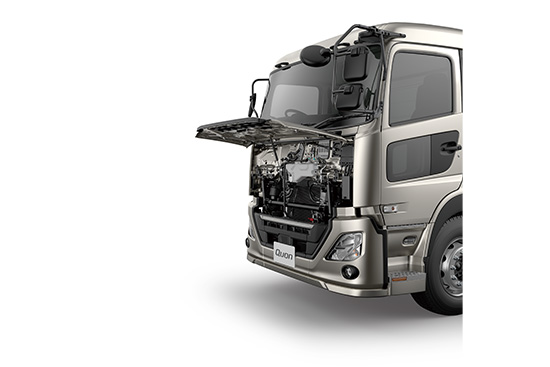 Easy maintenance and long replacement intervals
1. Hub bearing unit for improved maintenance 
Shield type hub bearing unit, for improved maintenance during inspections.
                                                             
2. Cab for easy daily maintenance
All of the equipment that is required when performing daily inspections is located on the front lid, for improved efficiency during inspections. The cab tilts to 65 degrees for a large work space.
* The front lid should be opened before tilting the cab.

3. Periodic replacement parts and long replacement intervals 
Quon's disc brakes do not require expanders, reducing the number of parts that need to be regularly replaced. High-quality synthetic oils that are highly heat-resistant and do not easily degrade extend replacement intervals and uptime.

4. Long-lasting LED headlamps
Long-lasting and power-saving LED lamps, which degrade little from being switched on and off, provide clear and bright light for a long time, lowering running costs.
Maximize uptime with "UD Extra Mile Support"
We believe that genuine parts ensure peace of mind.
After delivery, regular maintenance using the latest technology is essential to maximize Quon uptime, and ensure superior fuel efficiency, driving performance, and safety. 

With "UD Genuine Maintenance," our knowledgeable and experienced mechanics perform optimal maintenance using UD Trucks specialized tools and high-quality "UD Genuine Parts". Our parts conform to rigorous standards and contributes to maintaining quality for long periods and maximizing uptime. 

If trouble does occur, our nationwide service network provides prompt support to minimize downtime.