Waste management today
The nature of waste management is changing all the time. Increased global and local demand for sustainability has put massive pressure on authorities to act quickly and effectively. Tough competition between private contractors has also led to greater pressure on productivity and tighter cost measures.

Whether residential or industrial, the efficient storage, transfer, processing and disposal of solid waste is big for business – and vital for reputation. That's why a flexible, reliable and affordable transport solution is now worth more than ever. 
 
Why UD Trucks for Waste management ?
UD Trucks offer ultimate dependability for waste management assignments. Several generations of UD trucks have provided trusted durability and reliability to several generations of global customers. 
A key factor in us being able to deliver the highest quality waste management transport is that both the Quester and the Croner are now available with factory-fitted Allison automatic transmission. This means effortless stop-starting operations in all driving conditions.
Our two waste management trucks have their specific characteristics. The Quester is strong, reliable and designed for handling high payloads. The Croner is flexible, time-saving and profitable. Both leave more fuel in the tank after every assignment, and are perfectly suited to easy and fast superstructure installation.

Put simply, UD Trucks are designed to move your operations forward. And with our extensive service offer, we've got you covered. Welcome to a more sustainable future with UD Trucks.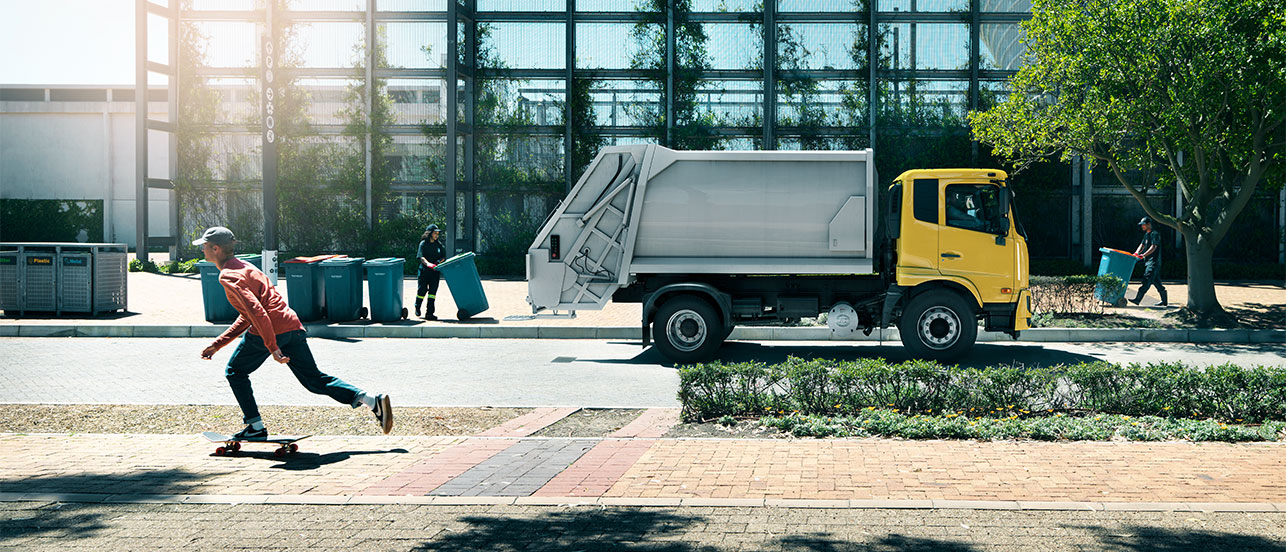 Your route to easier operations
Power. Reliability. Operational efficiency. Just three of the assets that the Quester and Croner bring to waste management assignments.
Read on to find out more.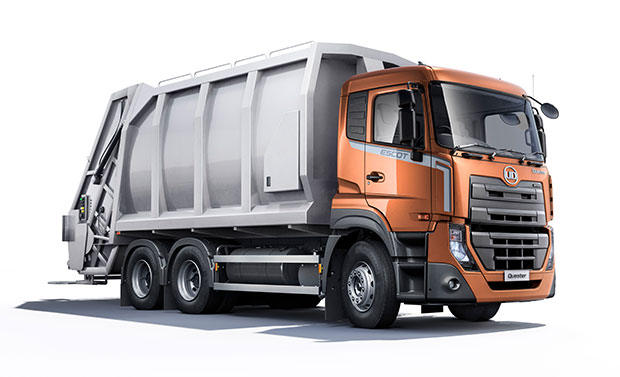 Quester
Famed for its endurance, the Quester is a versatile and agile workhorse that provides cost-efficient payback in the long-term. Allison automatic transmission is now available. This means easier driving with simple stop-start in tight urban environments with many collection points.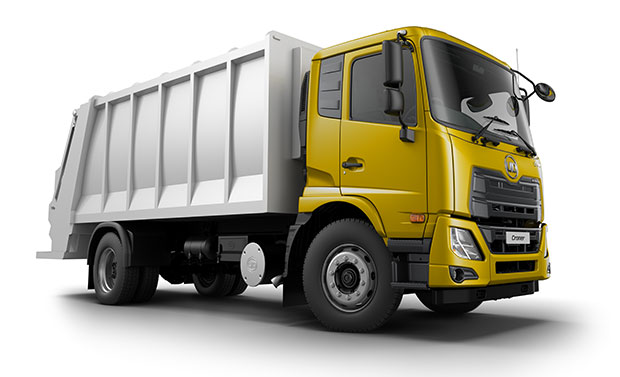 Croner
The Croner is a flexible, efficient compliment to the new Quester. It features a clean, simple and comfortable cab environment, thus is ideally suited to waste management assignments. Easily serviced and providing maximum uptime, it saves time and fuel on the road.
Bodybuilding
Both the Quester and the Croner are designed to make superstructure installation easy. Comprehensive and flexible bodybuilder preparations and power take-offs for specific applications make them ideal to be adapted for the kind of assignments you need to be ready for.
Skip loader
For transport of urban industrial waste to city recycling unit. Also used in estates and semi-rural areas.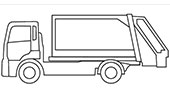 Compactor 
For the collection of general waste – mainly steel, plastic and paper – from centralized sites.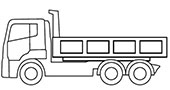 Dropside with high side
For the collection of general waste – mainly steel, plastic and paper – from centralized sites.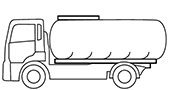 Vacuum unit
For the collection and disposal of sewage. In urban industrial and semi-rural use. 
Models suitable for waste management
5 models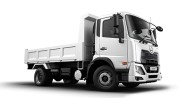 Croner LKE
GVW 12.0-14.0 Ton
|
4x2
|
180-240 HP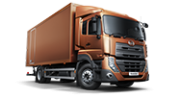 Quester CKE
GVW 21.0 Ton
|
4x2
|
250-350 HP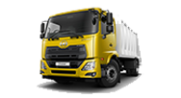 Croner PKE
GVW 15.0-19.0 Ton
|
4x2
|
250-280 HP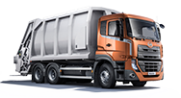 Quester CWE
GVW 34.0 Ton
|
6x4
|
280-460 HP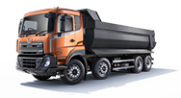 Quester CGE
GVW 41.0 Ton
|
8x4
|
280-460 HP
A sustainable partnership
No matter the assignment, waste management demands the best support network possible. UD Extra Mile Support keeps your trucks working for you.
Every hour, day or night.

UD Trust
Three levels of service care are available: UD Trust Standard, UD Trust Extra and UD Trust Ultimate. With these three levels, full transparency, no surprises with unplanned repair expenses and less administration are guaranteed.

UD Genuine Service
Service planning for peak performance. You need your vehicles on the road. That's why our detailed, free-of-charge service planning helps to reduce workshop visits, optimize service intervals for maximum uptime, and lessen any maintenance needed. Together we can keep your trucks running at peak performance.
Driver Training
We want to help and encourage new drivers to make a positive contribution to your operations. Our Driver Training program is designed to help build driver capability. Courses cover not only hand- over and operation, fuel efficiency and safe driving, but also feature dedicated modules for waste management. 
UD Genuine Parts
Because every part of your truck matters. Designed and tested to provide the highest quality and durability, and with a two-year warranty, access to UD Genuine Parts increases uptime and lowers costs per kilometre.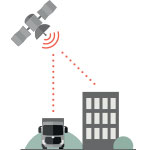 A high-tech wireless communications system that helps you manage your fleet effectively, keeping wheels turning while reducing operational costs. Our telematics service maximizes vehicle uptime via remote diagnostics, while fuel consumption reports help to increase profitability.
Quick Tips!
With Geofencing from UD Telematics, draw virtual boundaries on the map which alert you with customized messages when your vehicles cross these zones. Geofences also monitor speed limits within each zone and alert you when these speed limit thresholds are crossed.
Specify your service agreement in engine hours and go for comprehensive coverage. This will cover your wear and tear components such as brakes, slack adjusters and clutch plates.
*Our service offer can differ depending on market. Please contact your local dealer for more information on all services available to you.

"Given the current market situation for our customers, both Quester and Croner are perfectly suited to this environment."
Maruyama Mikito, Senior Product Manager UD Trucks MEENA talks about what the Quester and Croner bring to waste management assignments.
Can you begin by identifying any current trends within waste management?
Our customers are under major cost pressure to get their contracts renewed for bigger areas with much tighter budgets. This forces them to look at any possible ways of reducing costs without compromising on the uptime and availability of their truck. Waste management is a very demanding and severe application, as some of the trucks operate 24 hours a day 7 days a week. The trucks are used for the cleaning of residential areas and hence cannot stop working.
What do you see being most important to provide for your customers?
We offer the simple features that are needed by our customers without making them pay for features that they do not need . In this way we can say that we excel on the essentials.
Longer service intervals are very important to our customers who are looking to maximize their uptime. With strong support from local partners, we offer driver and technician trainings, service contracts and other support.

Which UD trucks are most important and relevant to the waste management sector?
A variety of applications are used in our markets, such as compactors, vacuum and water tankers, bin washers, hook lifts, skip loaders, road sweepers and tipper trucks. Quester and Croner are our top two. Both trucks offer durability, reliability, easy body installation, fuel efficiency and versatility.
Both trucks offer durability, reliability, easy body installation, fuel efficiency and versatility.
Clayton Fischer is Senior Transport Controller at SA Metal Group, South Africa's oldest metal recycling company. 
He talked to us about what qualities he and his company look for in a vehicle, and why the Quester represents an ideal transport solution. 

"It is the complete package and everything we needed for this job".