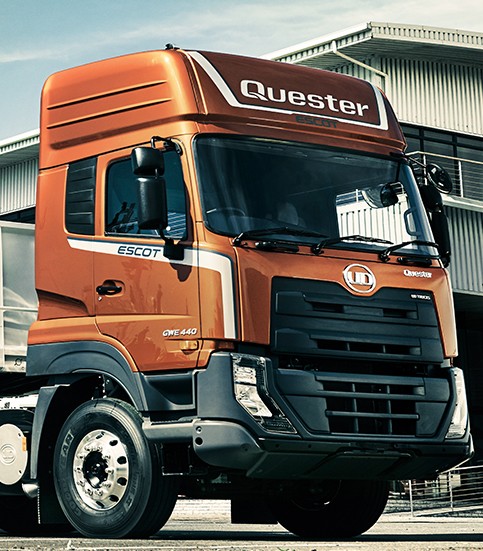 Industrial transportation today
Rapid development of economies and expansion of industrial developments has pushed greater demand for reliable and dependable industrial transportation. Companies place greater priorities to address critical business challenges that focus on fuel efficiency, shortage of talent, productivity, connectivity and more to deliver safe and efficient solutions. There is always a need for smart and innovative logistics solutions that can adapt and keep up. 
Why UD Trucks for industrial transportation?
The versatility of UD trucks makes them suitable across a variety of transport applications in regional, inter-regional, long haul and industrial transportation. Being customizable with extensive range of services, UD Trucks is your reliable partner for transportation of industrial goods such as cars, timber, machinery and cement that will support the development of your business.
The heavy-duty New Quester range with ESCOT promises the brand's trademark reliability and robustness along with higher fuel efficiency and payload, while the medium-duty Croner range delivers maximized productivity with minimized downtime, and the All New Quon embodies innovation in five essential areas (productivity, fuel efficiency, driver efficiency, uptime and safety) to meet today's diverse business needs. Solid, smart and future-designed, these trucks are dependable and built to move your business forward.

UD Trucks will have you covered with extensive services such as UD Trust service agreements that are tailored specifically to suit your business needs and ensure that your trucks will run at full optimum capacity. UD Mobile Workshop brings basic workshop services right to your doorstep and our UD Road Support is available in the event of any emergency.

In addition, UD Telematics Services a smart, high-tech wireless communications system supported by our network of UD dealers and specialists. It is designed to improve your competitive position through business improvement and efficiency. Remote diagnostics monitor truck health and performance, helping to reduce fuel and operational costs, improving fleet management, increasing vehicle uptime and offering you peace of mind.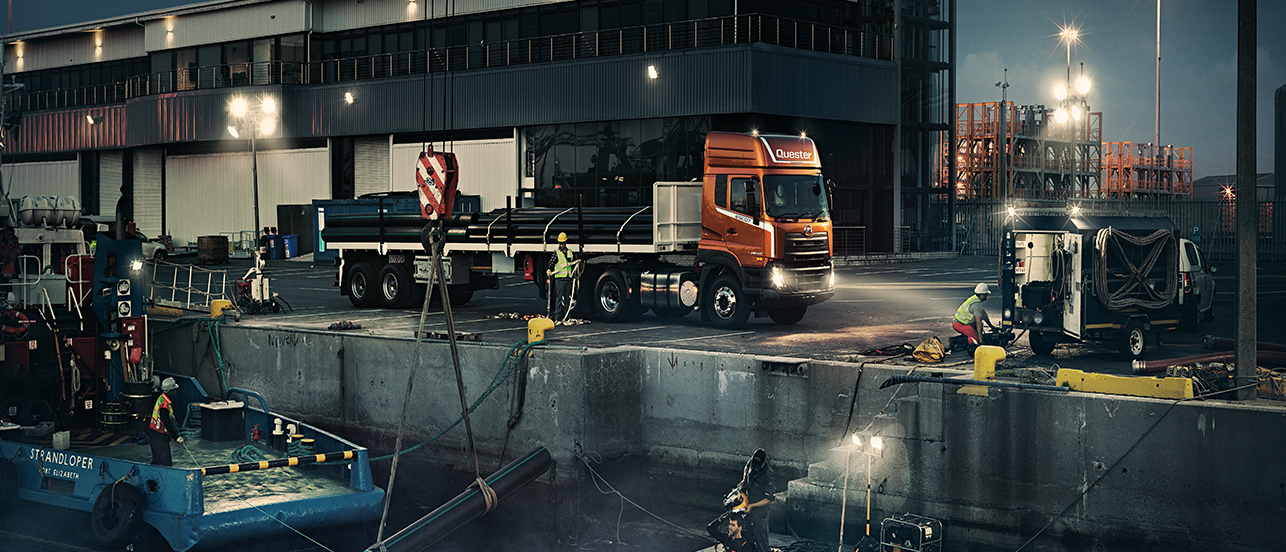 Diverse distribution
Reliable, adaptable and easy-to-drive. Here to meet your industrial transportation needs.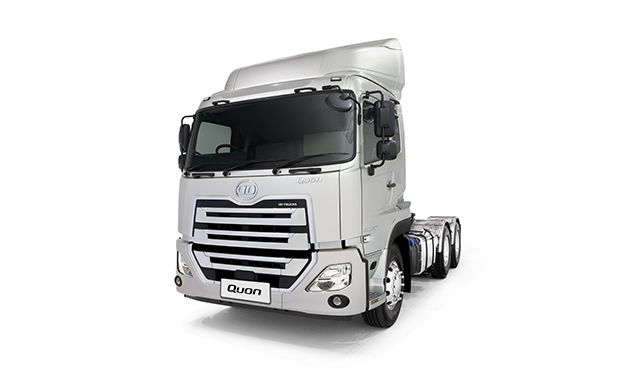 New Quon
All New Quon embodies innovation in five essential areas to meet today's diverse business needs. Innovation that puts people first. It's the next-generation truck for the age of smart logistics.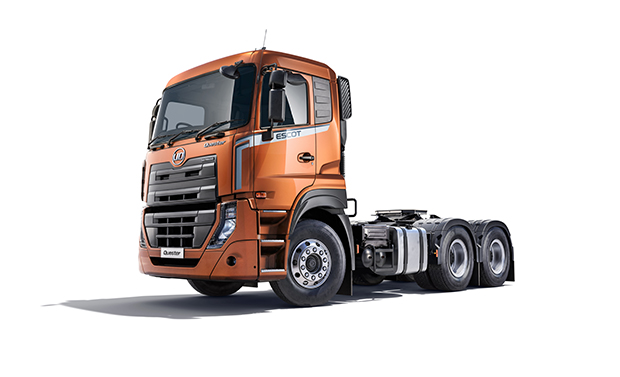 New Quester
Famed for its endurance, New Quester is a versatile and agile workhorse that provides cost-efficient payback over the long-term. New Quester introduces ESCOT automated manual transmission (AMT). Automated gear shifting makes it easier to drive and more fuel efficient even for new drivers.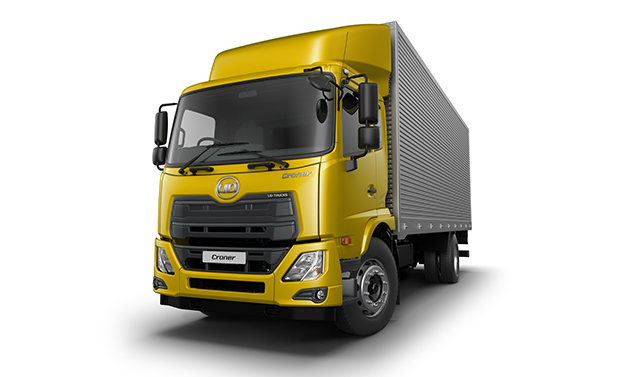 Croner
Croner is a flexible, efficient complement to the range. It features a clean, simple and comfortable cab environment, thus is ideally suited to industrial segment assignments.
Easily serviced and providing maximum uptime, it saves time and fuel on the road.
Applications
All New Quon, New Quester and Croner are designed to make superstructure installations easy.Comprehensive and flexible bodybuilder preparations make them ideal to be adapted for the kind of assignments you need to be ready for.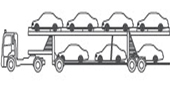 Car carrier
Designed for the collection and transportation of cars.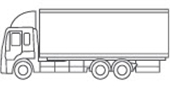 Cargo box
For transporting and cargo-handling.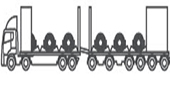 Flat bed carrier
For transport of urban industrial segment. Also used in estates and semi-rural areas.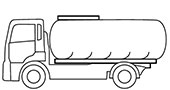 Rigid tank
The rigid tanks are used for water support to transfer liquids like lubricants, or for liquid waste disposal.
Models suitable for công nghiệp
19 models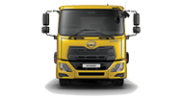 Croner MKE
GVW 10.4-11.5 Ton
|
4x2
|
180-240 HP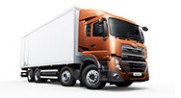 Quester CQE
GVW 38.0 Ton
|
8x2
|
250-350 HP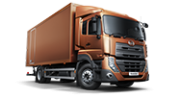 Quester CKE
GVW 21.0 Ton
|
4x2
|
250-350 HP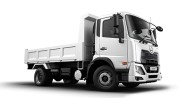 Croner LKE
GVW 12.0-15.0 Ton
|
4x2
|
180-240 HP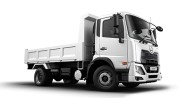 Croner LKE
GVW 12.0-14.0 Ton
|
4x2
|
180-240 HP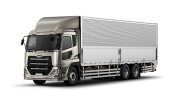 Quon CD 11L
GVW 20.0-23.5 Ton
|
6x2
|
360-420 HP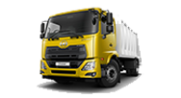 Croner PKE
GVW 15.0-19.0 Ton
|
4x2
|
250-280 HP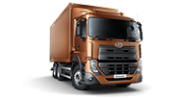 Quester CDE
GVW 31.0 Ton
|
6x2
|
250-350 HP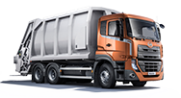 Quester CWE
GVW 34.0 Ton
|
6x4
|
280-460 HP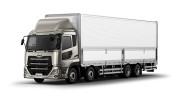 Quon CG 11L
GVW 21.0-25.0 Ton
|
8x4
|
360-420 HP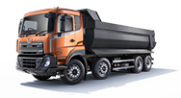 Quester CGE
GVW 41.0 Ton
|
8x4
|
280-460 HP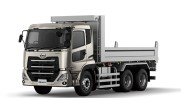 Quon CW 11L
GVW 20.0-22.0 Ton
|
6x4
|
360-430 HP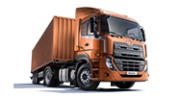 Quester GKE
GCW48.00 Ton
|
4x2
|
280-460 HP
Quester GDE
GCW56.00 Ton
|
6x2
|
280-460 HP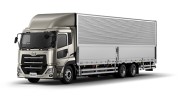 Quon CX
GVW 22.0-23.5 Ton
|
6x4
|
360-390 HP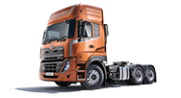 Quester GWE
GCW80.00 Ton
|
6x4
|
280-460 HP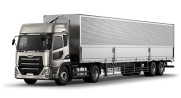 Quon GK
GCW40.00-45.00 Ton
|
4x2
|
390-460 HP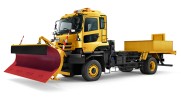 Quon CF
GVW 16.0 Ton
|
4x4
|
360 HP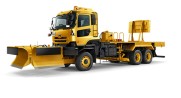 Quon CZ
GVW 22.0 Ton
|
6x6
|
420 HP
A sustainable partnership
No matter the assignment, industrial segment demands the best support network possible. UD Extra Mile Support keeps your trucks working for you. Every hour, day or night.
UD Genuine Service
Our optimized service planning helps to reduce workshop visits, extending service intervals for maximum uptime. 
UD Genuine Parts
Designed and tested to provide the highest quality and durability. With a two-year warranty, access to UD Genuine Parts increases uptime and lowers costs per kilometer.
UD Road Support
A fast and efficient UD Road Support team provides repair services at your convenience to get you back on the road as fast as possible.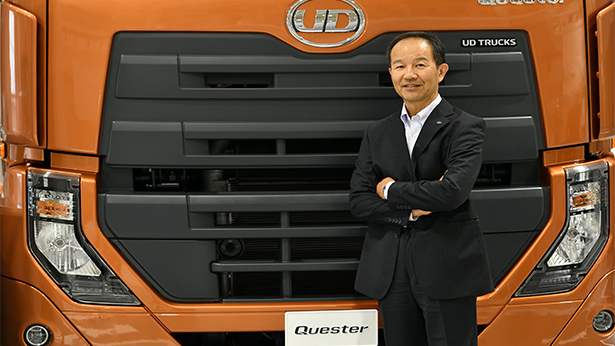 "We have a versatile product range for the industrial business."
Naoki Kobayashi, Key Account & Regional Director of UD Trucks talks about what the All New Quon, New Quester and Croner bring to industrial segment assignments.
What are the key trends, opportunities and challenges for the industry moving forward? What is your outlook of the industry?
In emerging markets, many companies have started to consider safety, environment and societal issues. At the same time, businesses are experiencing a lack of drivers who are becoming overworked to meet the demands for freight transport. Traditionally, when there is a lack of drivers, businesses maximize their freight by loading more onto their trucks which becomes a safety concern. Increasingly many countries have enforced stricter weight regulations and driver compliance. These are challenges that we need to provide solutions for; the lack of drivers as well as secure higher uptime and payload to keep logistics moving, which is the lifeline of society.
How do our products meet the needs of the customers in markets today?
All New Quon, New Quester with ESCOT and Croner with Allison are the best partners for the industrial business. They are comfortable to drive in and thus ease driver's fatigue.
Even if the driver is not experienced, they will be able to drive our trucks easily which will then secure more drivers in your fleet. As a result, this increases uptime. On top of providing better driving comfort, the
introduction of automatic transmission will help to improve and standardize fuel efficiency across your fleet. In addition with New Quester, the overall vehicle weight has decreased by almost a tonne, which will help customers to maximize the payload as weight regulations have become stricter.

What makes our products optimal for our customers? What are some of the key features of these trucks (eg: Telematics, payload capacity) that make them suitable for our customers?
Service offerings such as the fuel coaching system and telematics will help to decrease operational cost by improving fuel-efficient driving. With these services, we can analyze the driving behaviour of each driver and together with the customer, we can improve the driving skills with optimal fuel-efficiency.
In addition, through our vehicle handover process and driver training when delivering the trucks, customers will be informed of how to improve fuel efficiency within their fleet.

What do you see being most important to provide for customers (eg: aftersales support, UD Telematics)?
Highly skilled mechanics and technicians that provide quality services are important. In this globalized world, customers run their businesses in many countries and operate across borders. Within each country, these customers prioritize on time delivery in order to meet their global demand. UD trucks has operations in more than 60 countries with highly skilled mechanics who have been trained to provide high quality services to ensure that our customer's business runs smoothly and maintains a high uptime.
Tamworth Car Carrying's Director Mr. Les Sutton and New South Wales.
Manager Mr. Lawrence Sampson confirm how All New Quon impresses them with reliability, driving comfort and much more.
"When I'm looking to buy a new truck, I like reliability"