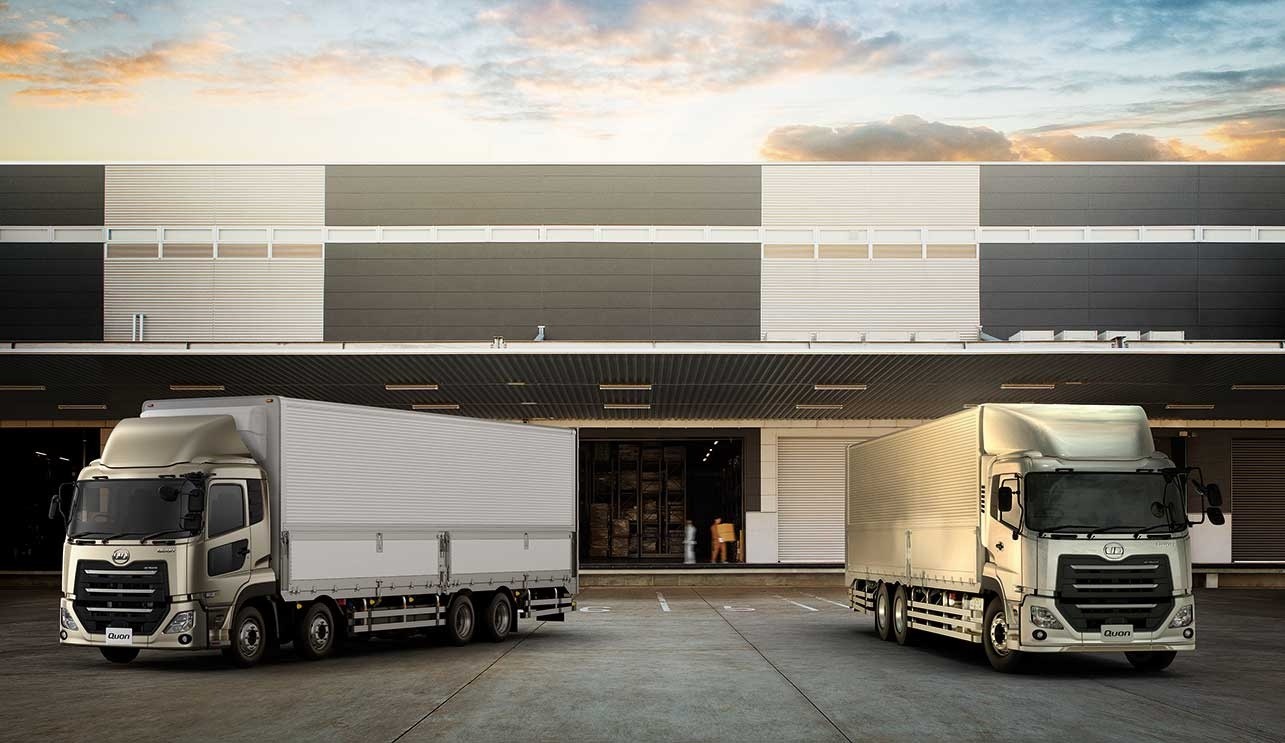 Improved productivity, greater efficiency
Overall weight reduction has been achieved while taking cargo handling and body-mounting efficiency in mind. Our standardized body truck range, the "Perfect Quon," has further enhanced options including extended variety of aluminum bodies with gullwing doors. Furthermore, it is available with gullwing body with direct-drive refrigerating unit. The truck has an 8-liter low emission engine and a top-class light-weight chassis, improving its payload significantly. It is a highly productive vehicle.
Chassis designed for maximizing payload and efficiency
The key to transport efficiency is increased payload. To improve payload the Quon uses disc brakes and high tensile steel plates for the main frame to reduce vehicle weight.
Our chassis designs also emphasize body-mounting efficiency to provide a greater range of options. Perfect Quon is also available with a tipper and a mixer of various body specifications, and has an expanded line-up.
The evolving Quon goes the extra mile to contribute to improving customers' productivity.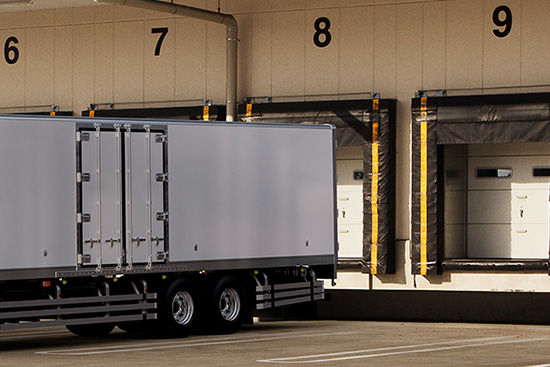 Increased height-adjustment range from new air suspension
Increased adjustment range for 6x2 and 6x4 models optimizes height adjustment for the loading environment. Generous adjustment of +115 mm up from neutral further increases cargo-handling ease.
The uneven load-adjustment function automatically adjusts any lateral differences of the height of the trucks through the air suspension, improving cargo handling when loading from the side with a forklift. It prevents cargo from sliding down and protects the customers' valuable cargo.
"Perfect Quon" with extended variety of options answers to your business needs
Our "Perfect Quon" range of standardized bodies support expanding your business and the future of the transport. The light aluminum gullwing standard vans are swiftly delivered to you, meeting your requirements. We offer the optimal truck with high quality body from the wide range of choices, great cost performance and smooth and short lead-time.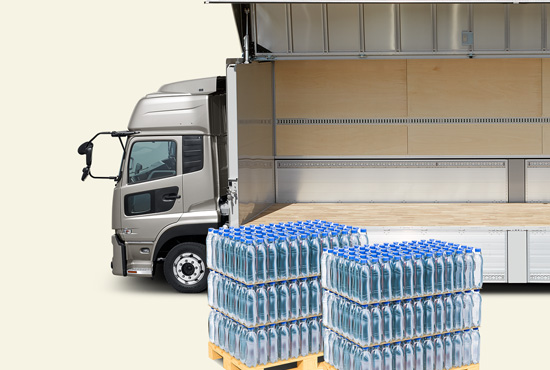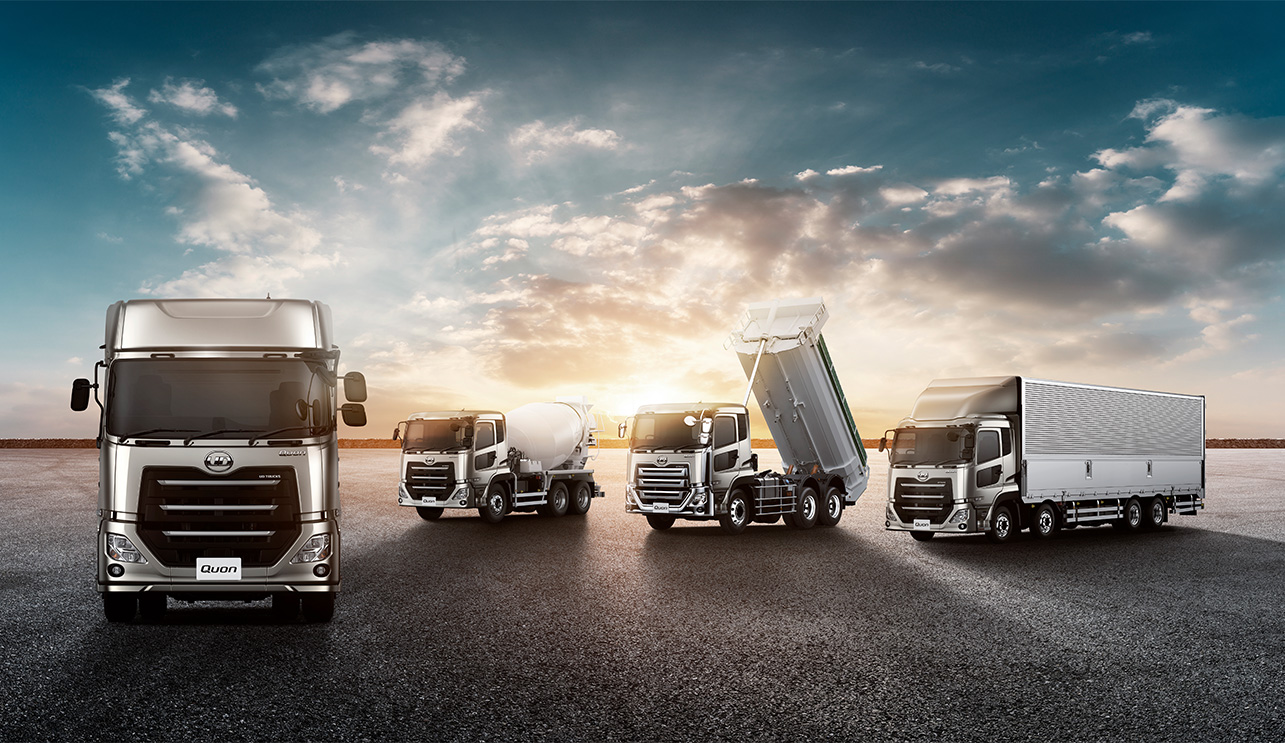 The Perfect Quon 8-liter Engine Line-Up
8L engine truck boasts the largest payloads in its class
A high payload model taking advantage of the reduced weight of the standard model is also available. Now the Perfect Quon has more options for mounting. Through transport efficiency, your productivity goes the extra mile.
Cargo: Improved payload of more than 500 kg*
Two types of body, standard and high payload are available for Perfect Quon dry wings. The high payload model, with a lighter chassis, has its payload increased by approximately 500-700 kg.
CD 6×2 Standard model 14,600 kg/High payload model 14,800 kg
CG 8×4 Standard model 14,500 kg/High payload model 14,700 kg
*Comparison to UD GH11 engine mounted truck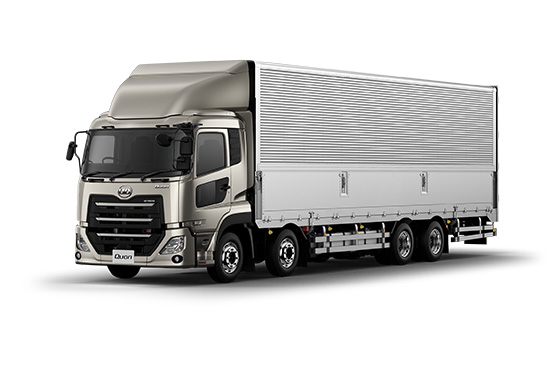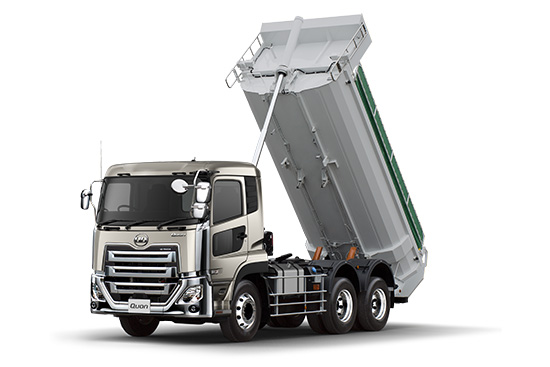 Tipper: A payload of 10 tons for the standard model
A payload of 10 tons is now possible with the standard model. For the high payload model, a telescopic cylinder type rear-dump is now available.
The payload for the standard model is more than 9.8 tons.
Moreover, for the high payload model, a payload of over 10 tons is ensured. A simple structure of a telescopic cylinder type rear-dump can be chosen.
CW 6×4 Standard model 9,800-10,000 kg/
High payload model 10,400 kg
Mixer: Drums available of 4.4 ㎥ and 4.5 ㎥ capacity
For the mixer truck, two types of mixer drum can be chosen. The standard type drum capacity is 4.4 ㎥, the highest capacity in the class of 4.5 ㎥ is also available.