Safety functions for risk prediction
Truly safe driving on a daily basis requires the vehicle to predict potential dangers and immediately notify the driver. Quon features safety systems based on advanced technology including Traffic Eye braking and Driver Alert. The goal of "safety that puts people first" mandates safe conditions for drivers as well as those in the surrounding environment. Safety is built into all basic features, with heat-dissipating, fade-resistant disc brakes available on all models.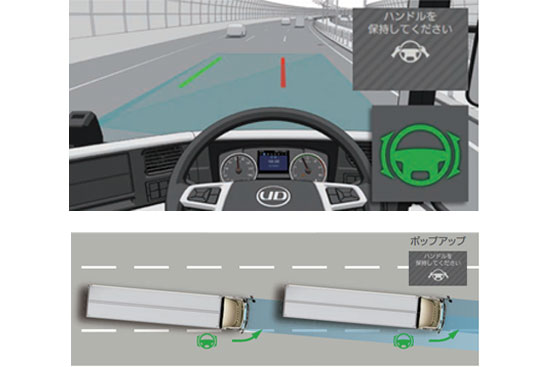 LDP (Lane Departure Prevention function)
(1) The camera in the cab detects driving lanes, and if the driver unintentionally deviates from the driving lane while driving at 60 km / h or more, the system intervenes and assists the steering operation.
(2) If the system intervenes two or more consecutive times and the driver's steering operation cannot be confirmed within 180 seconds, warning sounds and pop-up warning will be activated.
*LDP is available as an option for CG rear axle air suspension WB 7,520mm vehicles and GK WB 3,200mm vehicles.
Active safety – Traffic Eye Brake
Dual monitoring with millimeter-wave radar and camera dramatically improves detection of the vehicle ahead. The AEBS01 series represents our early compliance with requirements for strengthened braking to reduce collision damage, ahead of scheduled implementation in November 2019.

1. Uses both millimeter-wave radar and camera to monitor conditions in front of the truck.

2. While driving, if the possibility of collision with the vehicle ahead is detected, the driver is quickly notified with a warning indicator and an alarm.

3. If the vehicle reaches a distance where collision is possible, the brakes are applied quickly to reduce any damage due to collision.

* The Traffic Eye Brake System provides assistance for safe driving. However, it does not guarantee that all collisions will be avoided. It might not be possible to use this system in some road, vehicle, and weather conditions. Please take care to drive safely without relying on this system.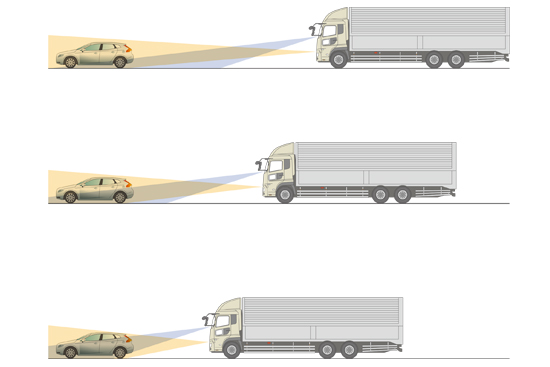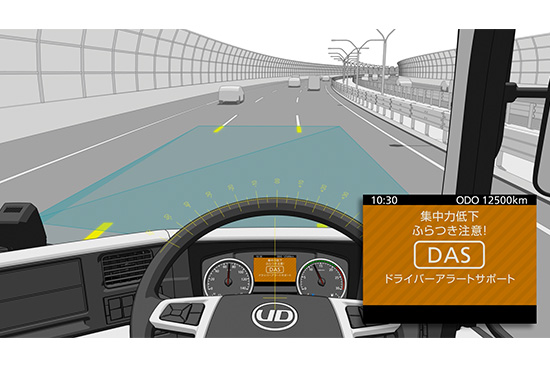 Active safety – Driver Alert System
The camera installed inside the cab recognizes the positional relationships between traffic lanes and vehicles, and estimates driver awareness based on steering irregularities. If the driver's concentration drops, a two-step alarm and warning message on the multi-display alert the driver and suggest a break.
Active safety – Lane departure warning system
The cab camera detects the traffic lanes to the left and right. If the driver unintentionally leaves the lane at speeds of 60 km/h or more, an alarm sounds and an indicator flashes. This function is not triggered by the brakes or turn indicators.

* This function is not triggered if the brakes and  direction indicators are being used.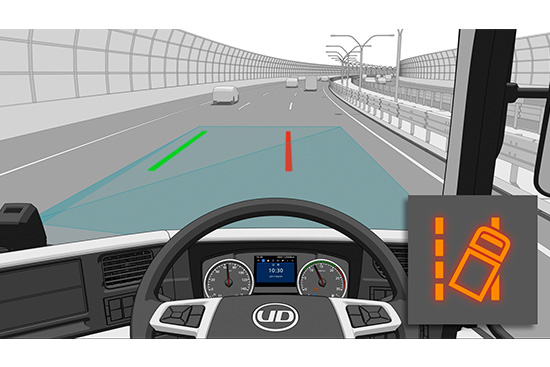 Active safety – UD Stability Control (UDSC)
If the UDSC sensor detects conditions in which the truck could become unstable, such as curves or slippery road surfaces, the system applies control appropriate to engine output and braking power to each tire to maintain stability. UDSC is available on all models. 
Basic safety – LED headlamps
Long-lasting LED low-beam lamps provide bright, clear light to improve night visibility for safe driving.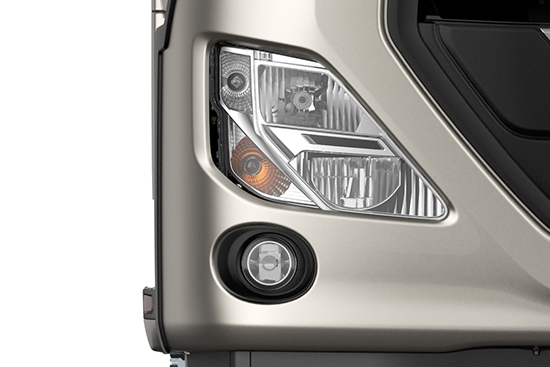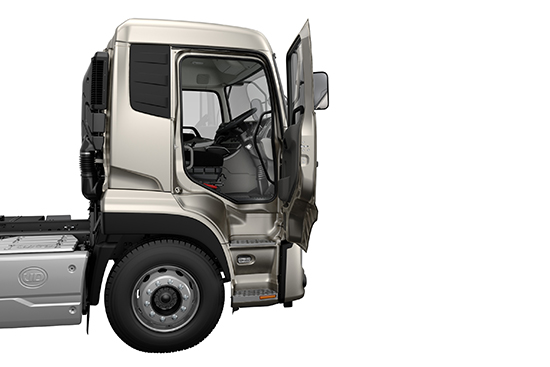 Basic safety – Long grip and 2-step floor height
An extended grip and two-step entry/exit provide additional driver safety. Cab floor height has also been lowered to improve forward visibility.
Basic safety – Disc brakes
Disc brakes with high heat dissipation and superior fade resistance provide reliable braking performance even on long descents while hauling cargo. In addition, because they are less susceptible to water penetration, they provide stable braking performance even in adverse conditions. They respond quickly and smoothly to the operation of the brake pedal and reduce the impact of braking, to prevent damage to your valuable cargo.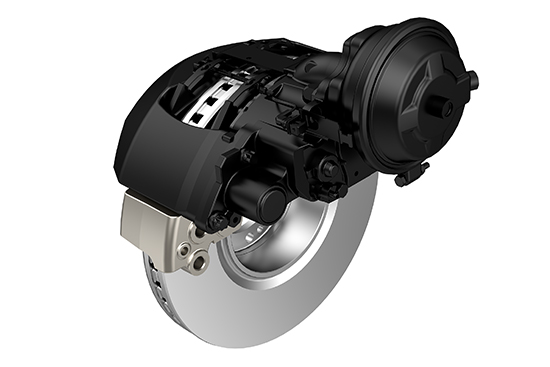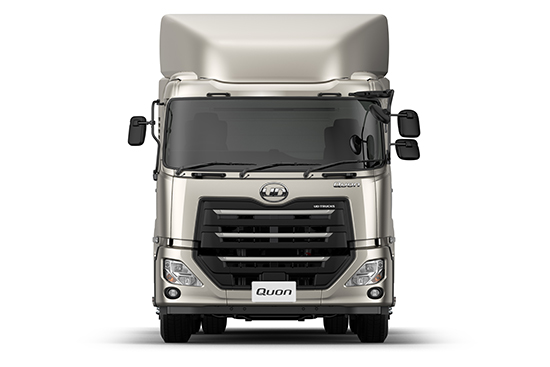 Passive safety – SAFES CABIN
The SAFES CABIN consists of a highly rigid cab loaded with safety features. Collision impact is redirected to the rear, and side-door beams improve safety by enhancing interior strength. 

Injury-reducing features include seat belts with pre-tensioners, SRS airbags, and impact-absorbing steering wheel and column. Under-run protection (front and rear) reduce damage to other vehicles and their drivers.

Our drivers who drive our current Quons have always praised it: "Driving is comfortable, stress and fatigue don't accumulate and you can concentrate on safe driving." In the new model, ESCOT-Ⅵ's gear changes have become even smoother. I think that the reputation of this new Quon among our drivers will be even better. Although I could not experience Traffic Eye Brake and driver fatigue alert on this test, I highly appreciate the enhancement of such safety features.
Hidekazu Katsuyama, Preseident and CEO, Sanwa Un-yu