With innovation that puts people first, our next generation of trucks feature design enhancements in five major area.
Comfortable and efficient driving performance 
"UD Active Steering", a revolutionary technology that vastly improves steering precision and driver comfort, and "ESCOT-Ⅵ" - the latest evolution in 12-speed automated manual transmissions, plus disc brakes and an interior deliver a sophisticated driving experience that reduces driver stress and fatigue.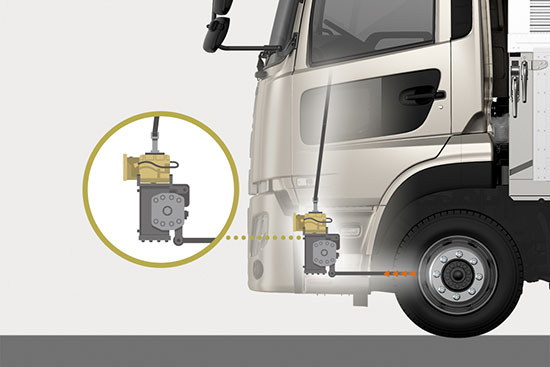 UD Active Steering
UD Active Steering features an electric motor mounted above the hydraulic steering gear to provide additional torque when necessary. The electronic control unit (ECU) mounted on the electric motor receives input 2,000 times per second from sensors throughout the truck, monitoring the driving environment and the driver's own actions. This system control adds appropriate torque to the weight of the steering wheel, providing precise and stable steering irrespective of speed, cargo, and road conditions. The ease and precision of steering helps reduce driver fatigue and make roads safer.  
*UD Active Steering is available as an option for CG rear axle air suspension WB 7,520mm vehicles and GK WB 3,200mm vehicles.
Unparalleled operability: "ESCOT-Ⅵ"
"ESCOT-Ⅵ" provides highly-evolved hardware and software control to ensure professional driving performance. With its advanced and accurate gear changes and smooth fuel efficiency, ESCOT-Ⅵ eases operability, reduces levels of stress and fatigue while driving, and contributes to driver safety. Performance is further improved on snowy roads and in muddy areas.
The ESCOT-Ⅵ gear lever uses a straight shifting pattern, an evolution in its simple and easy-to-use design.
---
ESCOT-Ⅵ's gear change is really exquisite. On a trial ride with a virtual load, I was even wondering "Am I really carrying a 10-ton load?". Whether it is the transmission, or the new brakes, all respond perfectly to the driver's will, and can't be qualified by a word less than "wonderful". Our Quons are currently manual, but after discovering its level of performance, I think we need to seriously consider acquiring automatic new Quons.

Atsushi Miyazaki, Senior Executive Officer, Kyoshin Construction Transport Ltd.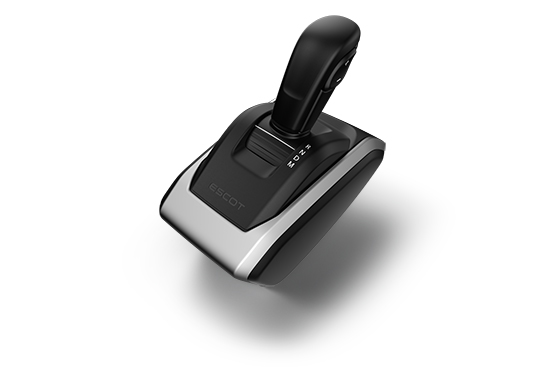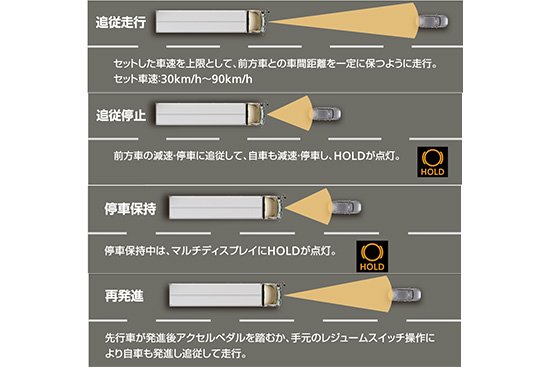 Traffic Eye Cruise Control
This system maintains a fixed distance from the preceding vehicle, detected by a millimeter-wave radar. It decelerates to less than 15 km / h and remains engaged even if the vehicle comes to a complete stop. If the preceding vehicle accelerates, the truck will accelerate within the range of speed that has been set. The driver can set the speed and distance between vehicles with the switches on the control panel.
※Only available to GH 11 engine and ESCOT-Ⅵ mounted truck
4-spoke steering wheel
The shape of the steering wheel has been ergonomically redesigned for a more comfortable grip that reduces driver fatigue. Switches are conveniently positioned for easy access to functions and information, and the driver's line of sight and operation line are on the same plane for efficient, safe, and reliable operability.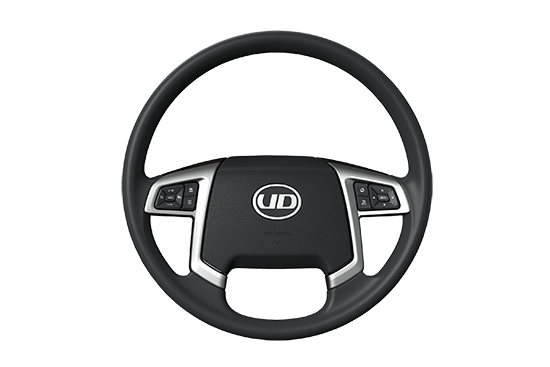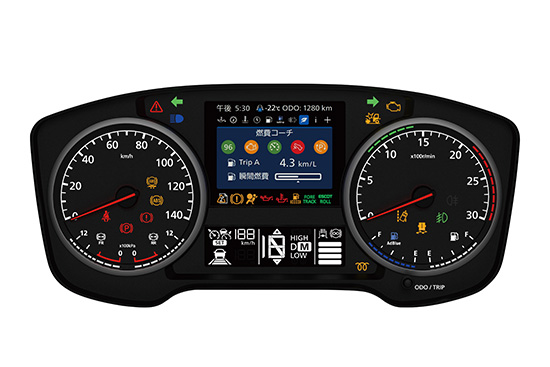 Instrument panel affords excellent visibility
The newly designed instrument panel is loaded with driving information and LED indicators arranged in an easy-to-understand way. Information is displayed in zones arranged according to warning priority, with essential information at the top. A large, 5-inch color LCD multi-display monitor with outside temperature display occupies the center of the instrument panel, with fonts and layout designed for easy visibility.
1. Easy-to-read font size, easy-to-see symbols and gauges.
2. Multi-display, controlled with switches on the steering wheel.
3. Classy design featuring silver rings.
4. Sub-display
5. Cruise Control information
6. Gear number information
7. Auxiliary brake information
Dashboard designed for driver comfort
We have designed a sleek black and silver dashboard that skillfully combines straight lines and curves, to enhance driver operability and visibility, and to provide optimal arrangement of the multi-display monitor, switches, equipment, and instruments. Switches are set to light up when in use and to light up at night time, so that all switches can be easily understood at a quick glance.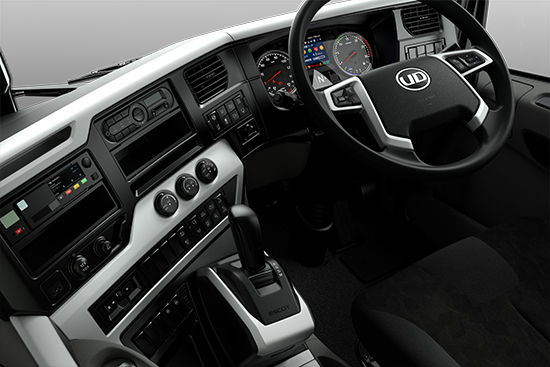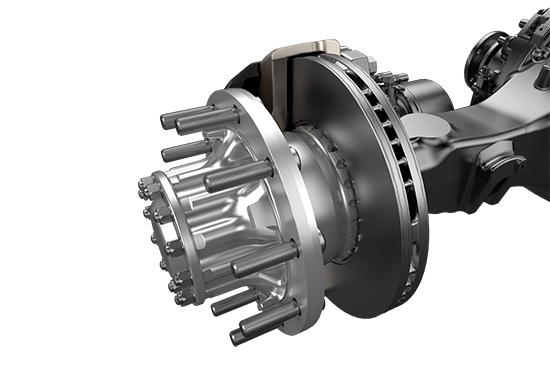 Disc brakes for reliable and powerful braking
Disc brakes are available on all models for quick and smooth pedal response, and reliable braking even on long descents with a full load. By combining a variety of advanced systems, such as brake blending and an Emergency Braking System (EBS), we have achieved braking comfort that reduces driver fatigue, and is also easy on cargo. 
---
To me, the new gear lever adopting a straight shift pattern and the switches arranged on the steering wheel are a big factor leading to the ease of operation of the new Quon. In the test drive this time, the "brake blending" perfectly blended the auxiliary brake with the foot brake, and I was able to experience stable and reliable ideal braking. I'd like our drivers to also experience this exquisite effectiveness.

Shinji Mitsuyama, Senior Executive Officer, Charters Company Co.,Ltd
Belt-In Seat
By incorporating the seat belt into the seat body and following the movement of the seat suspension, the BIS (Belt-in seat) reduces oppression during driving. Equipped with a variety of adjustment mechanisms that finely respond to your physique and taste. The high-performance seats provide a comfortable ride even over long distances, reducing driving fatigue and contributing to safety.
*Belt-in seat is available as an option for sleeper cabins