Safety functions for risk prediction
The Quon with new features is a reliable and safe choice for all drivers, road users, and communities. It combines high-tech active, passive, and basic safety features — creating a safer internal and external driving environment. These upgrades actively reduce risk of accidents and provides comprehensive protection during emergencies.
The Quon with new features embodies UD Trucks' ambition to achieve Vision Zero: a future with zero injuries or fatalities from road collisions. Run your business with the safest Quon yet.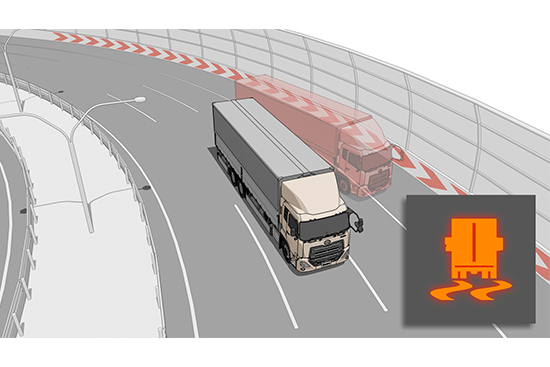 Active safety – Predicting risk for driver safety
UD Trucks activity safety components  are designed to prevent accidents happening, keeping both the driver and other road users safe.
Traffic Eye Brake System
Traffic Eye Cruise Control
LDWS (Lane Departure Warning System)
UDSC (UD Stability Control)
Driver Alert System (optional)
Active safety – Traffic Eye Brake
The Traffic Eye Brake system uses dual monitoring with its new millimeter-wave radar and camera to dramatically improve detection of vehicles and vulnerable road users (such as pedestrians and cyclists) ahead of the truck. In an emergency, the system automatically applies the brakes to slow the truck down.
The Traffic Eye Brake system uses both its new millimeter-wave radar and camera to monitor conditions in front of the truck.
While driving, if the possibility of collision with the vehicle ahead is detected, the driver is quickly notified with a warning indicator and an alarm. (Additionally: Any road users that suddenly move in the path of the Quon will be detected by its Moving Off Information Signal (MOIS).)
If the vehicle reaches a distance where collision is possible, the brakes are applied quickly to reduce any damage due to collision.
*Our Traffic Eye Brake System is designed to help you drive more safely. While it can provide valuable assistance, it's important to keep in mind that the Traffic Eye Brake System may not be suitable for all road, vehicle, and weather conditions. Please remember to always drive carefully and use the system as an aid, rather than rely on it completely.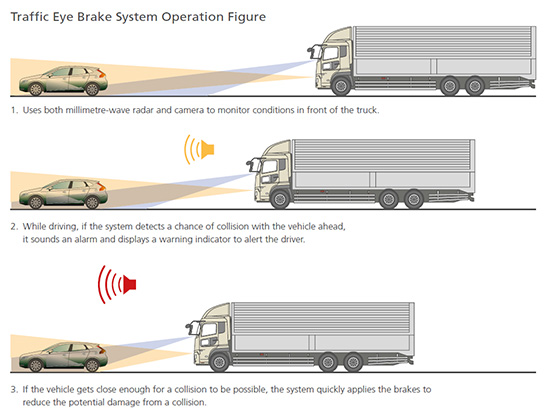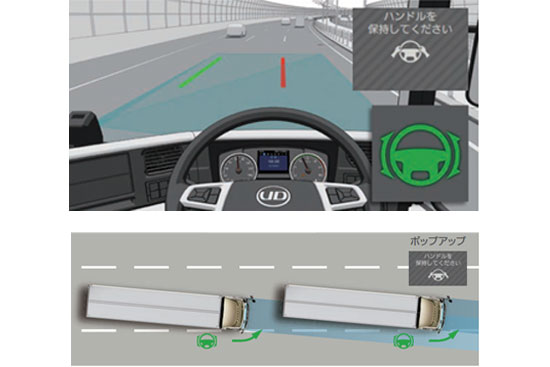 LDP (Lane Departure Prevention function)
1. The camera in the cab detects driving lanes, and if the driver unintentionally deviates from the driving lane while driving at 60 km/h or more, the system intervenes and assists the steering operation.
2. If the system intervenes two or more consecutive times and the driver's steering operation cannot be confirmed within 180 seconds, warning sounds and pop-up warning will be activated.
 
Passive safety – SAFES CABIN
The SAFES CABIN is designed to provide maximum safety to the driver and passengers. It is constructed with a rigid body and side-door beams to enhance interior strength — while redirecting the collision impact to the rear. The cabin includes safety features such as seat belts with pre-tensioners, SRS airbags, and an impact-absorbing steering wheel and column.

To further ensure the safety of others on the road during a collision, under-run protection is installed at the front and rear ends of the truck.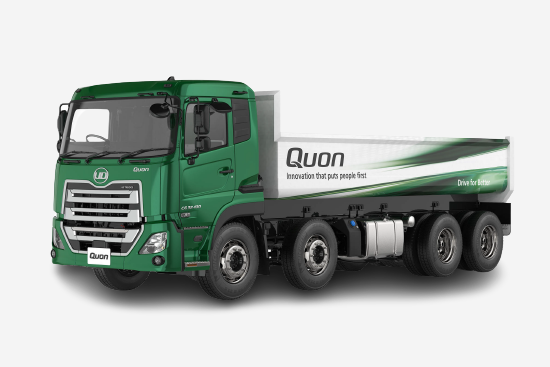 Blind Spot Information System (BSIS) and Lane Change System (LCS)
BSIS and LCS increase driver visibility especially when navigating congested roads or densely populated city centers — resulting in better care for other road users.
Changing lanes or turning is made safer by detecting present VRU in the area. Detection will trigger a blinking indicator and the instrument cluster will display a warning, accompanied by an audible buzzer to alert the driver.
 
Basic safety features
The New Quon has been designed with a number of features which contribute to reducing fatigue while driving, supporting safe driving. These include:
LED Headlamps
Disc brakes
Emergency Braking System
UD Extra Engine Braking (UD EEB)
UDSC (UD Stability Control)
Safe Brake Blending
Immobiliser
Easy two-step entry/exit & long grip (driver's side)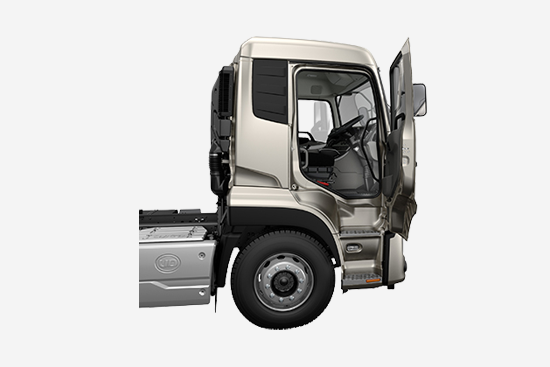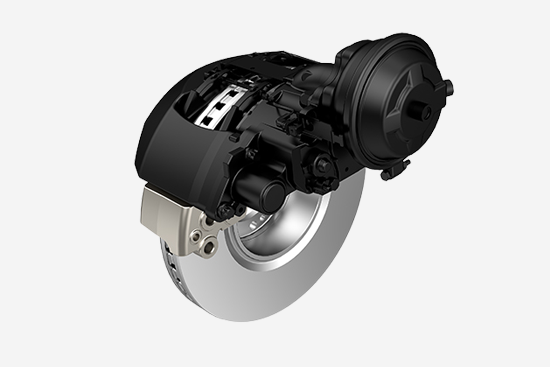 Disc brakes
Disc brakes with high heat dissipation and superior fade resistance provide reliable braking performance even on long descents.  As they are less susceptible to water penetration, they also provide stable braking performance even in adverse conditions. They respond quickly and smoothly to the brake pedal and reduce the impact of braking, to prevent damage to your valuable cargo.
Emergency Brake Signal
Warn other road users behind you during an emergency stop with rapidly blinking brake lights.
UD EEB (UD Extra Engine Braking)
The UD EEB function on the GH11 engine maintains a high engine rpm to ensure maximum auxiliary braking performance.
Safe Brake Blending
Brake blending provides superior braking efficiency and optimal balance between the main brakes and auxiliary brakes, simply by pressing the brake pedal.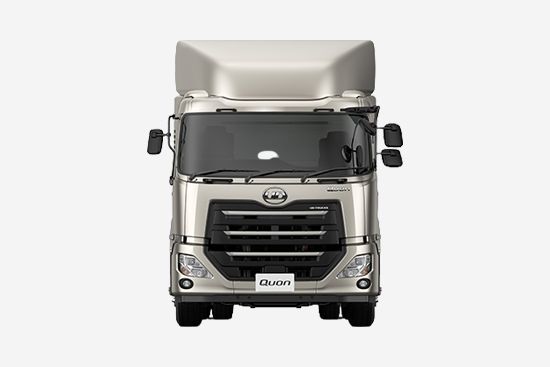 Immobiliser
You can only start the engine with the dedicated key, helping to reduce the risk of vehicle theft. The immobiliser is equipped as standard on all models.
Traffic Eye Cruise Control with Stop and Driver Initiate Go
Reduce driver fatigue and human error. The Quon automatically controls its cruising speed during deceleration to prevent potential accidents. The driver can reinitiate movement after standstill by gently pressing on the accelerator. When combined with Quon's Traffic Eye Brake System, this feature achieves better road safety.
Traffic Sign Recognition
This new feature can identify traffic signs, speed limits, and other roadway markers and project them on your multi-information display in the cab — keeping you informed and aware while on the road.
---
Our drivers who drive our current Quons have always praised it: "Driving is comfortable, stress and fatigue don't accumulate and you can concentrate on safe driving." In the new model, ESCOT-Ⅵ's gear changes have become even smoother. I think that the reputation of this new Quon among our drivers will be even better. Although I could not experience Traffic Eye Brake and driver fatigue alert on this test, I highly appreciate the enhancement of such safety features.
Hidekazu Katsuyama, Preseident and CEO, Sanwa Un-yu