Improved productivity, greater efficiency
The Quon with new features enables more efficient business operations. We've reduced the overall weight of the truck — while keeping cargo handling and body-mounting efficiency in mind. Our standardized body truck range comes in an extended variety of aluminum bodies with gullwing doors. A gullwing body option that comes with a direct-drive refrigerating unit is also available.
With an 8-liter low emission engine and lightweight chassis to maximize payload — the Quon with new features is a productivity workhorse that will drive your business forward.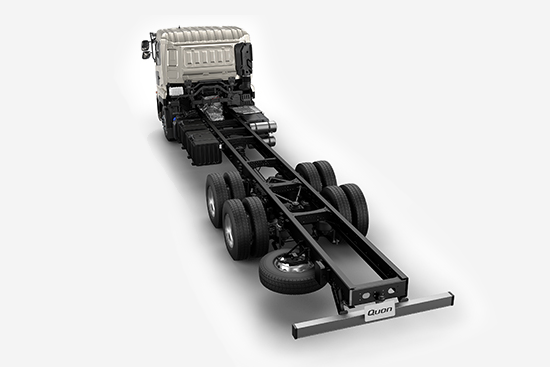 Chassis designed for maximizing payload and efficiency
The key to transport efficiency is increased payload. Designed for maximum payload*, the Quon with new features uses disc brakes and high tensile steel plates for the main frame to reduce vehicle weight — improving smoothness of travel at all speeds. The lighter chassis enables greater ease of loading and features an uneven load-adjustment function that maintains vehicle frame strength.

Our chassis designs also emphasize body-mounting efficiency to provide a greater range of options. The Quon with new features is also available with a tipper and a mixer of various body specifications, and has an expanded line-up. 

*Up to +200kg depending on the model
A new air suspension with increased height adjustment range
The new air suspension features increased adjustment range. This enables optimal height adjustment for loading docks and connecting the trailers, with an adjustment width of +140 mm upward from the neutral position.
Improved load hauling, uneven load adjustment function
The uneven load adjustment function automatically adjusts any lateral differences in height on trucks with new air suspension. This improves handling when loading from the side of the truck.