Corps of mechanics keep the trucks on the road every day. It is a challenging task and shortage of mechanics is a reality in Japan and overseas. The international competition "UD Trucks Gemba Challenge" is one way of making the mechanics profession more attractive. "We are getting more and more applicants and this is one reason", says Kouji Maruyama, SVP UD Japan Sales, Ageo

The "UD Trucks Gemba Challenge" is a truly unique event among the Japanese truck manufacturers. The first week of November the World Final was held at UD Trucks headquarters in Ageo, Saitama prefecture with teams participating from all parts of the UD world. The proud winner this year was Team Swire Synergy from Hong Kong. 
However, this is not the story about the result of the Gemba Challenge competition itself. This is the story of why, every second year, UD Trucks arranges this service market competition for their mechanics from all over the world. 

Transportation is the lifeblood of society 
Transportation is the lifeblood of society. Every day thousands of trucks deliver what we need for our daily life. And every day thousands of mechanics in truck customer centers put their professional skills and service at work to support these transportation systems. 
By attracting, developing and retaining a pool of qualified and motivated mechanics, the industry can meet the expectations of timely delivery also from society and the public at large.

"Basically every item around us has been in a truck. at least once The mechanics play a vital role in making society work", says SVP Pierre Jean Verge Salamon, Ageo and SVP Jacques Michel, Singapore, together responsible for sales of UD Trucks outside Japan.  

"The theme of this year's competition is "Celebrating Our Heroes", to shine a light on our colleagues and their important work".

Shortage of mechanics…
There is a growing shortage of mechanics in Japan and other countries. In Japan alone,  more than 50 % of about 100,000 vehicle maintenance workshops*1   have shortage of some kind. In total there are some 400,000 certified mechanics*2,  and since the average age is 44 years*2 it is important to encourage young people to apply to mechanics schools.
There is a similar situation in Indonesia, Australia, South Africa, Singapore and other UD markets around the world.
…being addressed by UD Gemba challenge
By arranging and sharing the story of Gemba challenge, UD Trucks is contributing to an improved awareness and attractiveness of the mechanics profession in these societies. 
"We tell our Gemba Challenges story broadly in external channels, addressing not only our needs but also the shortage of mechanics for the industry and society at large. It's a joint responsibility for all us stakeholders to solve this matter", says Pierre Jean Verge Salamon and Jacques Michel. 

Technical Internship program for foreign mechanics 
UD internship program for foreign mechanics is another activity to develop the profession of mechanics. The program provides trainees with a solid technical foundation and exposure to new technology that is not yet released in their home countries. 

They will stay at UD Trucks in Japan for 3-5 years and will after the internship be able to return home with a highly desired skills set which enables them to access better career opportunities. 

"UD Trucks in Japan will benefit from having a diverse workforce that can generate new ideas and encourage a fun and inclusive working environment", says Kouji Maruyama.
UD also has a Mechanic certification program for our existing mechanics and a New Graduate training program.

This year a special Junior Gemba Challenge is arranged for the first time. Ten teams from vocational schools in Japan were invited to observe the global finals, and also to compete against each other in the new training center in Ageo.

UD Gemba Challenge is about team work
The Gemba Challenge is putting the mechanic into his or her team in a realistic way. This global service market competition is for teams of mechanics, parts representatives and customer service representatives. They are given real cases to solve – for example  shifting the fuel injectors of the engine – and the way the issue is solved from A to Z is evaluated and graded. 
The competition is growing year by year and this year 347 teams from Japan, South Africa, Hong Kong, Taiwan, Thailand, Indonesia, Malaysia Middles East and South Africa entered the competition. That involved some 1300 persons. Twelve teams make it to the finals.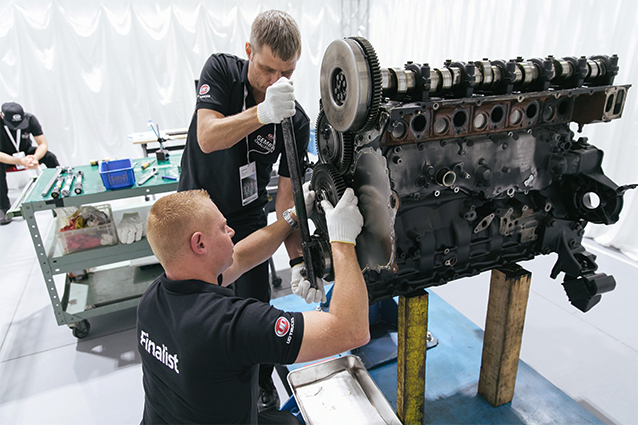 A scene during competition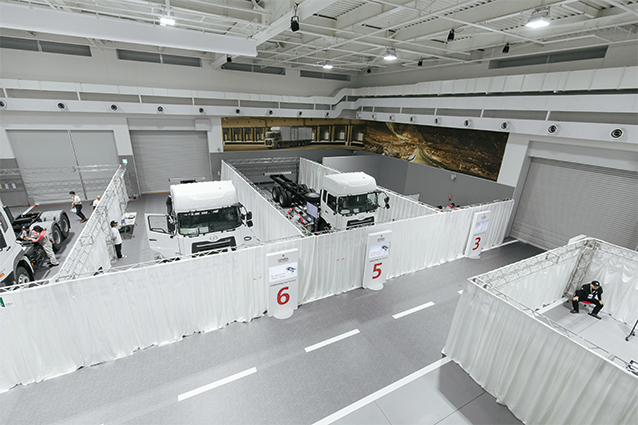 Competition venue
UD Trucks is currently hiring mechanics
UD Trucks is expanding its service market business and is currently hiring mechanics in Japan and overseas. 
 
*1   Ministry of Land, Infrastructure, Transport and Tourism, Statistics on Auto repair shops
*2   Japan Automobile Service Promotion Association 2016 research on Vehicle maintenance industry

For media enquiries, please contact:
Info.udtrucks.japan@udtrucks.co.jp

UD Trucks is a leading Japanese commercial vehicle solutions provider, active in more than 60 countries on all continents. Since its inception in 1935, the company has been an innovation leader with a clear vision to provide the trucks and services the world needs today. The company is committed to go the extra mile for smart logistics with the most dependable solutions for demanding customers. To best support across applications and geographies, UD Trucks offers a full range of heavy duty trucks - Quon and Quester, medium duty trucks - Condor and Croner, and light duty trucks - Kazet and Kuzer, as well as associated operational and financial services. 
UD Trucks is a proud member of the Volvo Group, which in 2017 had net sales of 335 BSEK and 100,000 employees globally.