The highly efficient engine contributes to a reduction in transportation costs
The engine realizes high efficiency even though it is light and compact, It realizes high environmental and loading performance and fuel efficiency, and significantly contributes to a reduction in transportation costs.
High efficiency Engine is right for your business
GVW 8 ton to 14.5 ton class trucks achieved a ~10% improvement over the 2015 fuel economy standards for heavy vehicles in Japan.
This feature will boost the environmental performance, loading capacity, and fuel efficiency in various business situations. 
---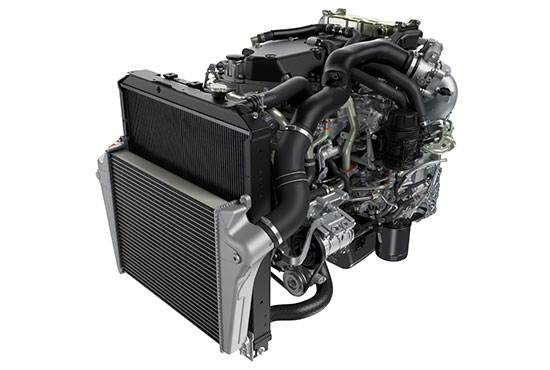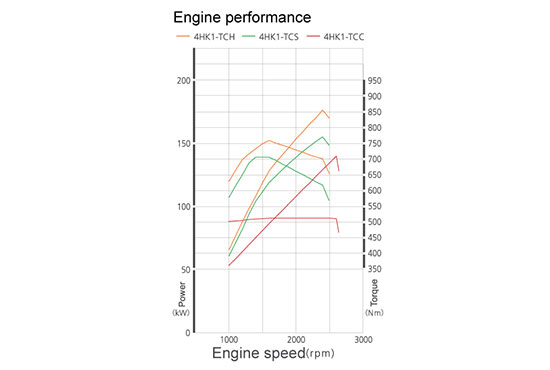 Engine Performance with Great Potential 
The Condor engine has an advanced system to control high pressure fuel injection and its pressure, timing and volume.

The VGS turbo* (variable volume type turbocharger), which can produce a turbo effect at low rotation speeds, will increase low-speed torque, improve acceleration, and reduce fuel consumption.
---
Eco Stop is excellent in economic efficiency and environmental standards / The ECONO mode realizes fuel-saving driving
Eco Stop
When the vehicle has stopped (for example while waiting at a traffic light), the engine stops and restarts automatically. It contributes to the suppression of wasteful fuel consumption and a reduction of exhaust emissions. Also during Eco stop, the cold storage evaporator built in the air conditioning unit cools the air blown from the air conditioner to suppress a rise in the blow-off temperature.
* Option for refrigerated vehicles and fire engines, it is not available for concrete mixer trucks.
ECONO mode
The "ECONO mode" which performs fuel-saving automatic gear shifting, provides comfortable operability and fuel-saving for all drivers.
---