Together with the unveiling, UD Trucks also hosted a "Truck Talk" during the Truck Show where Nobuhiko Kishi, Senior Vice President of UD Trucks Brand, Communication and Product, talked about a philosophy behind all new Quon development as well as how technological innovations plays a key role for people first approach at UD Trucks.

"UD Trucks has fully updated its flagship Quon heavy-duty truck for the first time since 2004. The new model will continue to reflect our dedication for supporting customer businesses in every aspect. The new generation Quon focuses on five essential areas that drive smart logistics: drivability, fuelefficiencyand respect for the environment, safety, productivity, and uptime," said Nobuhiko Kishi.
True to the concept "Innovation that puts people first," every element of the new Quon, from the dashboard to the instrument cluster, has been completely revamped to offer greater comfort and performance as well as a more ergonomic environment for the driver. With new Quon, drivers will feel the "people-first approach with technological innovation" in its design.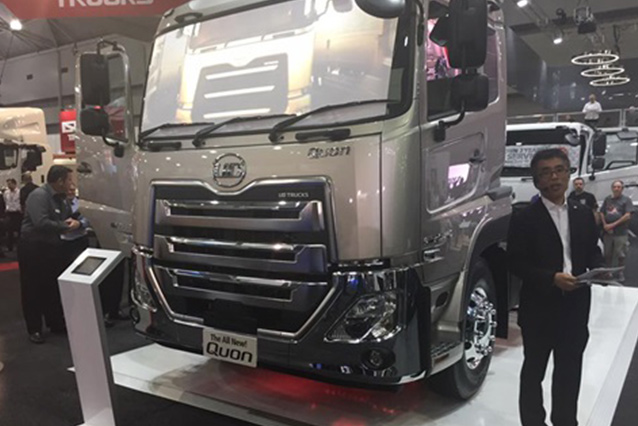 Mark Strambi, Acting Vice President of Sales for UD Trucks Australia, said that the new generation Quon will redefine how Australia perceives Japanese heavy-duty trucks in general and the Quon in particular. "The new Quon is significant step for UD Trucks, but also for Japanese heavy-duty trucks in general. The world-class technology available in the all-new Quon range has never been seen before on Japanese trucks in Australia," said Mark Strambi.

"UD Trucks is the first Japanese truck manufacturer to offer Japanese pPNLT emission regulation compliant heavy-duty vehicles to the Australian and New Zealand markets. Additionally, the all-new Quon gives us access to models not previously offered in Australia which will significantly enhance our ability to offer our customers a comprehensive offering, backed up by the largest dealer network in Australia and New Zealand" Mark Strambi continues.

For media enquiries, please contact:
Info.udtrucks.global@udtrucks.co.jp

UD Trucks is a leading Japanese total transport solution provider. UD Trucks was established in Japan in 1935, and became a part of the Volvo Group in 2007. UD Trucks has established its headquarters in Japan and expanded its sales network in Japan and more than 60 countries worldwide. At UD Trucks, our mission is to provide the added value of Ultimate Dependability derived from UD to our company's products as well as an unsurpassed level of excellence for our customers.