~ Steering like no other ~
On July 1, UD Active Steering, a revolutionary technology that vastly improves steering precision and driver comfort, will be available on select heavy-duty flagship Quon models in Japan.
UD Active Steering features an electric motor mounted above the hydraulic steering gear to provide additional torque when necessary. The electronic control unit (ECU) mounted on the electric motor receives input 2,000 times per second from sensors throughout the truck, monitoring the driving environment and the driver's own actions. This system control adds appropriate torque to the weight of the steering wheel, providing precise and stable steering irrespective of speed, cargo, and road conditions. The ease and precision of steering helps reduce driver fatigue and make roads safer.
Five benefits brought by UD Active Steering
1. Low Speed Agility
When turning at low speeds and reversing in tight spaces, additional steering torque automatically feeds into the system to allow the driver to maneuver with a light touch.
2. High Speed Stability
When driving at higher speeds, the weight of the steering wheel adjusts to provide superior stability.
3. Rough Road Dampening
Dampens vibrations from rough roads. Minute directional adjustments keeps the driver on a course.  
4. Cross Wind Correction
Virtually eliminates steering corrections needed in crosswinds, keeping the driver on a straight course.
5. Return to Center
Whether turning or reversing, the steering wheel will return to center when released, saving driving effort and bringing the vehicle into a straight line quickly and easily.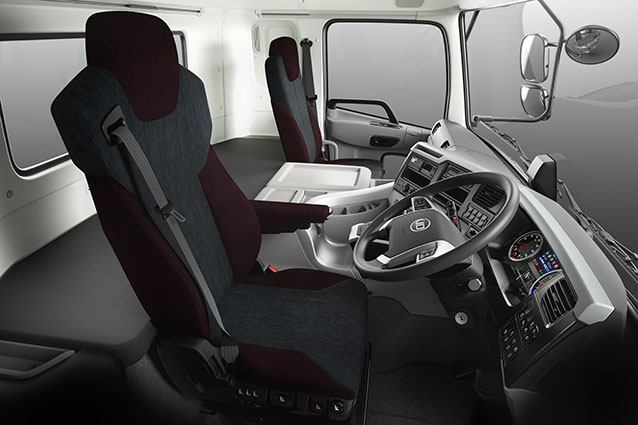 Tests show UD Active Steering reduces fatigue
UD Trucks conducted independent tests to measure and compare driver fatigue between trucks equipped with and without UD Active Steering. An electroencephalograph (EEG) was used to measure the level of driver concentration and stress, while an electromyogram (EMG) was used to measure the amount of muscle exertion.
Results showed that subjects driving trucks equipped with UD Active Steering had lower levels of stress and reduced levels of excessive concentration. Subjects also recorded lower levels of muscle exertion in their arms with UD Active Steering, especially when parking and driving on irregular surfaces.
Drivers value health and comfort
In June 2021, UD Trucks conducted an online survey of approximately 400 truck drivers and the owners of logistics companies around health and fatigue. Less than a quarter of drivers surveyed thought that their employers were doing enough to improve their health or reduce the burden of driving. When asked about the need for advanced truck features to help reduce fatigue, nearly 90% agreed. Moreover, all drivers surveyed between the age of 20-39, wanted to drive trucks with fatigue-reducing features.
See Press Release here:
https://www.udtrucks.com/news-and-stories/news/20210621-driver-survey 
Acknowledging the need for trucks that reduce fatigue and improve drivability, Takamitsu Sakamaki, UD Trucks President, said, "Drivability and driver's comfort is always a priority for UD Trucks. Reducing driver fatigue by improving driving environments is our ultimate goal. UD Active Steering is a revolutionary technology that can make a positive impact on the health of drivers and the safety of our roads. This is very much in line our Better Life purpose – to make life better for people and the planet."
Putting drivers first - Innovation for drivability
Throughout the company's history, UD Trucks has been a leader in innovation by putting drivers first. In terms of drivability, the electronically controlled ESCOT-VI automated manual transmission has simplified the driving of heavy-duty trucks. With the stress of gear changing removed, the ESCOT-VI allows drivers to fully concentrate on the road ahead. The introduction of disc brakes provides quick, smooth and reliable pedal response, maximizing braking comfort. Now with the introduction of UD Active Steering, drivability has reached a new level of precision and comfort, with excellent steering stability at higher speeds and superior maneuverability at low speeds. Further enhancing safety on the road, UD Active Steering models are also equipped with LDP (Lane Departure Prevention).
These milestones in innovation have raised the bar on the fundamentals of "driving, stopping, and maneuvering", delivering new levels of driver comfort, safety and peace of mind. UD Active Steering makes it possible for veteran drivers to hone their skills further, while allowing new or inexperienced drivers, male or female, to enter the truck driving profession with confidence.
Douglas Nakano, UD Trucks Senior Vice President Technology, looks to the future. "We are applying UD Active Steering technology to our development of autonomous driving as well. Reducing driver fatigue, addressing the chronic shortage of drivers - these are the kind of challenges that we hope to overcome through continued innovation. In short, we are promoting Technology for Better Life. UD Active Steering is a technology that puts drivers first, making life better from the viewpoint of comfort, health and safety."
Learn more about UD Active Steering on the UD Trucks website here:
Fatigue Test Results
UD Trucks conducted independent driver fatigue tests, using heavy-duty Quon trucks equipped with and without UD Active Steering. An electroencephalograph (EEG) was used to measure the level of driver concentration and stress, while an electromyogram (EMG) was used to measure the amount of muscle exertion.
Results showed that trucks equipped with UD Active Steering had lower levels of driver stress (Graph 1) and reduced levels of excessive concentration (Graph 2).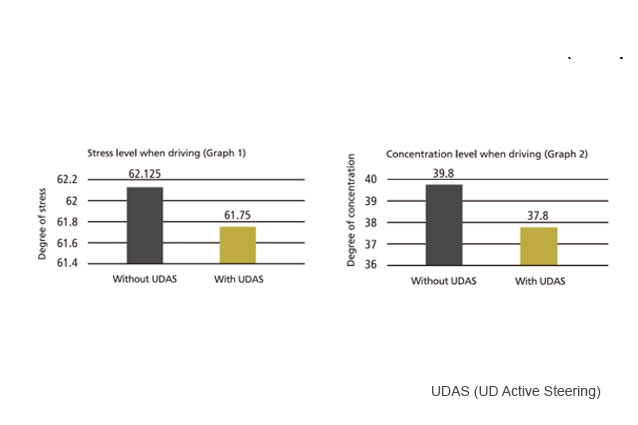 Regarding physical exertion, lower levels were recorded with UD Active Steering. Readings on muscles to steer and grip the wheel trended lower with UD Activity Steering, resulting in less exertion and a more comfortable driving experience (Graph 3). This was particularly evident when parking and driving on uneven surfaces (Graph 4, 5).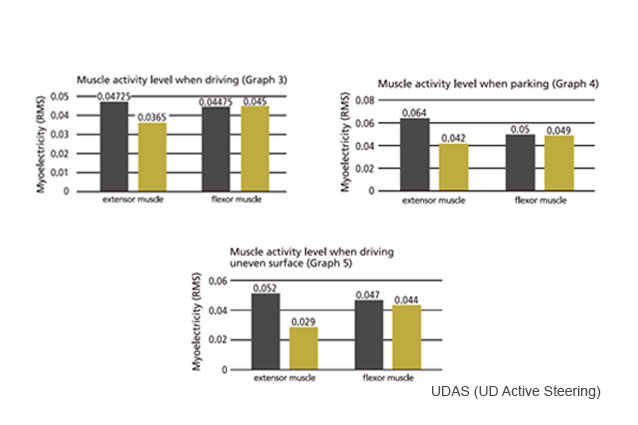 A follow up survey among subjects who participated in the test drives had high praise for UD Active Steering. Many commented that UD Active Steering maneuvered better at lower speeds, provided more stability at higher speeds, and was far less strenuous when parking.
*1 UD Active Steering is available as an option for CG rear axle air suspension WB 7,520mm vehicles and GK WB 3,200mm vehicles.
*2 Testing was conducted independently by UD Trucks in association with an external consultant. Five subjects took part, driving vehicles on a test course replicating real-world driving conditions. This included maneuvering at low speeds, driving on uneven surfaces, and driving at high speeds on even surfaces. Subjects drove vehicles equipped with and without UD Active Steering for approximately one hour.
---
For media enquiries, please contact:
Info.udtrucks.japan@udtrucks.co.jp
---
UD Trucks is a leading Japanese commercial vehicle solutions provider, active in more than 60 countries on all continents. Since its inception in 1935, the company has been an innovation leader with a clear vision to provide the trucks and services the world needs today.

The company is committed to go the extra mile for smart logistics with the most dependable solutions for demanding customers. To best support across applications and geographies, UD Trucks offers a full range of heavy duty trucks - Quon and Quester, medium duty trucks - Condor and Croner, and light duty trucks - Kazet and Kuzer, as well as associated operational and financial services.