Reliability and durability you can count on
Highly reliable and durable trucks are essential for maintaining a high level of uptime and providing a distribution business that that shippers can trust. By achieving a high level of quality across the entire truck, quality that has passed tests in strict environments, Quon gives your business reliability and durability you can count on.
UD Solution
After delivery, maintenance using the latest technology and genuine parts is important for  maximising uptime, driving performance, fuel efficiency, and safety. 

With "UD Genuine Service," our knowledgeable and experienced mechanics perform the optimal maintenance with UD Trucks specialized tools.
Genuine parts provide peace of mind. Our high-quality "UD Genuine Parts" have passed strict tests and contribute to maintaining quality for a long period and maximising uptime. 

If you do experience an unplanned stop,  our nationwide service network provides prompt support to keep downtime to a minimum.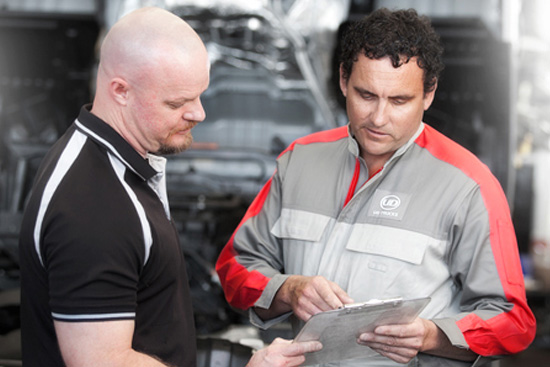 This is how we support you
Our UD Solutions have been designed to make your working day that much easier and ensure that your UD Truck always runs in optimum condition. These solutions include:
UD Genuine Service
UD-Trust Service Agreements
UD Genuine PArts
UD Warranty
UD Financial Services
UD Information Services
UD Roadside Assistance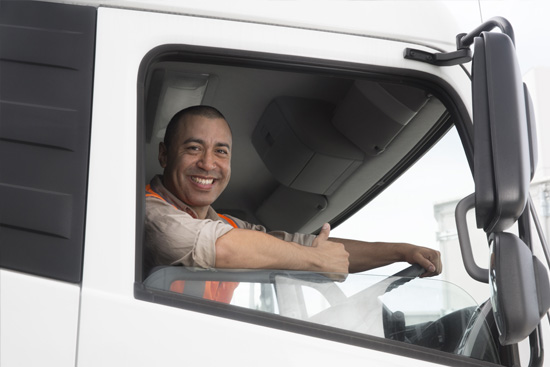 Advanced maintenance for a high level of uptime
Uptime is critical for the distribution business, and the key to uptime is ensuring the required maintenance is done at the optimum intervals. An excellent level of maintenance for your Quon and the long intervals between the replacements of genuine parts greatly contribute to reducing the life cycle cost.

1. Hub bearing unit for improved maintenance
Shield type hub bearing unit, for improved maintenance during inspections.

2. Cab for easy daily maintenance
All of the equipment that is required when performing daily inspections is easily accessible without lifting the cab. The cab tilts to 65 degrees for a large work space. * The grille should be opened before tilting the cab.

3. Periodic replacement parts and long replacement intervals
We use disc brakes that do not require expanders, and have reduced the number of parts that need to be regularly replaced. The differential gear oil that we use is highly heat-resistant and does not e degrade easily, enabling longer replacement intervals.

4. Long-lasting LED headlamps
We use long-lasting and power-saving LED lamps.
There is little degradation from turning the lamps on and off, and they provide clear and bright light for a long time, contributing to a low running cost.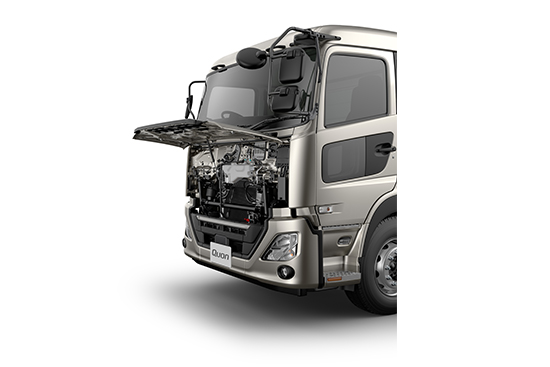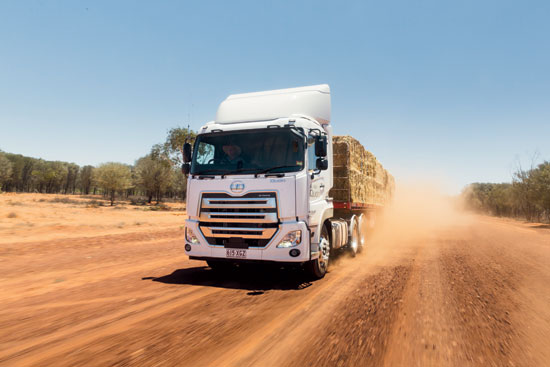 Rigorous Testing
A variety of tests that simulate the harshest conditions have been conducted in the New Quon. We can confirm that the engine will start, even in the harshest  conditions. We used this process to test disc brakes and UDSC (UD Stability Control) to verify driving stability on uneven roads. These functions also improve performance in muddy areas. Such rigorous tests improve the reliability and durability of the New Quon.

Starting assistance function for snowy roads and muddy areas is standard  for the ESCOT-Ⅵ automated manual transmission.