Pursuing smarter logistics to overcome challenges facing the industry
Providing innovative products and solutions for the logistics industry
UD Trucks develops innovative in-vehicle systems for its trucks to maximize driver comfort and driving efficiency while also helping to reduce environmental impacts. By making improvements across the value chain, the Company offers comprehensive solutions for emerging challenges facing the logistics industry.
Enhancing comfort and safety for drivers
UD Trucks equips its trucks with systems that help reduce driver fatigue and make roads safer, including UD Active Steering, an electronically controlled steering system available on heavy-duty Quon trucks in Japan. Developing such advanced technologies is a win-win, for both the industry and the driver.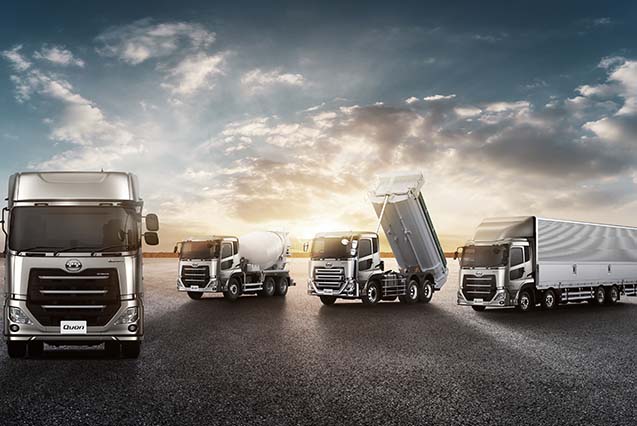 Reducing environmental impacts
In addition to reducing environmental impacts of its manufacturing and business activities, UD Trucks strives to improve the environmental performance of its trucks. For example, the Company equips its Quon model heavy-duty trucks with a lighter and smaller 8-liter engine that burns less fuel and emits less exhaust gases than conventional 11-liter engines.
Improving operational efficiency for customers
Society depends on UD Trucks to help its customers keep their vehicles up and running. Meeting this responsibility, the Company helps users operate trucks safely and dependably by offering its UD Information Service, which remotely provides vehicle diagnostic data, and UD Road Support, a 24/7 helpline for truck drivers.

More details about UD Information Service