UD Trucks has launched its new Quester extra heavy range truck in South Africa, its largest market outside of Japan.
Semi-knocked down kits imported from the plant in Thailand will be assembled in South Africa. Quester will also be launched in 8 other neighboring markets in the region this year.

South Africa is UD Trucks' largest market outside of Japan, with about 3,000 units in truck delivery for heavy, medium- and light-duty trucks. Since entering the market in 1962, UD Trucks have been meeting the logistics needs of local customers. The company has built its brand in South Africa through the introduction of its heavy duty truck model with more than 400PS in 2002, and continued with the launch of "Quon" in 2012.

The current heavy-duty range Quon is focused on middle distance delivery, at around 1000km, for sea containers, coal, steel, chrome and other mineral resources, as well as construction materials, lumber, and agricultural produce like sugar cane. In addition to providing the traditional distribution services, demand at infrastructure and construction sites continues to grow. To answer this demand, dump, mixer and sprinkler trucks have been introduced.

UD Quester is also realizing robust off-road performance for short to mid-term delivery needs with easy-maintenance, high volume load trucks that can be used for a variety of different applications. The Quester aims at a wide range of applications including mining, construction, agriculture, forestry and paper, regional distribution, public utilities, as well as the transport of daily commodities. 
"South Africa is a very important market and we've been able to build our brand by answering to specific local needs and providing Japan-made trucks to customers. With the introduction of the Quester, UD Trucks is dedicated to continue expanding its customer segment by providing solutions to various local needs through our high-powered, easy-to-drive and comfortable truck" says UD Trucks Middle East and Africa Sales Director Toshihiko Odawara.  

The truck semi-knocked down kits are manufactured in the UD Trucks plant in Thailand, and sent to South Africa for assembly. The trucks assembled in South Africa will be introduced in 8 neighboring markets including Zimbabwe, Zambia, Malawi, Mozambique, Namibia, Botswana, Swaziland and Lesotho.

Local dealers in 48 locations around South Africa handle sales and maintenance. In 2015, UD Trucks hopes to see about 400 units sold around the region. 

In March, the UD Trucks' Parts Distribution Center in Pretoria was integrated into the Volvo Group's new Regional Distribution Center in Johannesburg, increasing the scale of the Group's center from 4500 m² to 11500 m².  With the integration, quick part supply can be ensured, contributing an increase in uptime for its customers.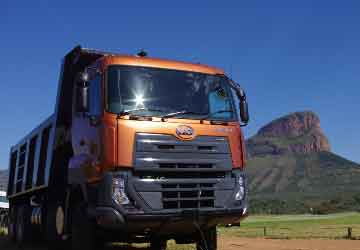 Dump truck



 Mixer truck

For further information, please contact
Media Relations, Etsuko Kurihashi, etsuko.kurihashi@volvo.com
For more stories from UD Trucks, please visit http://www.udtrucks.com/

UD Trucks is a total transport solution provider dedicated to delivering optimized total cost of ownership to its customers. It sells and serves light, medium and heavy duty trucks as well as special vehicles. UD Trucks was established in Japan in 1935 and became part of the Volvo Group in 2007. With its headquarters located in Ageo, Japan, UD Trucks supports sales and services in more than 60 countries through a worldwide network.