At the 46th Tokyo Motor Show 2019, UD Trucks will introduce an array of innovative solutions that will make logistics smarter and society better for today, tomorrow and the future. Some of them will be shown for the first time; Hybrid Raijin Electromobility Demonstrator, uptime-improving apps, and Quon Concept 202X, which incorporates automation, electromobility and connectivity in new imaginative ways for the future.  

Logistics is the lifeblood of society but the industry is facing challenges including driver shortages, an explosive increase in e-commerce deliveries, road congestion and pollution. 

According to a recent study by Boston Consulting Group, there will be a shortage of roughly 240,000 truck drivers in Japan by 2027. Another study by CBRE Group predicts that the expansion of e-commerce in the US will create demand for over 450,000 new jobs in the logistics industry alone in 2018-19, more than twice the number of industry new hires since 2013.

"People depend on logistics and logistics depend on people. We provide innovation for smart logistics by making the trucks the world needs today. That has been our vision since our foundation. We want to help make logistics smarter," says Takamitsu Sakamaki, President UD Trucks. In Japan, where the aging of the national population is unprecedented, "we see open innovation and collaboration with stakeholders across different industries as key to creating and implementing innovative solutions." 

Products that excel on performance, fuel efficiency, safety and uptime for today

Smart logistics for today means offering trucks that are fuel efficient and offer high payload. Moreover, trucks should be easy to drive for anyone – male or female, new or experienced drivers. UD trucks feature electronically controlled automated manual transmissions to make driving easier and highly efficient engines for lower fuel consumption.
Flagship Heavy-Duty Quon GK Tractor

UD Trucks' flagship heavy-duty model offers an array of transportation solutions for today. The Quon excels on five essential features: drivability, fuel efficiency, safety, productivity and uptime. Innovation that puts people first provides a truck that is a pleasure to drive.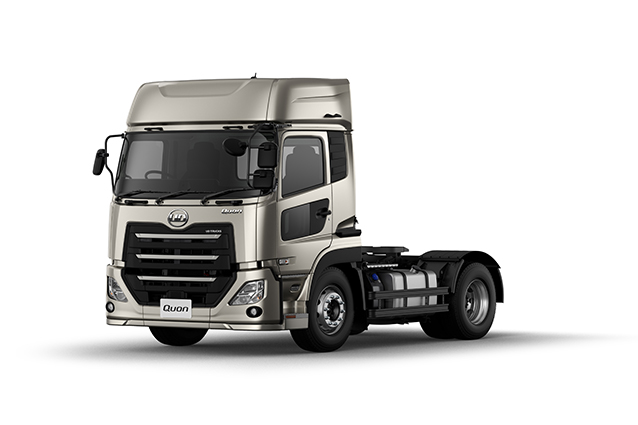 Heavy-Duty Quester GW tractor for growth markets  

Quester made its debut in growth markets in 2013 - a heavy-duty, reliable and fuel efficient truck that combines global technology from the Volvo Group and Japanese manufacturing knowhow. New Quester was launched in January 2019 and newly equipped with an electronically controlled ESCOT automated manual transmission. ESCOT, together with new telematics services, help improve driver performance and fuel efficiency.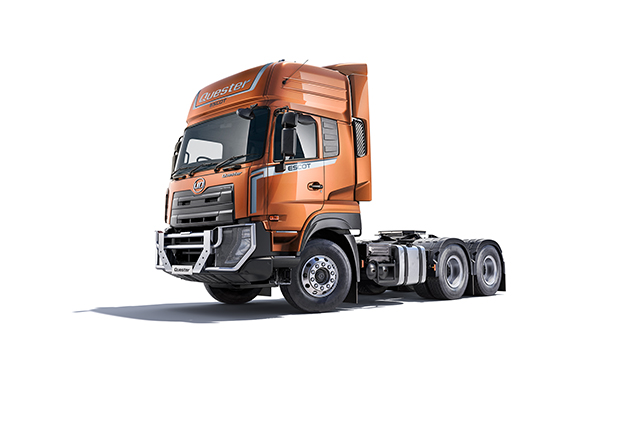 GH8 engine
With a downsized engine achieving light weight and compactness, along with simpler structure maintaining high reliability, the 8-liter engine generates powerful torque over the whole range. Its light weight translates into  higher payload and better profitability.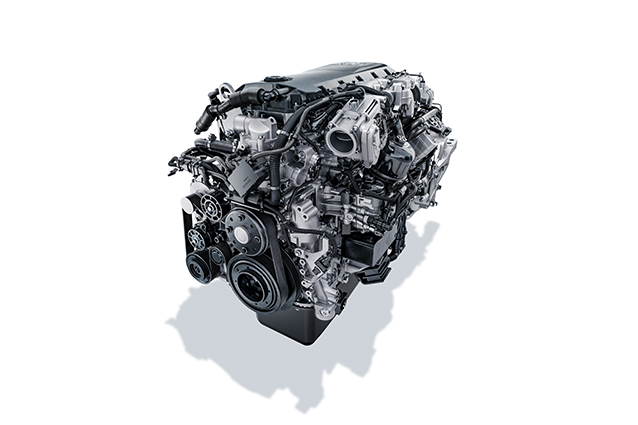 Innovation in automation, connectivity and electromobility for a better tomorrow

In 2018, UD Trucks announced its innovation roadmap "Fujin & Raijin. Vision 2030". In the area of automation, the company is currently participating in a truck-platooning project on highways and testing Level 4 autonomous driving in confined areas. In the area of electrification, UD Trucks is developing various technologies with a special focus on hybrids. 
UD Trucks is targeting mass production of fully electric and autonomous trucks by 2030.
Fujin Level 4 Automation Demonstrator
The specially adapted heavy-duty Quon employs network-based RTK-GPS (Real Time Kinematic Global Positioning System) combined with autonomous driving technologies such as 3D-LiDAR. This was the actual vehicle used in Japan's first Level 4 autonomous driving trial by heavy-duty trucks on public roads in August 2019.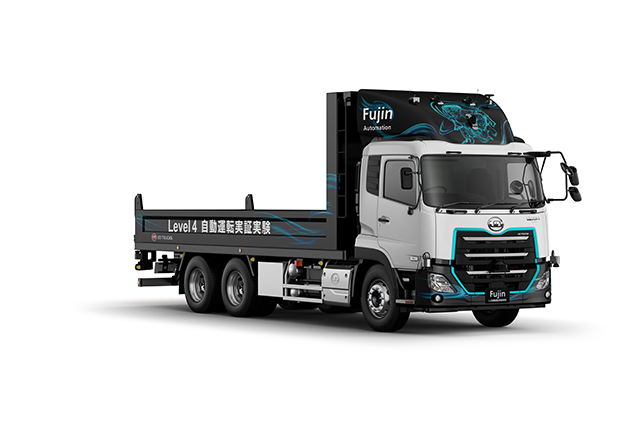 Douglas Nakano, Senior Vice President of Technology, said: "When we imagine the logistics of tomorrow, one of the key solutions for our time will be automation. In August this year, we took a big step forward. We aim to offer commercialized autonomous driving solutions in confined areas in 2020." 
Hybrid Raijin Electromobility Demonstrator
This clean, quiet and powerful hybrid prototype is adapted from the heavy-duty Quon. Towards 2030, UD Trucks will develop fully electric heavy-duty vehicles that maximize payload and power while drastically reducing noise and achieving zero emissions.

UD Trucks is developing various solutions, particularly focusing on heavy-duty hybrid trucks that can run purely in electric driving mode as needed – in food warehouse applications for example.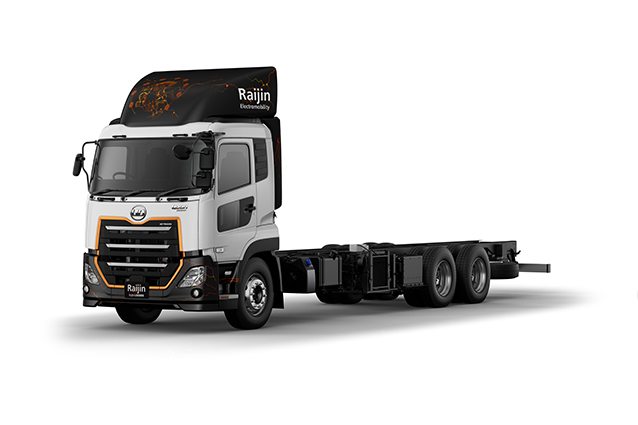 Leading the way in connectivity 
UD Trucks contributed to a major milestone of the Volvo Group, celebrating more than one million connected trucks, buses and construction equipment across the globe. UD Trucks has sold 60,000 connected trucks worldwide. Utilizing the data collected from connected vehicles has the potential to improve productivity, uptime and safety, while reducing emissions and noise. 

UD Trucks is introducing three new apps to improve vehicle uptime via telematics: "My UD Truck" for drivers, "My UD Toolbox" for mechanics and "My UD Fleet" for truck fleet operators. These apps will be tested with selected customers within 2019. UD Trucks will continue to develop various services and apps in order to make our customers' business more efficient.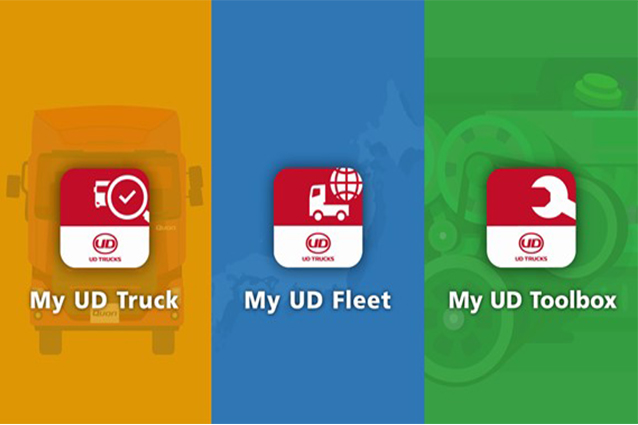 Re-imagining smart logistics in the future

Quon Concept 202X will take smart logistics to another level. This future concept truck will be intricately connected to its surroundings, including other trucks, infrastructure and people, achieving new levels of efficiency, productivity, safety and sustainability. It will become indispensable to the infrastructure of future smart societies that will see significant strides in the use of IoT (Internet of Things) and AI (Artificial Intelligence).

Quon Concept 202X will employ various cutting-edge technologies including AI, personalized displays and camera monitoring systems.

The heavy-duty truck of the future puts people and society at the center. The truck connects people to each other, and people to the transportation infrastructure. It connects rural and urban, produce from the farm to the dinner table. It is more friendly and safe.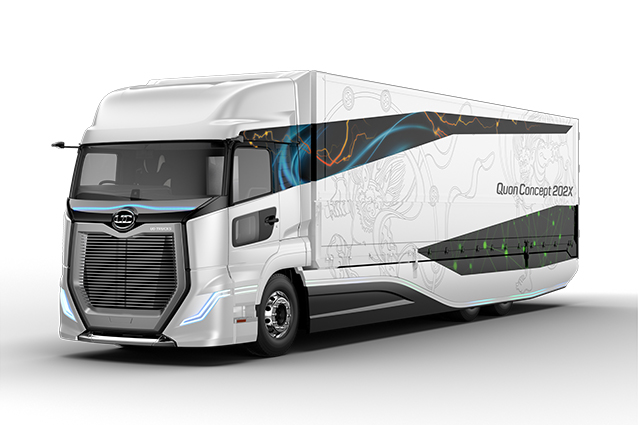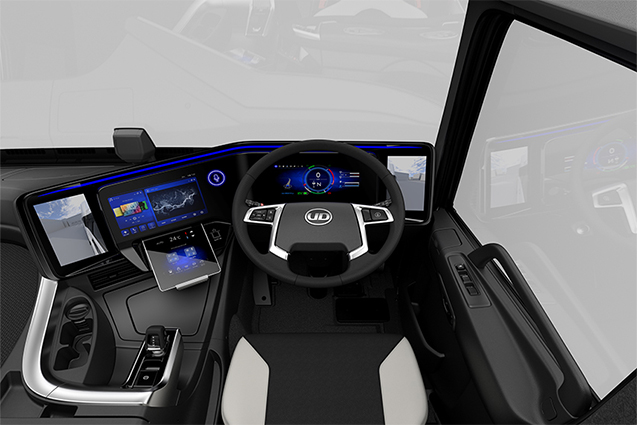 INNOVATION FOR SMART LOGISTICS on display at the Tokyo Motor Show UD Trucks booth
Visitors to the UD Trucks booth can enjoy various activities including climbing into the cab of the Quon, Quester, and Quon Concept 202X trucks. On weekends and holidays there will be a "Kids Mechanic" corner set up where children can get their picture taken in a UD Trucks uniform. AR (Augmented Reality) games will also be available in the booth. In addition, UD Talks will be held every day from 5:00pm from October 28 - November 1. The talks will feature internal and external speakers and cover various topics ranging from autonomous driving and future logistics scenarios to UD designers, engineers and female truck drivers.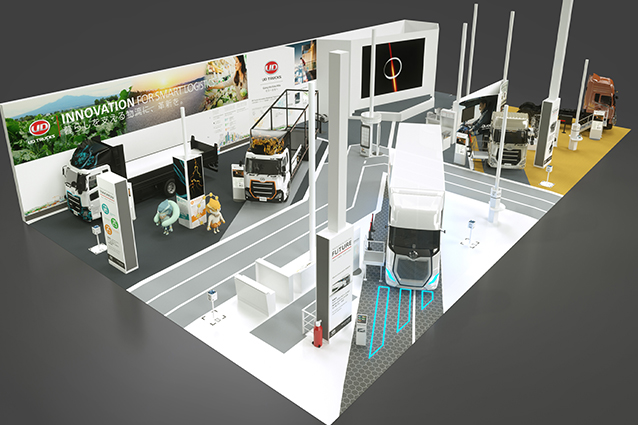 More information can be found on the UD Trucks Tokyo Motor Show website:
https://www.udtrucks.com/about-us/events/tokyo-motor-show-2019
________________________________________
For media enquiries, please contact:
Info.udtrucks.japan@udtrucks.co.jp
________________________________________
UD Trucks is a leading Japanese commercial vehicle solutions provider, active in more than 60 countries on all continents. Since its inception in 1935, the company has been an innovation leader with a clear vision to provide the trucks and services the world needs today. The company is committed to go the extra mile for smart logistics with the most dependable solutions for demanding customers. To best support across applications and geographies, UD Trucks offers a full range of heavy-duty trucks - Quon and Quester, medium duty trucks - Condor and Croner, and light duty trucks - Kazet and Kuzer, as well as associated operational and financial services. 
UD Trucks is a proud member of the Volvo Group, which in 2018 had net sales of 391 BSEK and 105,000 employees globally.
https://www.udtrucks.com/