ESCOT transmission
Story of a revolution On-going from 1995
Introduced for the first time on All New Quon, ESCOT-VI represents the best of driving pleasure, fuel economy, safety and reliability. Capitalizing on years of research and development, advanced technology and countless test-drives, ESCOT-VI is the latest in a brilliant lineage of ESCOT transmissions, which in their time have revolutionized automatic transmission technology in the heavy-duty segment.
Introduction
Easy Safe Controlled Transmission From its first version, the ESCOT gearbox aimed to simplify the driving of heavy-duty trucks; with the stress of gear changing removed, drivers were able to concentrate fully on the road to the benefit of safety. Probably the most palpable, unsung benefits on a daily basis, were the driving pleasure afforded by total control and the driving ease in every road situation, whether in heavy rush hour traffic or on a twisty mountain road.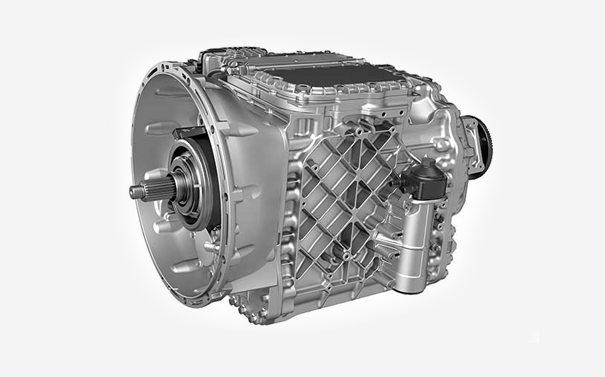 ESCOT-II
Proposed on the heavy-duty Big Thumb tractor, the ESCOT-II was already a big step forward from the rare automatic transmissions on offer at that time. Focused on making the driving of heavy-duty trucks easier - and therefore safer - ESCOT-II was a mechanical gearbox with a robotized clutch, featuring three pedals and a sequential gear stick, with the clutch only needed to start driving from a full stop. The gearbox was not exactly automatic as the driver had to change gears himself, but without the hassle of clutching, he only had to shift the gear stick up and down. UD research and development engineers had also developed the ESCOT-I, which needed the clutch to switch gears, but as the robotized clutch ESCOT II was judged mature and reliable after successfully passing a series of tough tests, the ESCOT-II was launched directly. The ESCOT-II marked the start of the ESCOT lineage with superior drivability. Unlike a classic automatic gearbox, the ESCOT driver didn't experience any hydraulic converter slippage, allowing him total control over his truck, for an unequaled confidence and peace of mind which would become the ESCOT trademark. 
ESCOT-III
ESCOT-III was a move towards a more automatic mode. After manually taking off in first gear, the driver could let the gearbox change gear by itself or use the manual mode to change gear himself through the sequential shifter. In 1998, the ESCOT concept added a fuel economy dimension, adding more gears to optimize the use of the engine in the most efficient torque range.
ESCOT-AT IV
ESCOT-AT IV was the first fully automatic version of the ESCOT gearbox, with no clutching required to accelerate from idle, except when reversing.In 2004, ESCOT-AT IV became the first ESCOT gearbox to be exported outside of Japan, with sales starting in South Africa. In 2007, a switch for light load was added. In this mode, shift changes were programed to happen earlier than in normal mode, to allow better fuel economy when the truck carried no or only a light payload.
ESCOT-V
The ESCOT-V was again a technological breakthrough, featuring numerous innovations. With only two pedals, the gearbox operates totally automatically, or manually throughthe shifter. Further strengthening the ease-of-use and safety features which have been the trademark of ESCOT gearboxes, ESCOT – V brought in innovative features to maximize drivability, fuel economy and safety such as Hill Start Assist, ESCOT Roll, and Cruise Control. Gearshifts are made even quicker and smoother thanks to computer-controlled mesh synchronizing, and gear changes programing is refined to adapt to various payloads and optimize fuel economy. ESCOT-V has seen successful international expansion; and is now available in South Africa, Oceania and South East Asia. In 2014, ESCOT-V was upgraded with improved software and an Eco mode, to maximize fuel efficiency, offering an acceleration limiter for gradual speed increase and a Soft Cruise Control function.
ESCOT-VI
The new ESCOT-VI builds once again on the ESCOT qualities. New shift lever is adopted, H gate to I gate. Easier to operate more. Its new Foretrack uses GPS to predict the road ahead, and it performs optimum gear changes choosing automatically among the 12 ratios available, according to driving conditions such as road gradient, corners, and payload. This reduces the burden and stress on the driver, allowing an inexperienced driver to achieve smooth progression with excellent fuel economy, equivalent to a skilled driver. Moreover, the ECO mode is now set by default, allowing optimum fuel saving anytime. Another impressive innovation is the Escape function, optimizing clutch engaging/disengaging to get past a ditch in snowy/muddy conditions, by swinging the truck back and forth.