1975 - Condor Series launch
The launch of the Condor series in 1975 marked the company's first foray into the mid-size truck market. The advanced design of the trucks, including an ED6 in-line four-cycle, six-cylinder diesel engine for enhanced efficiency and horsepower as well as a cab with a wide front window and non-triangular side window, garnered high praise from the industry.
The evolution of the mid-duty Condor
In Japan's fast-developing economy of the mid-70's, trucks became key to logistics as needs in the transportation industry diversified.  This was being driven by a shift from the mass production of single products to a high-mix, low-volume production coupled with the expansion of cold chain logistics for transporting fresh produce and frozen foods in the food distribution industry. Consequently, there was greater demand for mid-size trucks capable of economical and efficient transportation over short and medium distances.

When the oil shock hit in 1973, calls grew for fuel-efficient mid-duty trucks. Ready to respond, the company developed a series of mid-size  4-ton to 4.5-ton payload trucks, which culminated in the launch of the Condor brand in May 1975. Condor trucks incorporated an in-line six-cylinder four-stroke diesel engine, with a swirl chamber adapted from the two-stroke UD engine, which ensured greater efficiency and exceptional power. In 1977, the company equipped the Condor with an FD6T engine capable of 170-horsepower achieved through a direct injection and a turbocharger, which was a first in Japan among mid-size trucks.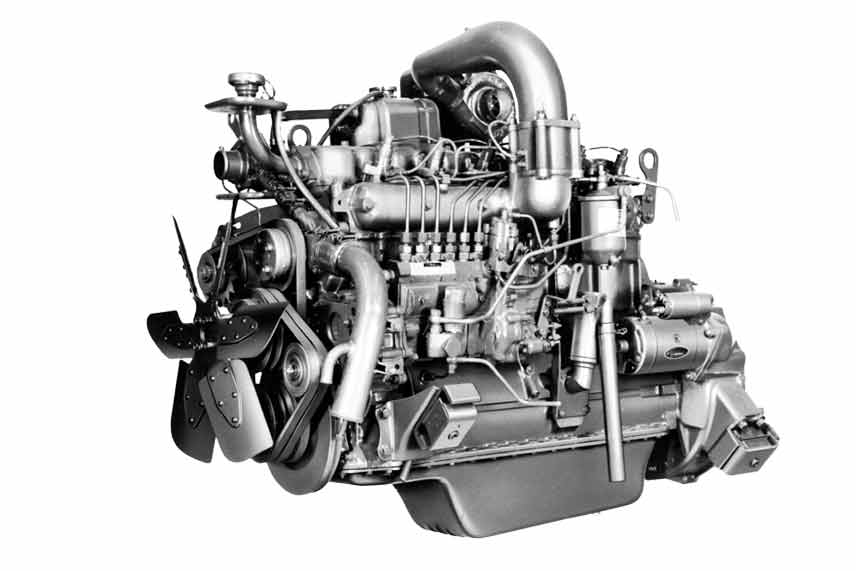 Meanwhile, the cab featured a wide front window as well as a non-triangular side window for enhanced visibility, which drew critical acclaim from users because it made the truck feel more like a passenger car on the road. After a full model change, the all-new Fine Condor truck with a sleek aeroform design was unveiled in 1993. Besides boasting exceptional driving performance, this latest generation reduced exhaust gas emissions  and touted a number of safety features such as an Anti-lock Brake System (ABS) and airbag. This pioneering model received high praise as a truck befitting the new era. In 2002, the company took another step forward with the launch of the world's first capacitor hybrid truck that ran on a diesel engine and motor.
The evolution continues
In 2007, the company joined Volvo Group. The first achievement of this union, reflecting a deep and strong collaboration, materialized  as a full-model change of the Condor series. In 2011, new Condor trucks adopted a completely overhauled cab design. While boosting a spacious interior, the cab contributed to outstanding fuel efficiency thanks to advanced aerodynamic performance.

Besides various interior comfort improvements, special effort was put on the safety of occupants in the event of a collision, with the adoption of highly rigid cab construction as well as knee protectors as standard equipment. Mechanically, Condor trucks were thoroughly redesigned and received the new GH5TA engines that incorporated a newly developed common rail injection. As with the Quon series, Condors are also fitted with an exhaust gas after-treatment system that combines a urea selective catalytic reduction (SCR) system with UD Particulate Cleaning (UDPC) system to reduce both NOx and PM emissions. This helps boost the engine's combustion efficiency while also raising fuel economy, power and torque, thereby achieving improved environmental performance. As a result, all Condor trucks are ahead of emission regulations as well as the 2015 fuel economy regulation standards for heavy-duty vehicles.

The Condor comes in a range of models to meet diverse needs, led by the 8-ton GVW (gross vehicle weight) MK series and including the 10-ton to 11-ton GVW LK series, the 14-15 ton GVW PK series, and a 20-ton GVW PW model. In 2016, the Condor range was expanded with a 6x4 PW 24 280 model, designed for the specific topography and needs of the Australian and New Zealand markets. The new model is a brilliant example of UD Trucks' ability to combine local knowledge with international expertise and quality, with impressive speed to market. In 2017, a new Condor model was introduced in Japan, offering the customers a wider range of configurations to meet their transportation needs.