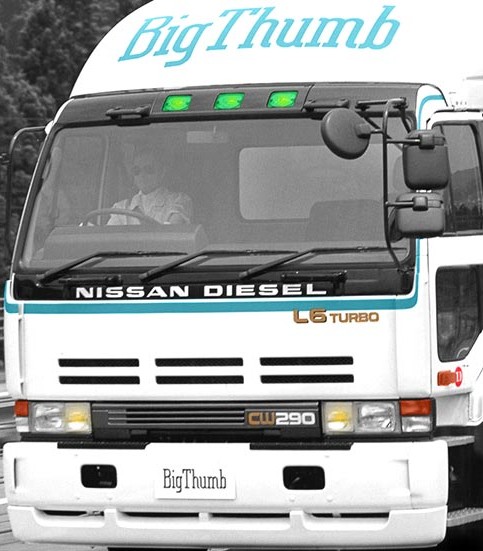 1990 - Big Thumb carves the way to a new era
The Big Thumb was released in 1990. The design of a cabin with flush surfaces that fitted in perfectly with the urban surroundings while also enabling slick aerodynamic performance proved a hit with the market. Also, the new low-emission, low-fuel-consumption engine cleared all Japanese exhaust gas regulations, which were the strictest in the world at the time.

Environmental issues such as air pollution and global warming came under close scrutiny at the beginning of the 1980s, after a decade of oil crises in the 1970s. Since then, regulatory values have become stricter every year with the enactment of various automotive exhaust regulations in Europe and the United States, coupled with the strictest one yet worldwide brought into effect in Japan. UD Trucks has cleared all of these tough regulations with the advance development of low-emission engines while at the same time enhancing the fuel efficiency and engine performance of its trucks.

With the heavy-duty Big Thumb truck released in 1990, development focused on boosting comfort and safety as well as ensuring a modern design that blended in with the surroundings based on the concept "Kind to people and in harmony with the urban setting". The new cabin of the Big Thumb significantly raised aerodynamic performance via flush surfaces based on 3D curves. The newly developed NF6 turbo engine enabled low emissions and greater fuel economy. Meanwhile, the Variable Nozzle Turbo (VNT) was designed to allow the nozzle opening to be continuously controlled with a closed-loop system. The Big Thumb series led the industry in terms of enhanced comfort and safety, achieved with the latest state-of-the-art electronic technology.

The world's first commercialized radar laser collision prevention system was made available as an option in 1989, and a couple of years later in 1991, electronic controlled automatic transmission (EMATIC) was installed. In 1992, an Anti-lock Brake System (ABS) and Anti-slip Regulation (ASR) were introduced as options (later as standard) in an effort to further bolster operability and safety.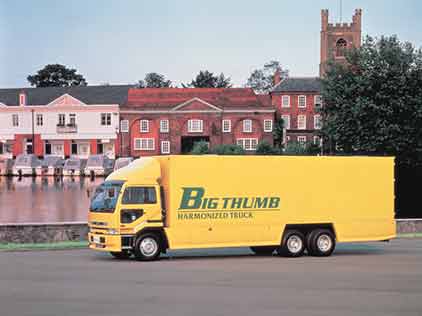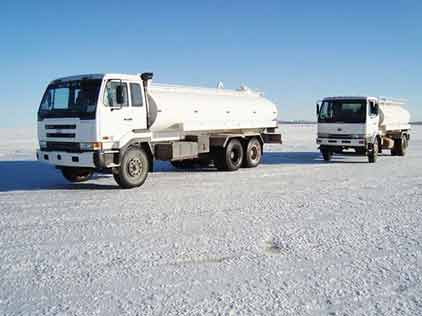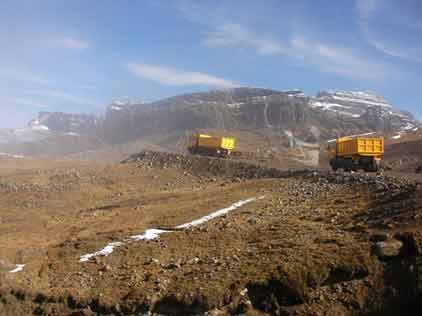 The launch of the ESCOT gearbox
The ESCOT-II, the first semi-automatic transmission in Japan, was built into the truck in 1995, giving the driver a choice of either automatic or manual drive, starting a prestigious lineage of ESCOT gearboxes, destined to become an automatic gearbox benchmark in the heavy-duty segment. UD research and development engineers developed the ESCOT-I which needed the clutch to switch gear, but as the robotized clutch ESCOT-II was judged mature and reliable after successfully passing a series of tough tests, the ESCOT-II
was launched directly.

The ESCOT-II was already a big step forward from the rare automatic transmissions on offer at that time. It was not exactly automatic - the driver had to change  gears himself - but without the hassle of clutching, he only had to shift the gear stick up and down. It brought palpable benefits on a daily basis, driving pleasure afforded by better control and driving ease in every road situation, whether in heavy rush hour traffic or on a twisty mountain road. In 1998, the GE13 engine was mounted on the Big Thumb. This engine employed an electronically controlled unit injector, the first in Japan, to realize maximum output of 440 horsepower