Introducing the Enhanced Quon range
Greater safety. Better fuel efficiency. Smarter drivability.
Our latest Quon range is loaded with design and feature enhancements. It's a generation designed for the long-term safety of drivers, pedestrians, and road users. Intelligently designed and precision crafted in Japan, the UD Quon is purpose built for unique Australian conditions. Through enhanced fuel efficiency, greater road safety systems, increased uptime, and superior driver comfort, the latest Quon range puts people, and their safety, first.

UD Trucks range specifications & applications
With exceptional performance, drivability, safety and innovation, the Enhanced Quon is your new best business partner. With their proven strength, strong pulling power, superior turning circle and smooth driveline, the Quon delivers like no other.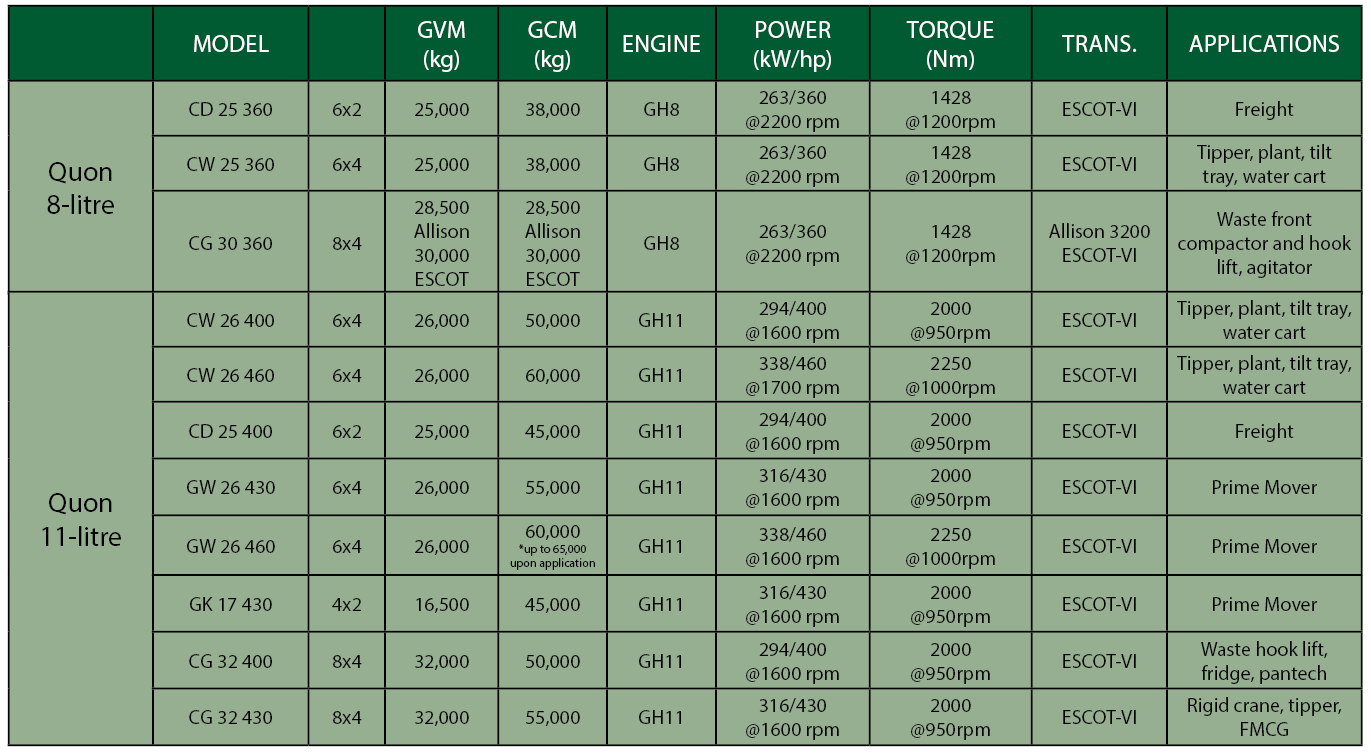 Enhanced Quon safety systems
Enhanced fuel efficiency 
Quon's new driveline features a cleaner, improved 'GH11 Engine' with increased horsepower and torque, and the ESCOT-VI automated manual transmission with enhancements to fuel efficiency. The driveline uses advanced technology and upgraded features to achieve higher fuel efficiency, lower carbon emissions, and smooth, comfortable driving with little fatigue.
Fuel efficient, powerful and cleaner 'GH11 Engine'
The 'GH11 Engine' uses the unique properties of both a unit injector and a common rail system. 10%* more fuel efficient than Japan's current fuel economy standards for commercial trucks, the GH11 readily complies with stringent pPNLT (post-Post New Long-Term) exhaust gas emissions regulations — equivalent Euro 6 emission requirements.

Upgraded with a new high-strength clutch and flywheel (460PS), along with additional noise insulation and better heat management, the new design improves fuel efficiency by 2.5%. It's an improvement that aligns with Japan's agenda of becoming carbon neutral by 2050.
*Applicable to Quon with GH11 engine and ESCOT.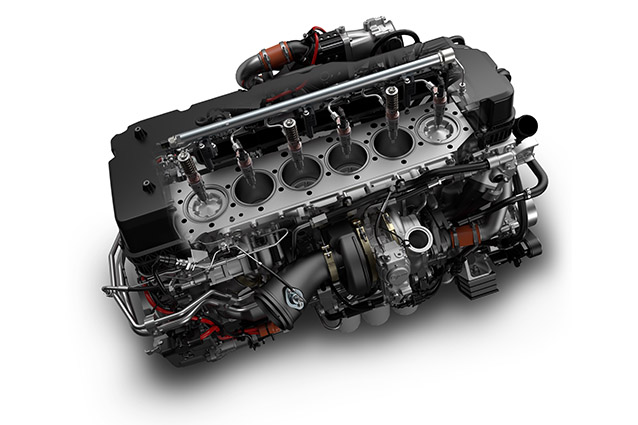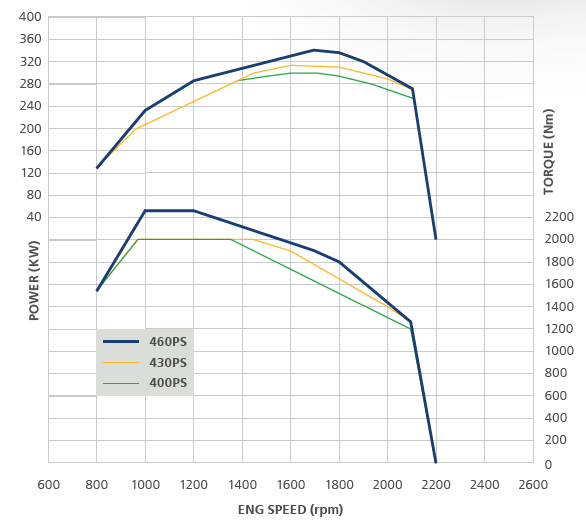 Safely reducing fuel consumption
UD Truck's most fuel efficient and reliable 11L engine lowers operating costs and runs at a 2.5% improvement to fuel efficiency.* Through superior engine gradability, faster acceleration and greater torque are achieved — further improving profitability by means of a shorter trip time.
*Depending on applications and road usage.
Longer uptime, lasting safety
VDS-5 5W-30 engine oil safely delivers the advantages of exceptional anti-wear, deposit, and soot control. This allows for increased engine wear protection, thus a lower maintenance cost, and an increase in engine oil intervals. VDS-5 marks a 35% improvement in interval length over VDS-4, with the improved formulation of a lower viscosity enabling a reach of up to 95,000km. The engine oil volume required for use is also reduced by up to 6%.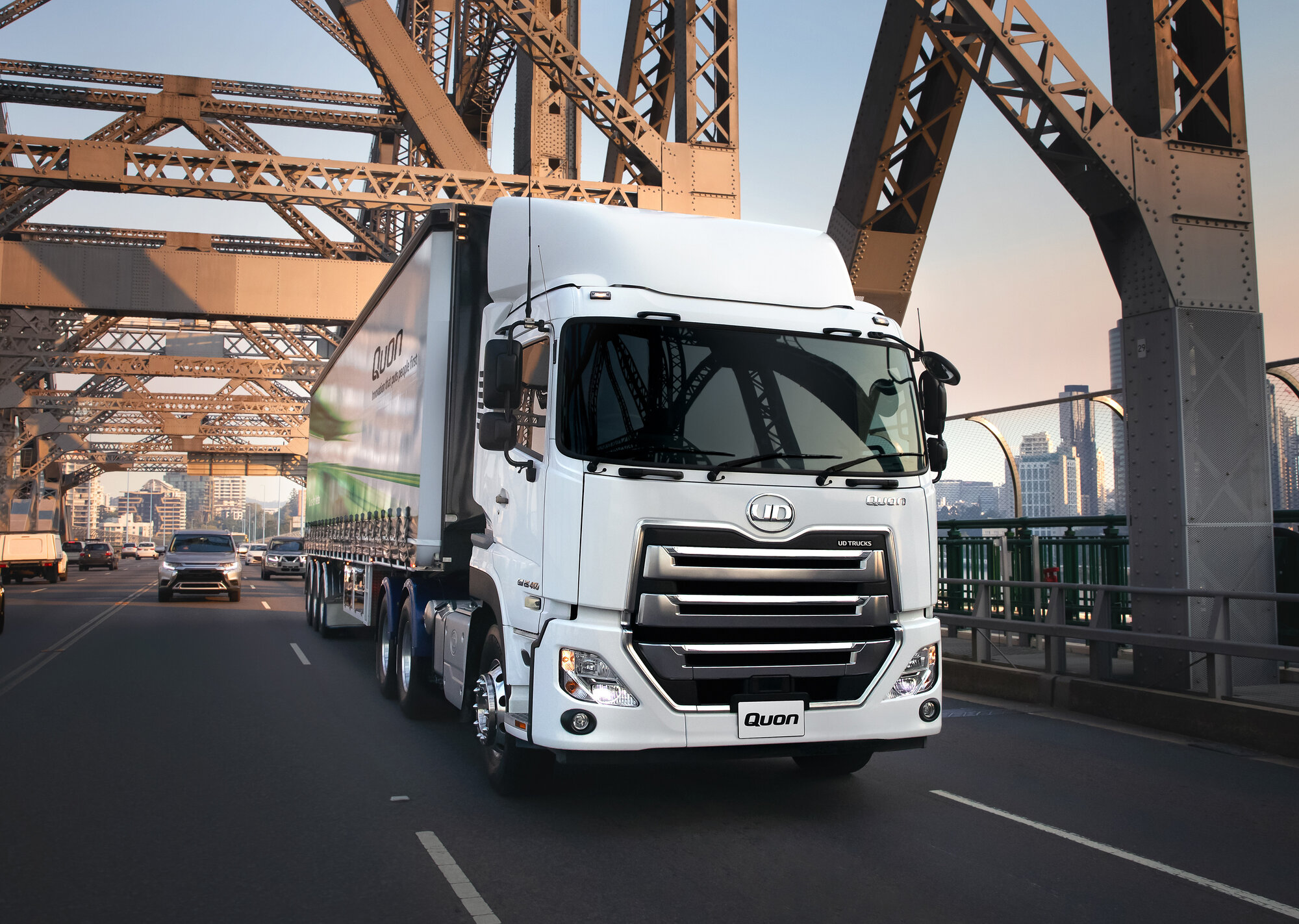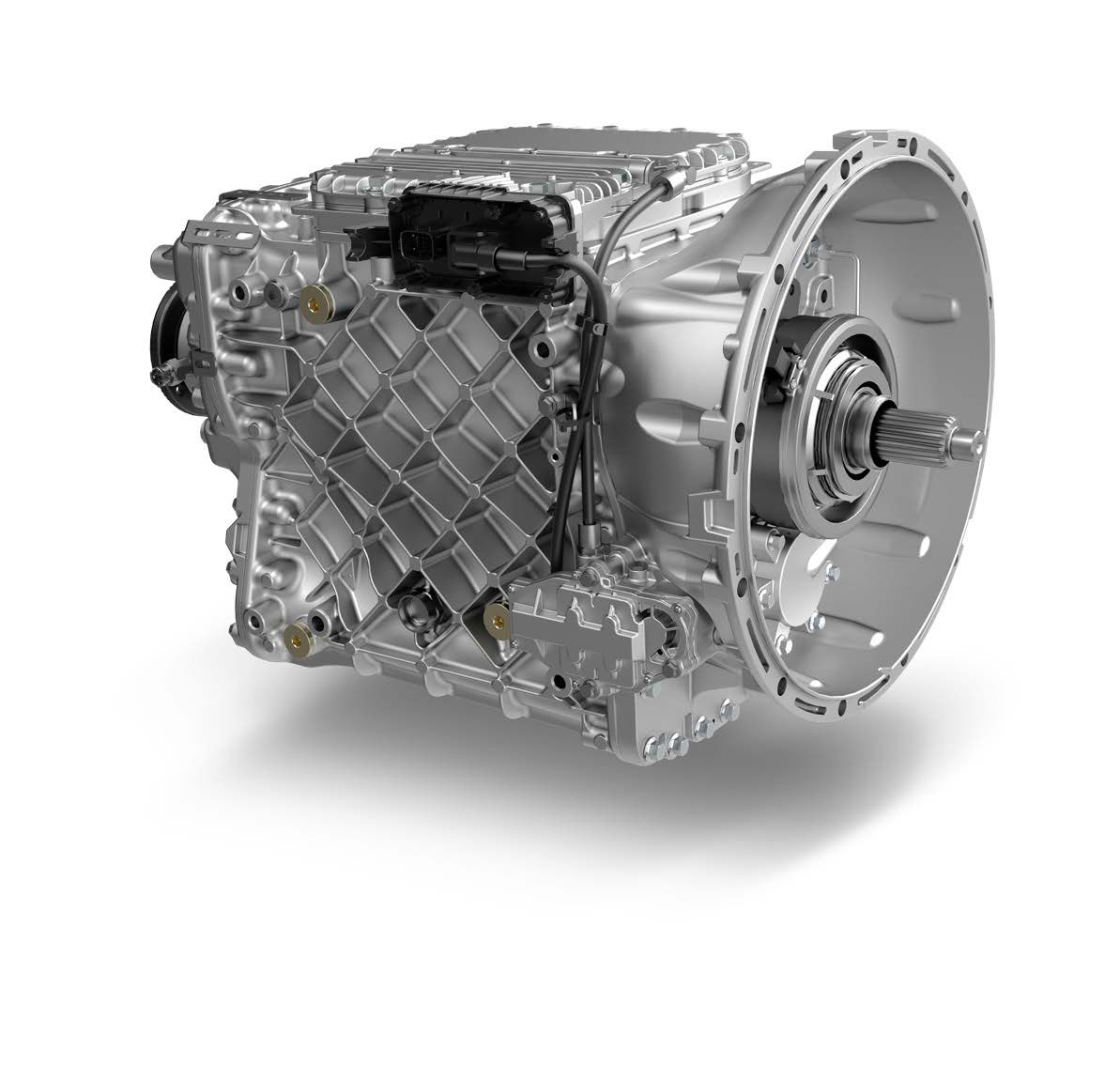 ESCOT-VI for enhanced fuel efficiency
Evolutions in the hardware and software controls of the ESCOT-VI 12-speed automated manual transmission provide improved gearshifting leading to increased fuel efficiency.
Comfortable and efficient driving performance
ESCOT-VI - the latest evolution in 12-speed automated manual transmission, disc brakes, and an interior designed for driver comfort, provide a sophisticated and comfortable driving experience that reduces driver stress and fatigue.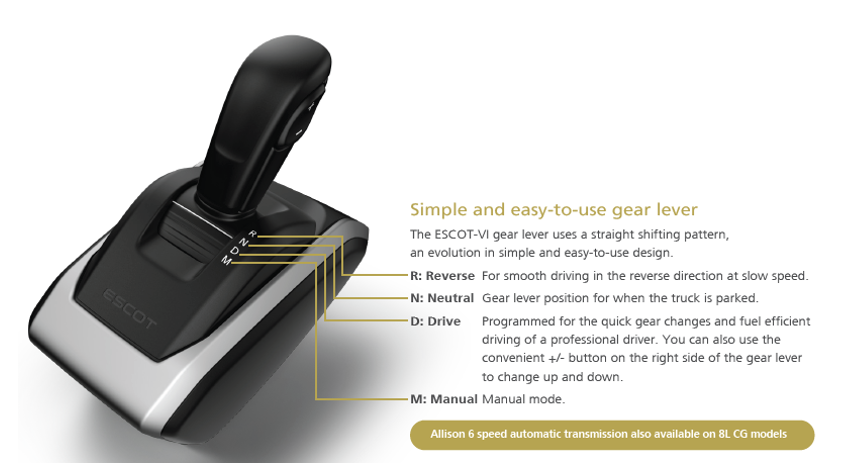 Unparalleled operability: ESCOT-VI
ESCOT-VI provides advanced gear change control and suppresses fluctuations in fuel efficiency. Enhancements to hardware and software control achieve fast and accurate gear changes. Quick and smooth gear changes reduce the driver's level of stress and fatigue while contributing to safe driving. Performance is also improved on uneven surfaces and muddy roads.
Dashboard designed for driver comfort
We've designed a functional black-and-silver dashboard that
skilfully combines straight lines and curves. This design enhances
driver operability and visibility and provides the optimal arrangement of multi-display monitor, switches, equipment, and instruments. Switches are set to light up when in use and at night, so the state
of any switch can be easily understood with a quick glance.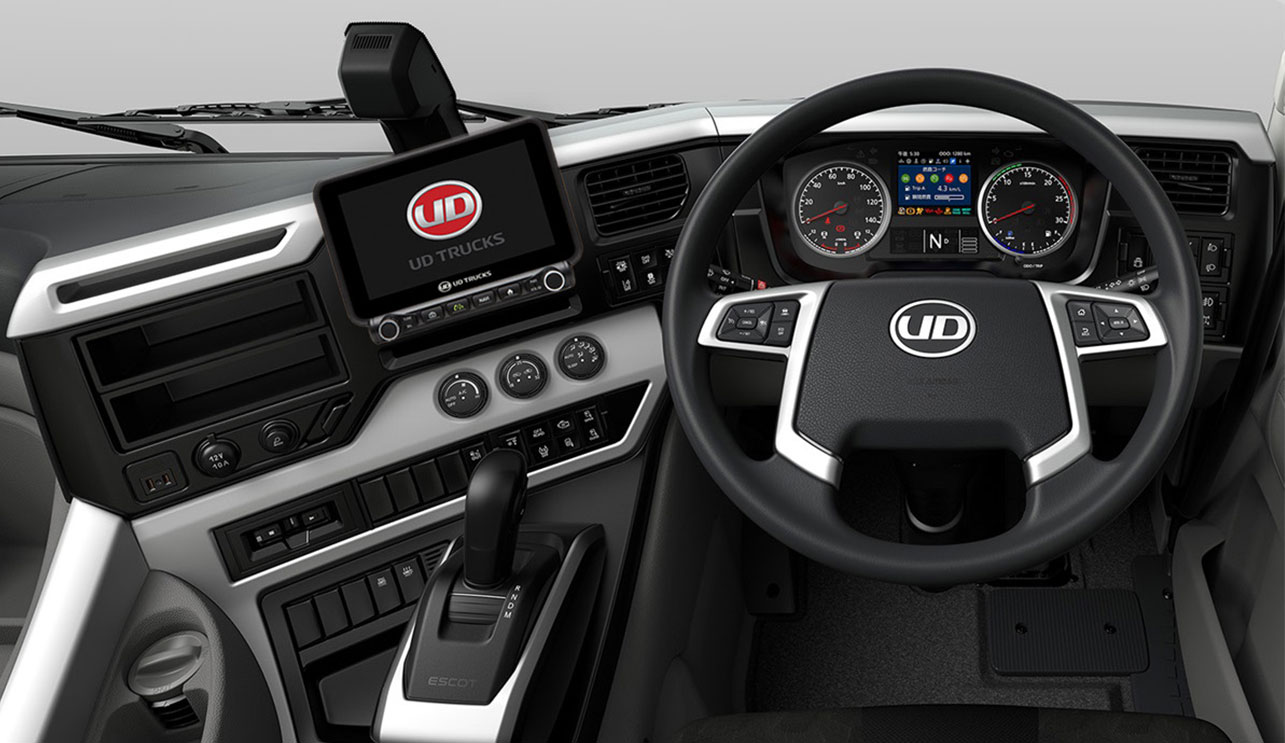 Instrument panel with excellent visibility
We've arranged the driving information and LED indicators on the instrument panel in an easy-to-understand layout that provides excellent visibility. Information is displayed in zones arranged according to warning priority, with the most important information at the top.
A large 5-inch color LCD multi-display is mounted in the centre of the instrument panel. Traffic signs detected by the Traffic Sign Recognition system* will be flashed on the multi-information display, helping you make safer decisions.*Product feature will be available at a later date.
All backed up by Australia's best service network
At UD Trucks, we have one of the widest networks of sales and service experts dedicated to your success. From local dealership managers to finance specialists, from performance specialists to truck technicians, our people take the time to get to know your business, and they work with you like they're part of the team.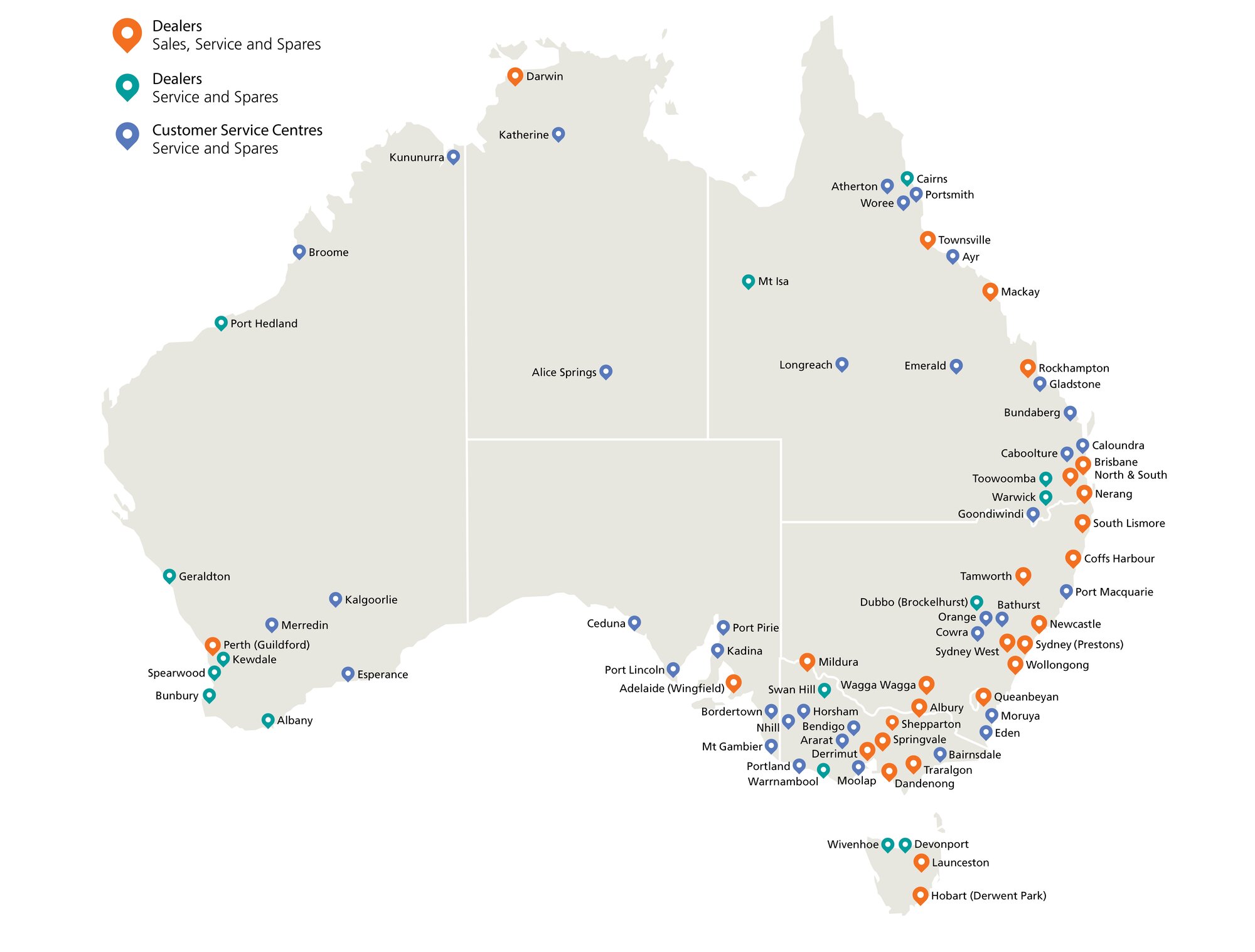 Contact your nearest dealer today
To grab a quote or to discover more about the Enhanced Quon range, contact your nearest dealer today.