1935 - Founding of the company by Kenzo Adachi
It all started with his vision "to make the truck the world needs today".
Passing down UD Trucks DNA
Diesel vehicles were developed in Europe in the 1920s, and it was this type of vehicle that really caught the eye of founder Kenzo Adachi when he went on an industry tour to the continent in 1927. 

Compared with the gasoline engine, Adachi noted that the diesel engine was superior in many respects, including horsepower per liter, fuel consumption and quality.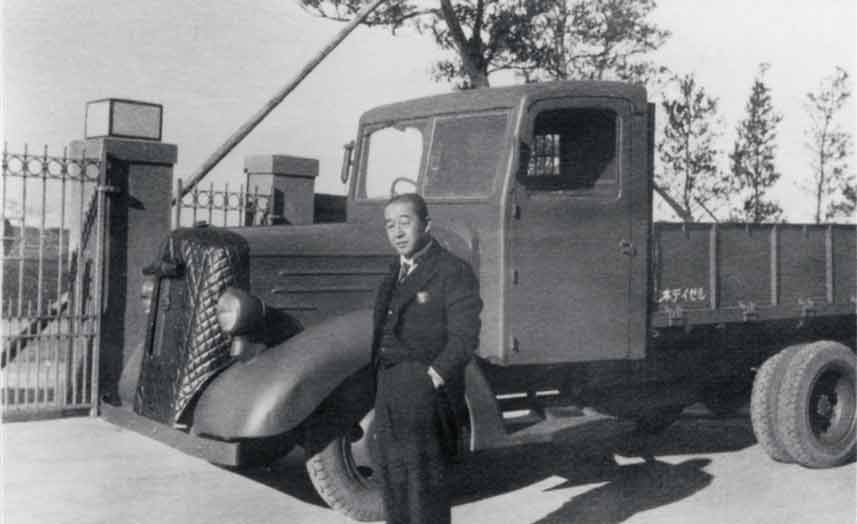 "The diesel engine uses low-priced light oil rather than valuable gasoline and that makes it perfect for resource-poor Japan." 

Kenzo Adachi
Adachi always dreamed of building vehicles in his own right, and with this in mind, he began negotiating with Germany-based Friedrich Krupp AG (Krupp) for permission to use its patent rights. At the same time, he set about establishing a corporate entity, and  in December 1935, Nihon Diesel Industries (now evolved into UD Trucks) was born. The following year he started building what was to become the Kawaguchi Plant on the outskirts of Tokyo. 

As part of this endeavor, he sent engineers to Europe to learn European technologies and took on two German engineers to assist with operations. He introduced the latest in processing machinery and in 1937 he took on the challenge of producing a diesel engine. This was to be the start of great things to come. Over a two-year period, the Japanese staff not only learned about production technology but also a very fundamental philosophy on quality. This eventually led the company toward the successful manufacture of top-quality, highly durable parts.

In November 1938, the first diesel engine was completed -- the two-cylinder 60-horsepower ND1. The finished product was then put through its paces with a 100-hour endurance test. The results were excellent across the board, confirming levels of performance and quality equivalent to its European counterpart.