The Giant Masterpiece
The world's largest KANJI was created to demonstrate the drivability, precision and stability of UD Active Steering. It was created in collaboration with renown calligrapher, Gyousyou Suzuki. A giant brush was mounted on the rear of the Quon equipped with UD Active Steering. On Suzuki's direction, the truck drew the character, stroke by stroke, with mastery akin to the delicate and deliberate hand and brush movements of the calligrapher himself.
About Gyousyou Suzuki 
Gyousyou Suzuki studied under master calligrapher Gyoun Mochizuki and is a member of the All-Japan Calligraphy Federation. He has received many awards and accolades for his craft. His work has been featured on television programs and in commercials. He has also written several books on calligraphy.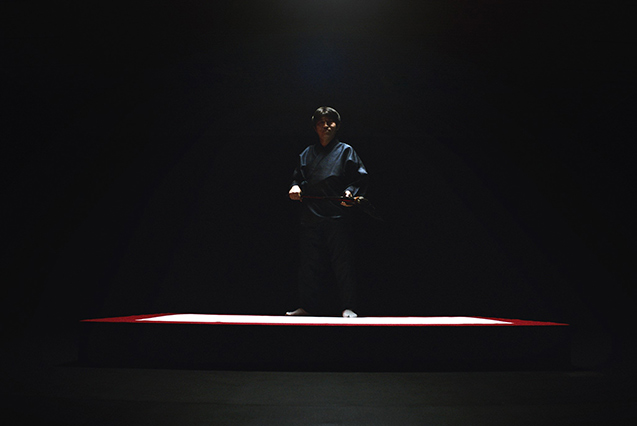 UD Active Steering is a breakthrough technology that offers a safer, more comfortable experience for the driver.
UD Active Steering features an electric motor mounted above the hydraulic steering gear to provide additional torque when necessary. The electronic control unit (ECU) mounted on the electric motor receives input 2,000 times per second from sensors throughout the truck, monitoring the driving environment and the driver's own actions. This system control adds appropriate torque to the weight of the steering wheel, providing precise and stable steering irrespective of speed, cargo, and road conditions.
Click here for press release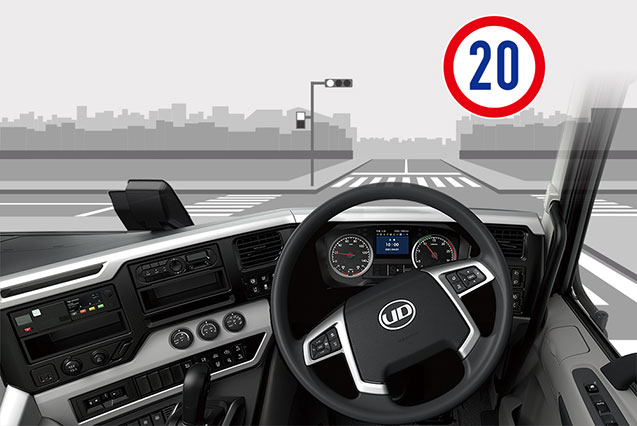 1. Low Speed Agility
When turning at low speeds and reversing in tight spaces, additional steering torque automatically feeds into the system to allow the driver to maneuver with a light touch.
2. High Speed Stability
When driving at higher speeds, the weight of the steering wheel adjusts to provide superior stability.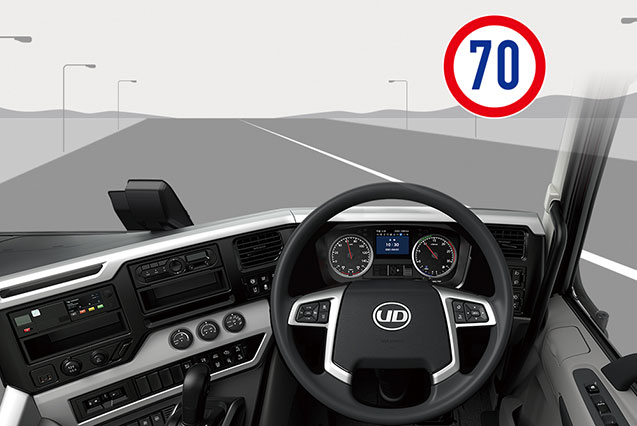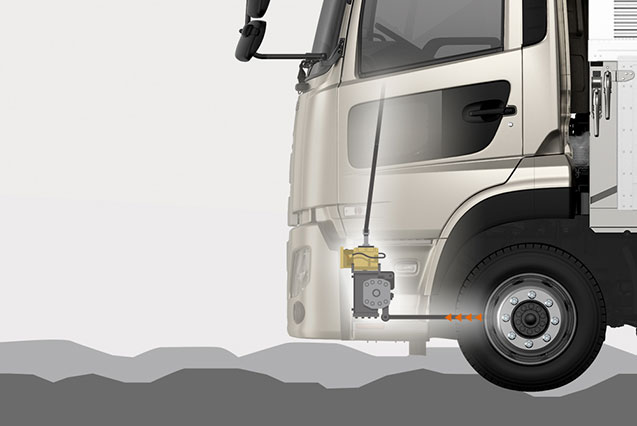 3. Rough Road Dampening
Active Steering dampens vibrations from rough roads. Minute directional adjustments keeps the driver on a course.
4. Cross Wind Correction
Active Steering virtually eliminates the steering corrections needed in crosswinds, keeping the driver on a straight course.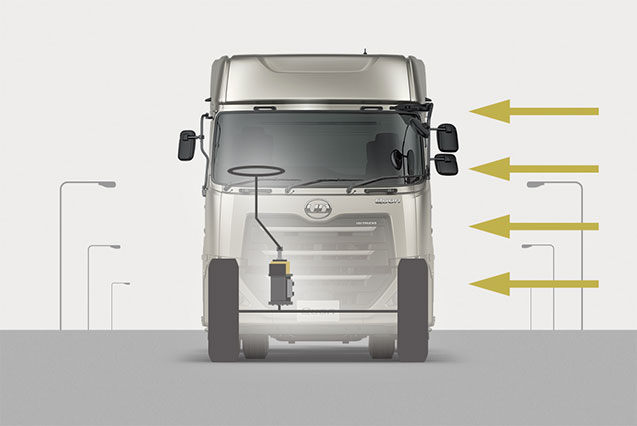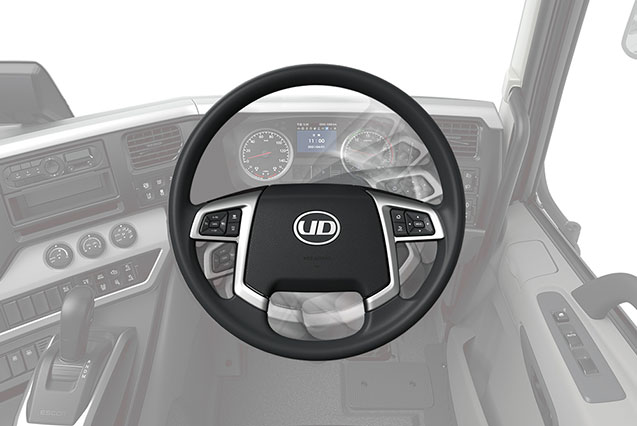 5. Return to Center
Whether turning at an intersection or reversing, the steering wheel will return to center when released, saving driving effort and bringing the vehicle into a straight line quickly and easily.
Tests show UD Active Steering reduces fatigue
UD Trucks conducted independent tests to measure and compare driver fatigue between trucks equipped with and without UD Active Steering. An electroencephalograph (EEG) was used to measure the level of driver concentration and stress, while an electromyogram (EMG) was used to measure the amount of muscle exertion. Results showed that subjects driving trucks equipped with UD Active Steering had lower levels of stress and could be operated without excessive concentration. Subjects also recorded lower levels of muscle exertion in their arms with UD Active Steering, especially when parking or driving on uneven road surfaces.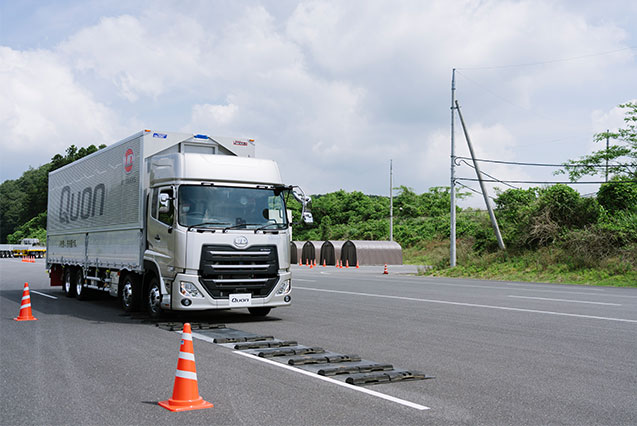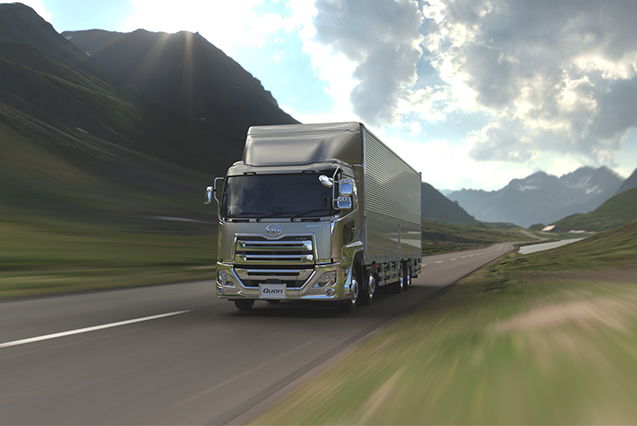 Awareness Survey
UD Trucks conducted an online survey of some 200 transportation company managers and 200 drivers in Japan between June 2 and June 5. According to the survey, more than 70% of transportation company managers are experiencing a driver shortage. The survey data revealed that truck drivers want better health care support and fatigue-reducing features.
UD Active Steering Press Conference
On July 1, UD Active Steering was unveiled to media at the Ageo UD Experience Center. Making a special appearance was Gyousyou Suzuki, a master calligrapher, who drew a giant KANJI on stage. The press conference was attended in person by 20 journalists.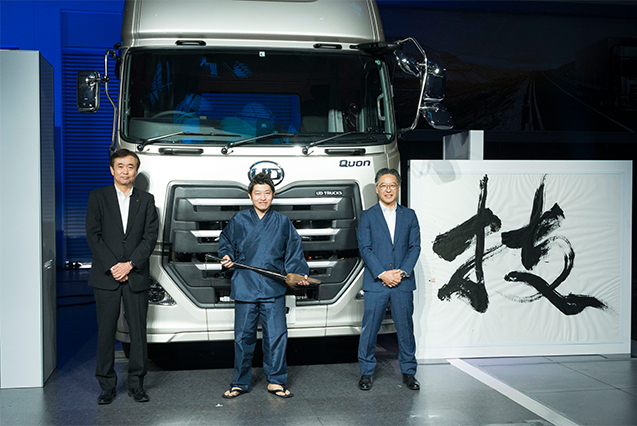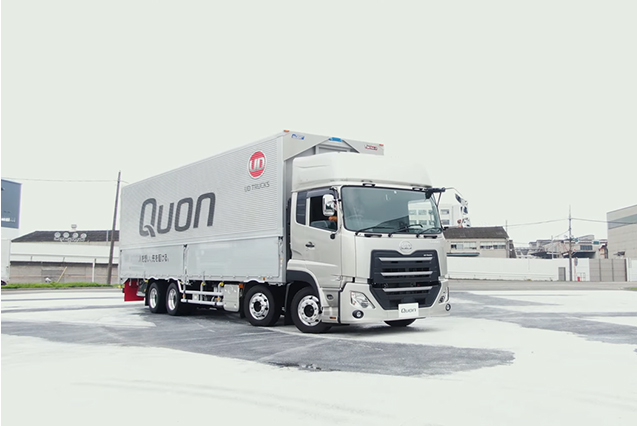 UD Active Steering impresses drivers
UD Trucks invited select customers to test drive the UD Active Steering equipped Quon at the UD Experience Center in Ageo, Japan. To say they were impressed is an understatement, with the majority saying that once you experience it there is no going back. Watch the drivers react to the light touch and stability of UD Active Steering as they navigate rough roads, straightaways, slalom course and reverse parking.