When quality is of the essence
The road is long, with many winding turns.But one thing remains true – whatever road you choose to take, whatever your task is, you should choose to do it in a UD truck.
No matter the road conditions or the length of the trip, you need to travel in style, in a vehicle that you can relyon. A vehicle you can trust, that is designed and built with durability at its core, from robust high-quality components to heavy-duty frames – a vehicle that prides itself with having longevity and sturdiness as its main characteristics.In other words, whatever road you choose to take, whatever your task is, you should choose to do it in a UD truck. Regardless of what UD model you choose for your operation, you can rest assured that every possible attention has been paid to supply maximized uptime and to make the vehicle withstand the job at hand. Be it long haul or inner-city transport, construction or waste management, a UD truck has been tailored to deliver, to withstand and to supply you with reliable power and performance as well as a long and trustworthy product life. The robust construction, paired with our generous tailor-made service offers equals a quality working companion that will keep you in business, no matter the conditions.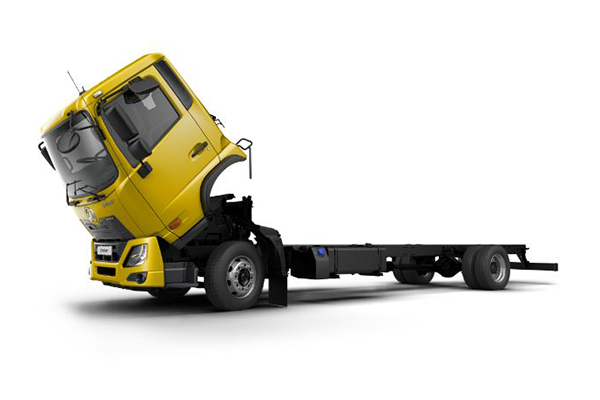 ROBUST CONSTRUCTION
Reliable and durable operation
Strong and reliable high-quality components guarantee robustness, long product life, optimized uptime and long service intervals.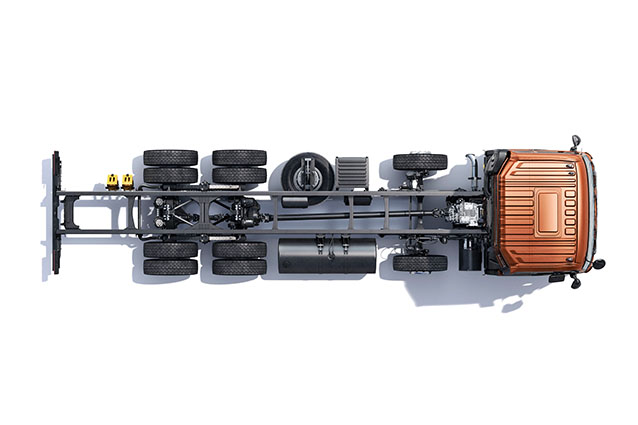 Chassis frame
The chassis frame of a UD truck has been built to withstand the toughest of conditions and has been meticulously tested in accordance with our global standards. The attention paid to the chassis guarantees high reliability, durability and a long life.
Suspension
The suspension of our trucks has been designed for rough conditions, to endure heavy workloads and to deliver reliable and safe handling of the cargo. With the option of air suspension on selected models, cargo handling is substantially improved and you're always in for a smooth ride.
Powertrain
Our driveline is carefully balanced to optimize performance under varying conditions. Depending on the model, the driveline has been adapted to match the intended application to meet your varying demands.
---
QUALITY ASSURANCES
Tried and tested to the max
UD trucks are tested to their limits in order to identify potential quality issues long before they reach you and your business. The assessment applies to both products and the people servicing them.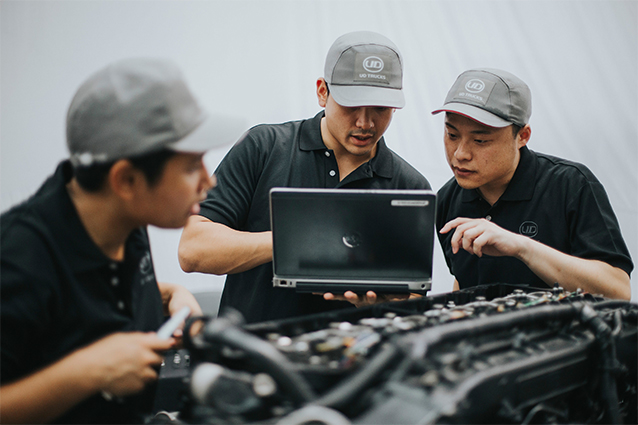 ield quality tests
UD Trucks undergo rigorous testing to make sure they always deliver at maximum capacity. The field quality tests are designed to verify the durability and life of components, systems and aggregates over a long period of heavy usage. The truck is tested during a 10 to 16 week period under harsh conditions to assess any potential wear problems, which are then addressed.
Dealership quality assessment
UD Gemba is a quality-centric process where UD representatives from quality, sales and technology departments jointly commit to direct dealership and workshop visits. These visits generate action plans that accelerate the resolution of both individual and general quality issues as well as configuration problems. The endresult? Unparalleled customer satisfaction.
Intensive run
The intensive run initiative employs high mileage, heavy-duty UD trucks users who make their real-life data as well as their actual trucks available to us. The vehicles and data are analyzed and, together with driver interviews, the results are used to find any potential quality issues. All to better supply faultless performance to all UD customers.
---
OPTIMIZED UPTIME
Safeguarding your productivity
UD trucks are manufactured at the state-of-the-art facilities. Our trucks, as well as our services are designed to make your ownership and your operation smooth and productive.
Senior Quality Engineers
To further our attention to quality issues, UD Trucks has established senior quality engineers (SQE) in a number of markets. The SQE's primarily work with detailed field quality issues, monitoring any and all concerns regarding overall product performance, and their findings are instrumental in correcting and amending quality issues, increasing and speeding up both product, service and specification processes.
Quality and warranty
The standard warranty for UD Trucks is one year for the truck and two years for the driveline. Our UD Trucks Genuine Parts come with a 24-month guarantee as standard. Warranty issues are followed up and measured through a number of factors in order to maximize customer satisfaction.
Produced to perform
All UD Trucks parts and components are manufactured and assembled in  our manufacturing plants in accordance with the highest quality production standards. The result-oriented process has been designed for quality assurance, continuous improvement and includes multiple inspections to ensure maximum quality and reliability. The state-of-the-art UD Trucks plant in Bangkok achieved Gold Status, guaranteeing its efficiency and devotion to high-level quality.
---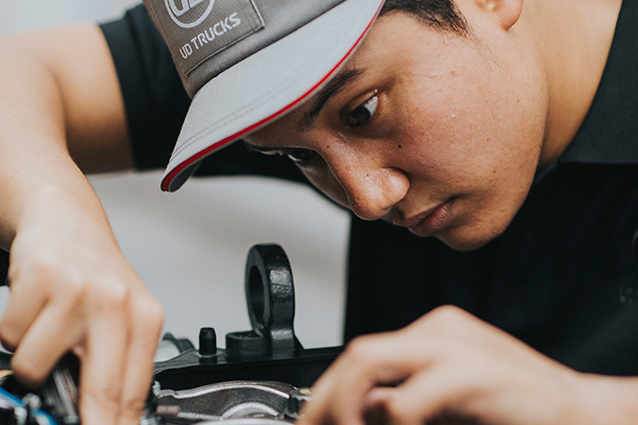 EFFICIENT SUPPORT
No matter what, no matter where
We're always ready to support you and your business. That's why we've built our service offerings to be as flexible and accessible as possible. To keep you on the road longer.
UD Genuine Parts
Our Genuine Parts are purpose-built for our trucks and are tailored to supply you with maximum reliability, durability and long-life performance. They are rigorously tested to help you maintain performance and productivity.
UD Telematics Services
UD Telematics Services will help you boost your business by maximizing vehicle uptime and fuel efficiency, while reducing unplanned stops and operational costs. Resulting in greater profitability for your business.
UD Trust
UD Trust is our Service Agreement, designed to safeguard against unplanned expenses and to keep your fleet on the road.
UD Road Support
An unexpected breakdown is an unwanted event. UD Road Support is but a phone call away to provide you with repair services to get you back on the road quickly and efficiently.
---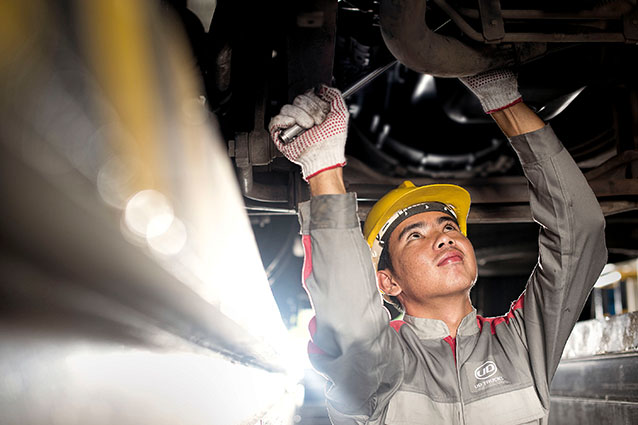 BINTANG BULK MOVERS, MALAYSIA
Increased efficiency thanks to UD Trucks reliability and durability
Malaysian transport company Bintang Bulk Movers is a company steeped in experience. Founded in 1963 with one single cargo lorry used for transports between Kuala Lumpur and Teluk Intan, the company today employs a fleet of more than 300 trucks.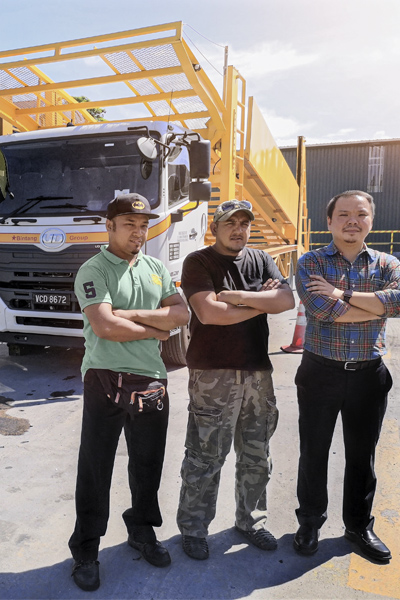 From its early days using only a traditional truck to transport goods from Kuala Lumpur to Teluk Intan to a strong and professional management team with a fleet of 300 trucks, intang Bulk Mover Sdn Bhd has had over 56 years of experience in the transport industry. Currently providing diversified transportation and integrated logistics services in Peninsular Malaysia and cross-border services to Singapore, the company recently purchased a UD Croner equipped with Allison automatic transmission.
Considering the business model of the logistics industry, the company has been seeking newer trucks to replace the older models that require higher maintenance costs and consume more fuel. "As time progresses, the new trucks we are looking for need to be equipped with automatic transmissions and Croner is one such truck. Currently it is mainly used to ferry new cars.
"Trucks with automatic transmissions are easier to drive and this helps to reduce the driver's mental fatigue and allow them to perform more efficiently," said Executive Director Mr. KH Yap.
"There is no denying that trucks have evolved. In addition to the development of automatic transmissions, safety equipment and the creation of a more comfortable cabin, are all necessary conditions for a modern truck. Our company also considers whether the after-sales service provided by the vehicle supplier could satisfy a large traffic fleet. We have seen the advantages of UD trucks especially in the reliability and durability aspect." he continued.
Upon driving the Croner for three months Mr. Kharudin Assar shared that, "This was the first time I drove a truck with auto transmission and the Croner's overall performance was excellent and easy to control with smooth gear shifting. I could feel that the engine provides powerful horsepower and torque output especially when going up gradients. With the auto transmission, it highly reduces driver fatigue and increases driving safety as I do not need to change gears frequently by using the clutch. Besides this, it also provides high fuel efficiency to lower operational costs compared to the truck I drove earlier. I feel happy that the company has chosen a good truck for us to drive."
"We will continue to support UDTrucks, and look forward to its upcoming new models," Mr. KH Yap concluded.