UPTIME SUPPORT
Maximize uptime with UD Extra Mile Support
UD Extra Mile Support is everything you need to make the most out of every moment. From service and parts to on-road support, driver training and telematics, it's our complete solution that you can rely on to keep your truck running. We believe in going the extra mile to support you wherever you are – or wherever your fleet may be.
UD Genuine Service
Nobody knows your trucks better than our experts. UD Genuine Service is carried out at authorized UD Trucks workshops that have highly skilled UD mechanics, access to UD Trucks equipment, and top-quality UD Genuine Parts to keep your trucks in optimum condition.
---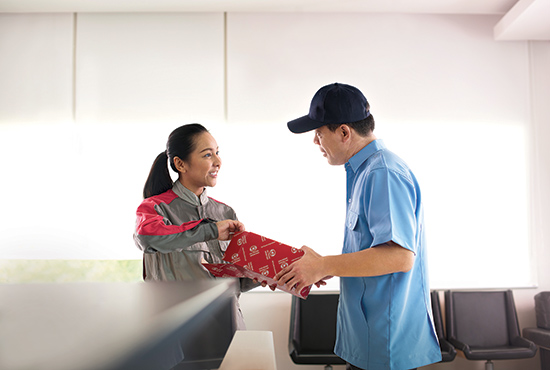 UD Genuine Parts
UD Genuine Parts are manufactured to the highest quality and durability standards, and are a genuine long-term cost saver. They carry a one-year warranty and are designed to last for optimal service intervals. This gives you lower maintenance, increased uptime and reduced overall cost per kilometer
---
Optimized service planning
We can create a pre-defined and optimized service schedule for your trucks based on your specific usage requirements. This helps to reduce workshop visits, optimize service intervals for maximum uptime and shorten maintenance tasks needed.
---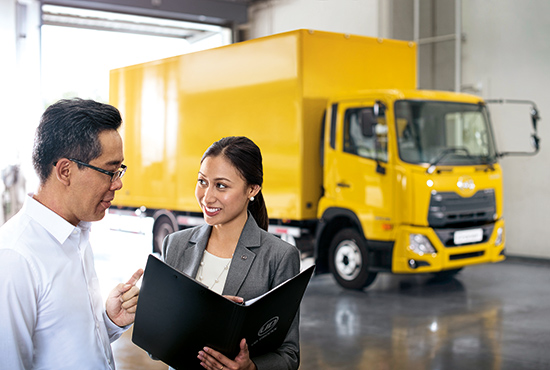 UD-TRUST Service Agreement
UD-TRUST service plans are the best way to take care of your new truck while locking down costs both now and in the future. With two levels of care available for UD-TRUST, you get to maximize profits and minimize unplanned expenses, all while keeping your fleet on the road.
---
UD Telematics Services
UD Telematics Services is a high-tech wireless communications system designed to help you manage your fleet effectively, keeping them on the road while reducing operational costs. It integrates four key features – Track and Trace, Fuel Utilization, Fuel Loss Alert and UD Proactive Support – into one robust, reliable system.
---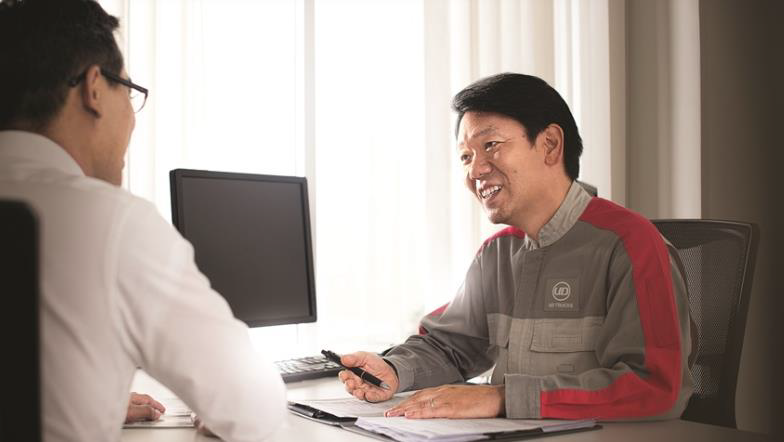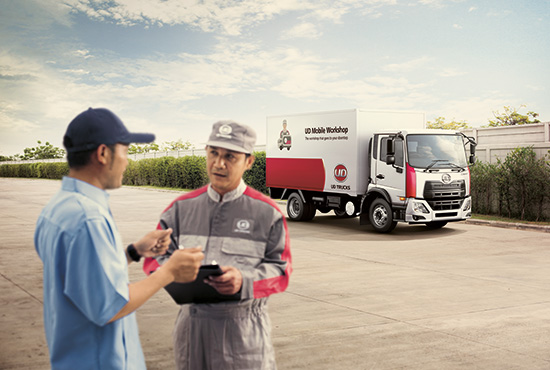 UD Mobile Workshop
Just let us know the best time to visit and UD Mobile Workshop will be right at your doorstep, delivering the UD Genuine Service you need. With no need to send trucks off-site for maintenance, you can save time and money, and focus on growing your business. Our mechanics will go straight to your location, saving you time and avoiding travel or towing costs, and provide the best quality service in the shortest amount of time. Here are three easy steps to service your truck:
Step 1: Book an appointment with your nearest UD workshop.
Step 2: We service your truck at a date, time and place that's convenient for you.
Step 3: Pay seamlessly after service upon receiving your invoice.

---

 
UD Road Support
You never have to worry about unexpected standstills again. Our fast and efficient UD Road Support team is just a phone call away, providing repair services at your convenience to get you back on the road in the shortest time possible. When your truck experiences a standstill, follow these three simple steps:
Step 1: Dial the UD Road Support service hotline.
Step 2: UD Service Vehicles will be dispatched to breakdown site.
Step 3: Receive a maintenance report and invoice upon completion of repairs.

---