Stability is key
Now the owner of ASAC Logistics, Mr Tan first started at the company as a clerk in 1974. Five years later, Mr Tan bought a share in the company, becoming one of nine shareholders. And within a few years, once Mr Tan had taken over ownership of the company, he started to implement his vision, which included a focus on logistics. He diversified their cargos with fruits such as mangoes and longans imported from Thailand and delivered to Singapore.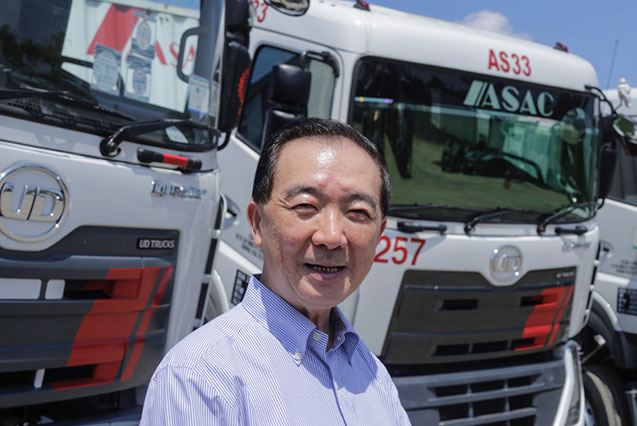 The company expanded and ran a fleet of eleven trucks, but the bulk of their goods were perishable and seasonal. "All that time, I was thinking: I must find a more stable business model", recalls Mr Tan. Finally, the tipping point came when he signed an almost-exclusive transportation contract with Sime Tyres, one of the biggest tire makers in the country. "This contract changed a lot of things for us," he recalls, "and it brought us a stable income.'' 
That was until 1997, when the Asian Financial Crisis hit. Tire orders dropped and the company suffered. "During that period, UD helped me a lot," remembers Mr Tan. "They offered me some credit opportunities, and I will not forget that." The help was from TCIE, the sole distributor of UD Trucks in Malaysia.
"I realized I did not want to rely on economic circumstances anymore" he says. So today, he has again diversified to Fast Moving Customer Goods (toothpaste, basic cosmetics, soft drinks and so on) that, as Mr Tan puts it, "Recession or not, you need to use them everyday.".
Reliability is key
Both Mr Tan and his operation manager Tan Seong Chew trusted UD Trucks as a partner throughout all these years. With a reputation for being reliable, UD's trucks have become the symbol of dependability among their customer. "UD trucks are very reliable, we are very happy to work with UD,'' says Mr Tan. 

As Mr Tan puts it, "The most important thing for us is to keep our promise to our customers. 'We promise, we deliver', that's our motto. And UD helps us achieve that." "The service UD provides is really remarkable. In an industry where time is so crucial, they offer a service that is timesaving. That's everything," Mr Tan Seong Chew adds.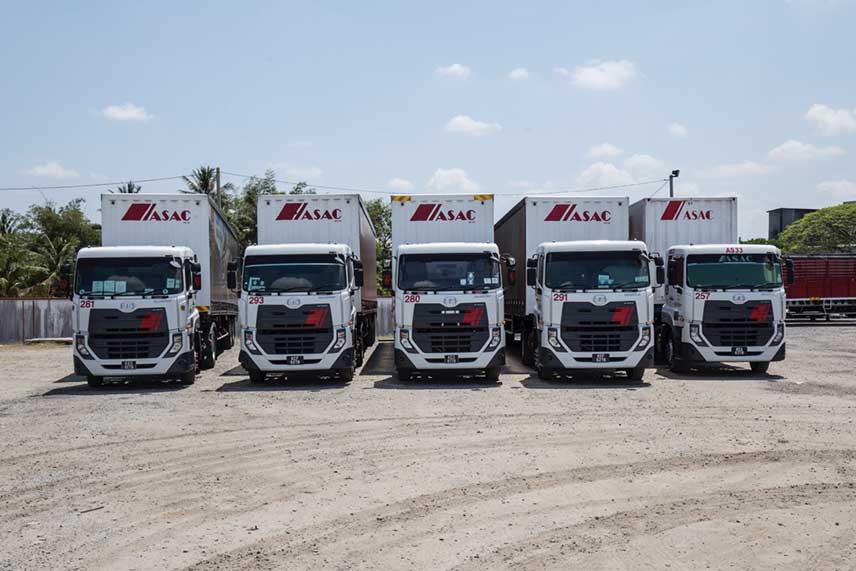 Champion driver on the team
Yuzairi Ibrahim drives a Quester at ASAC Logistics. He has been driving trucks for more than ten years, and has driven various different brands during his career, from European to Chinese ones. He really enjoys driving the Quester, "It's a very good truck! Comfortable cab, and really built with driver comfort in mind."
In 2016, Yuzairi represented ASAC Logistics and the Malaysian team at the UD Extra Mile Challenge, is a driving competition for UD customers. He won the overall competition after delivering an excellent performance especially in the pre-inspection category.