Innovation for Smart Logistics. Fujin & Raijin. Vision 2030.
UD Trucks announced the launch of "Fujin & Raijin. Vision 2030."— an Innovation Roadmap which aims to deliver a variety of solutions for Smart Logistics, including fully-electric and autonomous trucks towards 2030. The roadmap focuses on the key areas of automation and electromobility to address the challenges of a rapidly-changing world.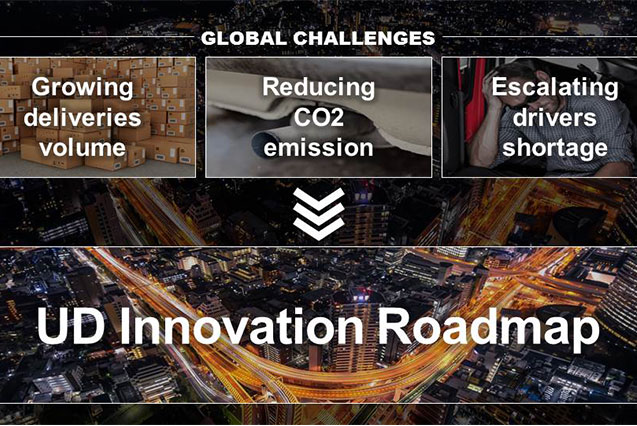 By 2030, demand for parcel delivery is expected to grow 50% compared to 2014. To meet this demand, the logistics industry faces significant challenges, including a responsibility to reduce CO2 emissions, the growing scale of online commerce, and driver shortages. UD Trucks believes that transformative innovations in automation and electromobility are key to overcoming these challenges and providing customers with the trucks that fit their needs.
True to UD Trucks' vision to provide the trucks the world needs today, the innovation roadmap takes a step-by-step approach together with customers to offer commercialized solutions for select automation and electromobility applications from 2020, with a view toward full-fledged commercialization by 2030.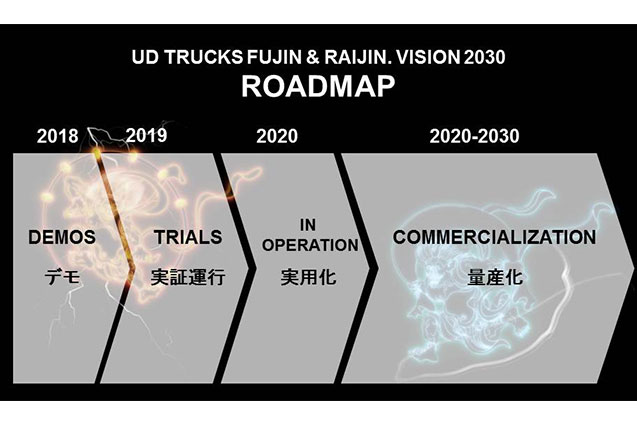 UD Trucks takes inspiration for their innovation roadmap from the gods of wind and thunder, as depicted in the famous gold-embossed Japanese folding screen, "Fujin and Raijin." UD Trucks' progress in automation is inspired by Fujin, the god of wind, who symbolizes the power of movement, while its work in electromobility is inspired by Raijin, the god of thunder, who symbolizes the power of energy. With "Fujin & Raijin. Vision 2030." UD Trucks is committed to developing smarter logistics solutions in these key areas, enabled by advances in connectivity and digitalization.
Automation
Automation will reshape the logistics industry, creating real-life benefits for both customers and society in terms of productivity, safety, energy and fuel efficiency. UD Trucks is currently participating in the Japanese government's highway platooning projects, and will continuously improve the accuracy and safety of automation technologies including vehicle-to-vehicle communications and lane keeping assistance.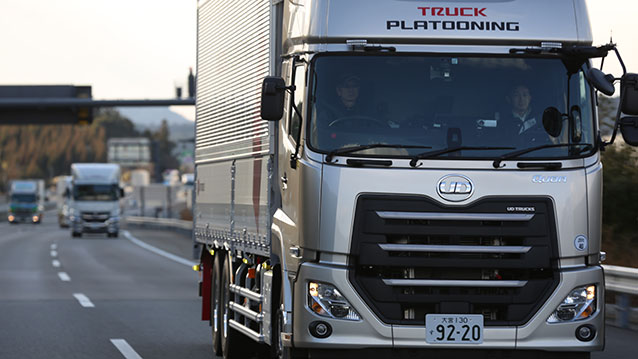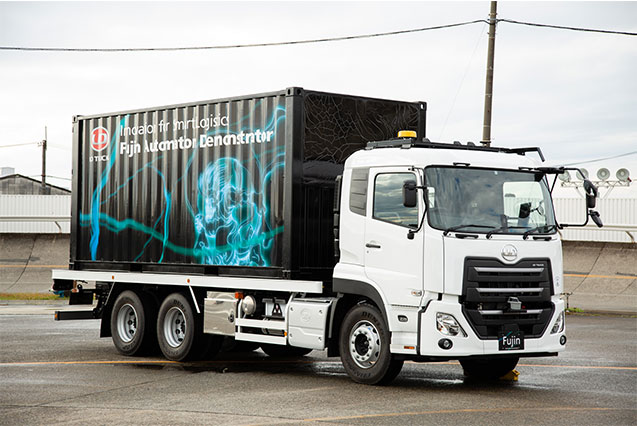 UD Trucks is also focusing on solutions for automation in confined areas, including in-plant and harbor logistics. In December 2018, UD Trucks revealed its first demonstration of Level 4 (L4) automation for heavy-duty. The course emulated the real-use conditions of heavy-duty trucks in confined areas such as ports, factories, warehouses and construction sites, where automation technology will help improve efficiency, safety and productivity.
Electromobility
UD Trucks is committed to reducing the environmental impact of its products. UD Trucks is now developing technologies necessary to create silent, zero-emission vehicles that maximize energy efficiency, payload capacity and mileage. As battery systems continue to evolve, UD Trucks is testing a variety of solutions, including battery EV, parallel HEV and Series HEV.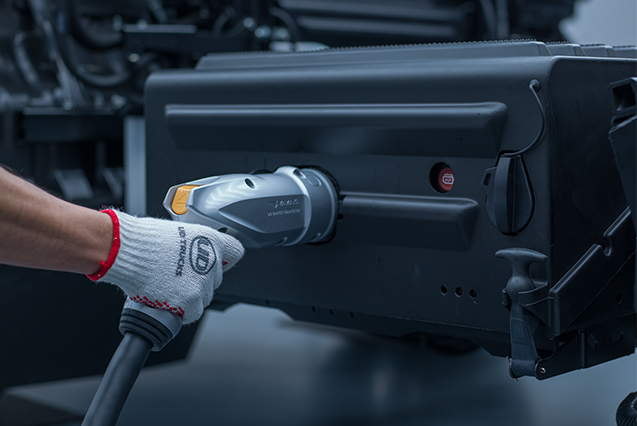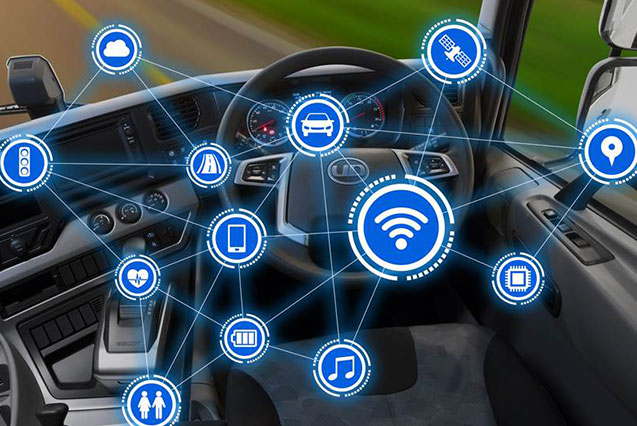 Connected assets for Smart Logistics
Connectivity is the enabler of innovation technologies like automation, electromobility and smart logistics. In Japan, UD Trucks has provided connectivity technology since 2006. UD Trucks has around 50,000 vehicles are connected in Japan and some international markets, and is targeting 150,000 by 2025. Data is collected from each vehicle to help improve customer uptime, fleet operation, quality and innovation.
As part of the Volvo Group, UD Trucks can leverage a wealth of knowledge from different use cases around the world. Assets are collected from around 800,000 connected vehicles to improve automation and connectivity technology and make logistics smarter.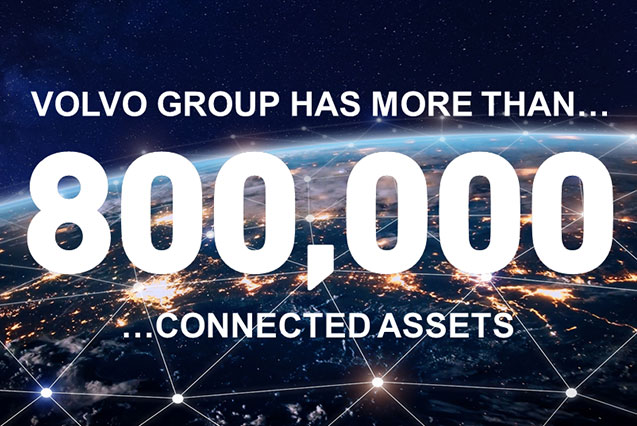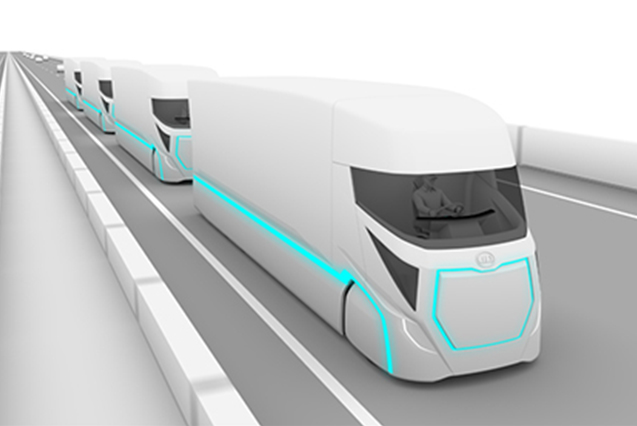 Japan is facing societal challenges ahead of other countries. In order to meet the changing needs of the society, UD Trucks will continue to provide the trucks and services the world needs today. With "Fujin & Raijin.Vison 2030." we will keep going the extra mile for smart logistics.