People depend on logistics, and logistics depend on people. That is why UD Trucks focuses on one simple goal at this year's Tokyo Motor Show: Create the "best truck for all drivers!"

At Tokyo Motor Show 2017, UD Trucks will spotlight a lineup of all-new Quon and Quester heavy-duty trucks, launch the all-new Quon tractor model and reveal an 8-liter downsized engine. UD Trucks continues to broaden its heavy-duty product lineup to better meet the needs of the transport industry, underscoring its goal of becoming the leading Japanese heavy-duty truck provider.

UD Trucks is passionate about solving the challenges customers are facing. This passion, "to provide the trucks and services the world needs today," has driven its commitment to innovation for over 80 years. In a time of severe driver shortages, UD Trucks is committed to listening to customers and truck drivers, and tackling issues together to create the best truck for all drivers. 

Innovations as the challenger
The history of UD Trucks is a history of challenges and innovations. Since its foundation in 1935, UD Trucks has always aimed to go the extra mile, providing smart and modern products and services in each era. In 2004, UD Trucks launched the heavy-duty truck Quon, featuring a revolutionary urea SCR system that answered the dual need for better fuel efficiency and lower emissions. In 2010, UD Trucks introduced the cutting-edge electronically controlled automatic transmission, ESCOT-V, marking a drastic improvement in drivability, safety and fuel efficiency. 

Promise to provide the "best truck for all drivers!"
UD Trucks consistently commits to realizing its promises. At Tokyo Motor Show 2013, UD Trucks showed the "Quon Fuel Demonstrator" as proof of its promise to improve fuel efficiency by 10% over existing models. That promise was realized with the launch of the all-new Quon in 2017. Furthermore, the company committed to downsizing the engine to further improve payload and fuel efficiency. The UD Trucks booth this year will display the fruit of this labor—the downsized 8-liter GH8 engine, to be launched in late 2018. At the Tokyo Motor Show in 2015, UD Trucks presented the "Quon Vision" as a symbol of its commitment to go the extra mile for smart logistics, with innovation in 5 essential feature areas, all realized on the all-new Quon.

At Tokyo Motor Show 2017, UD Trucks will showcase the products and services that realize its promise to create the "best truck for all drivers!"

The all-new heavy-duty Quon—UD Trucks' flagship truck
"Innovation that puts people first" is the concept behind UD Trucks' new flagship heavy-duty model Quon, which meets the needs of the times through smart technology and human design. All-new Quon represents innovation in five essential areas—drivability, fuel efficiency, safety, productivity, and uptime—and is the next generation truck for the era of smart logistics.

1. Quon 6x2 Cargo (special exterior design model) 
Addressing the challenges in today's transportation business, all-new Quon encapsulates UD Trucks' vision for smart logistics, with unparalleled results for smart drivability, fuel efficiency, safety, productivity and uptime. The exhibited cargo model displays exterior design elements created specially for the Tokyo Motor Show.

2. Quon 4x2 Tractor
Meeting the latest exhaust gas regulation in Japan, a semi-tractor version of all-new Quon now joins the UD family. The fuel efficient, powerful and clean GH11 engine is now available with a 460 ps model. All-new Quon tractor greatly contributes to addressing the challenges facing Japan's trucking industry, such as a shortage of drivers, the need for improved fuel efficiency and smarter logistics.

3. Quon 6x4 Dump
The advanced automated manual transmission, ESCOT-VI is available for the all-new Quon tipper models. Smooth and quick gearshifts alleviate the drivers' stress and fatigue, thus contributing to safe driving. In addition, ESCOT-VI offers exceptional abilities on snowy or muddy roads.

Quester 6x4 Tractor 
Launched in 2013 for growth markets around the world, Quester combines UD's engineering and quality expertise with global technologies and sourcing. This strong, reliable and fuel efficient heavy-duty truck had its range extended in 2015, with new models including an 8-liter engine and various axle arrangements.

Quon driveline: GH8 engine, GH11 engine and ESCOT-VI
All-new Quon's driveline, featuring the clean GH11 engine with increased horsepower and torque, and the new ESCOT-VI automated manual transmission with enhanced fuel efficiency, is available for all models. In the latter half of 2018, UD Trucks will introduce the 8 liter downsized GH8 engine on Quon, to further improve payload and fuel efficiency.

Quon interior design displays
The fully renewed cockpit of all-new Quon achieves a high level of comfort for all drivers. The new design allows drivers to interact more smoothly with the truck, and enables safe, comfortable and efficient driving. At Tokyo Motor Show, three different interior design concepts are exhibited. Visitors are invited to experience the designs, with the option to create a downloadable video featuring the visitor as a truck driver. Also on display is an all-new Quon cut cabin which visitors can explore with AR headsets.

Uptime Support
UD Information Service (UDIS) helps to maximize customers' productivity by minimizing vehicle downtime. UDIS provides real-time, responsive and proactive support to keep customers' fleets running using telematics solutions that allow for remote diagnostics by UD experts. Currently 43,000 UD vehicles are connected through UDIS.

UD Trucks moves toward what the world needs tomorrow 
As a part of the Volvo Group family, UD Trucks utilizes and adapts Group technology, knowledge and resources to provide trucks and services that perfectly fit the needs of customers and society today. The Volvo Group and UD Trucks innovation efforts currently focus on autonomous driving, electromobility and connectivity; three innovative pillars that will shape the future of smart logistics.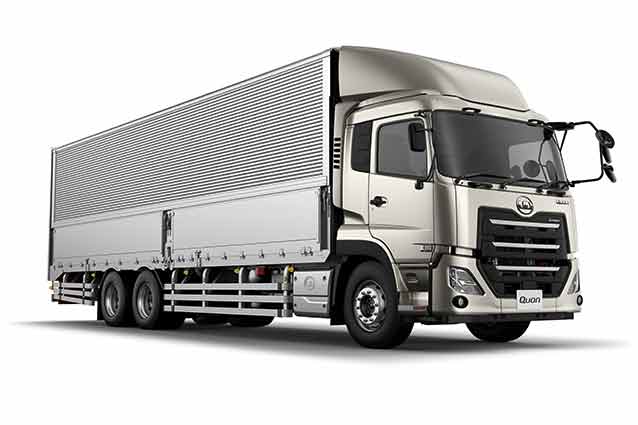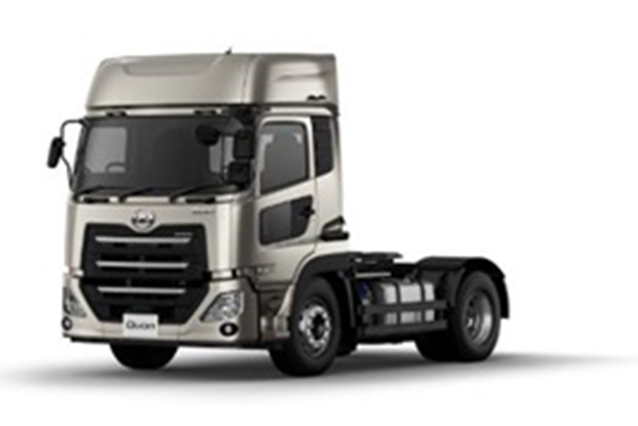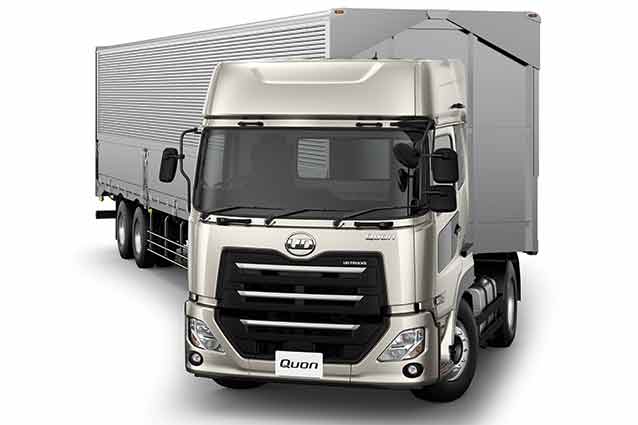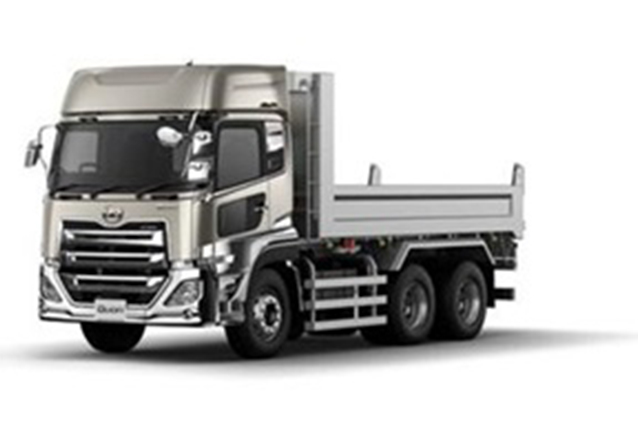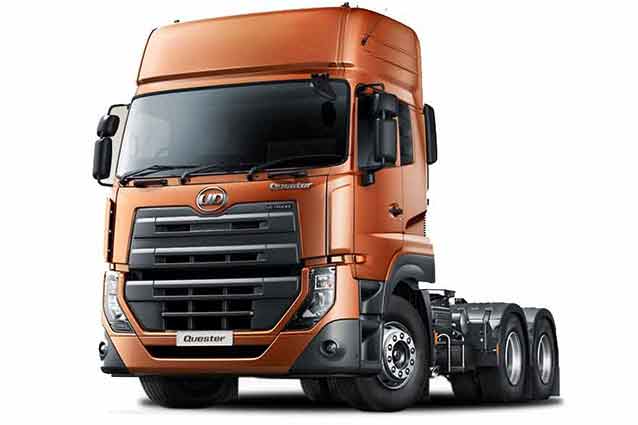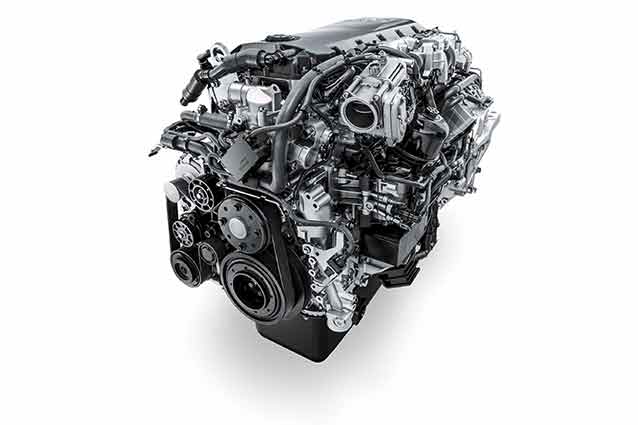 GH11 Engine and ESCOT-VI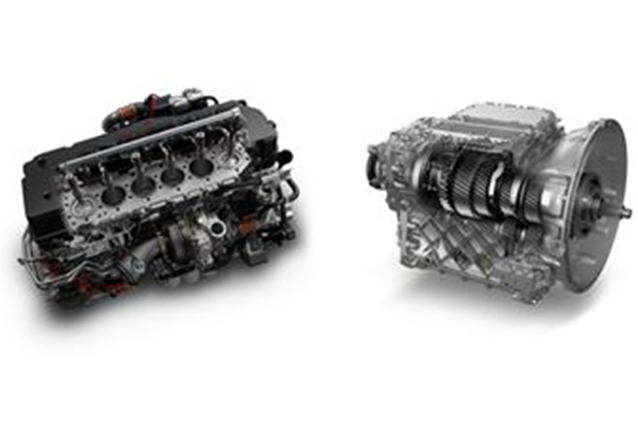 Quon interior design displays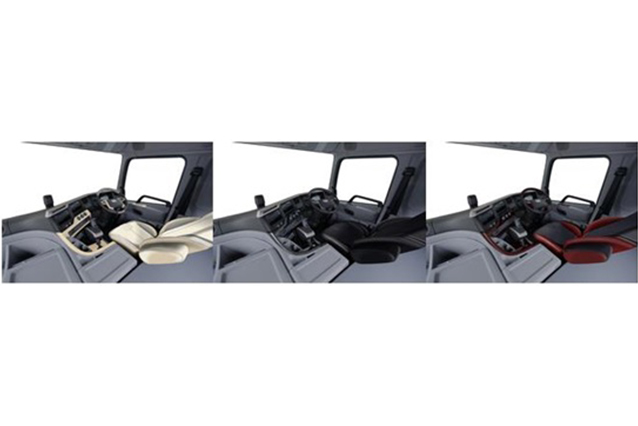 For media enquiries, please contact:
Info.udtrucks.global@udtrucks.co.jp

UD Trucks is a leading Japanese total transport solution provider. UD Trucks was established in Japan in 1935, and became a part of the Volvo Group in 2007. UD Trucks has established its headquarters in Japan and expanded its sales network in Japan and more than 60 countries worldwide. At UD Trucks, our mission is to provide the added value of Ultimate Dependability derived from UD to our company's products as well as an unsurpassed level of excellence for our customers.